Samitivej Group and Samitivej Children's Hospital recently invested in getting all its pediatric staff further trained in Pediatric Emergency Services through a collaboration with with Doernbecher Children's Hospital, Oregon Health and Science University, one of the leading pediatric hospitals in USA. Samitivej is already a leading Hospital In Thailand for Pediatric services but this initiative was to further strengthen itself as a leading Pediatric Emergency Service Provider in Thailand.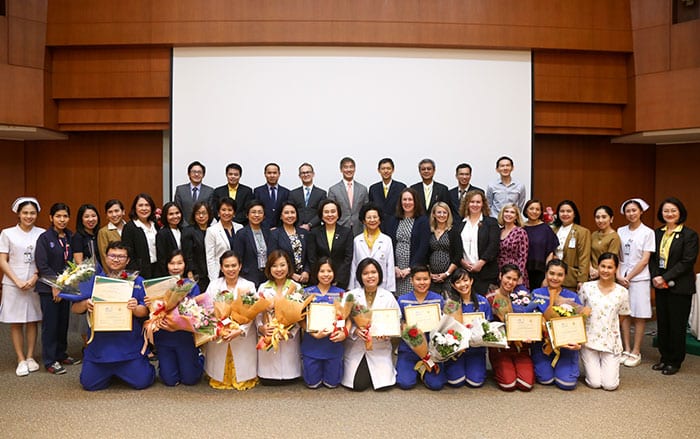 The aim of the training programme was for Samitivej's pediatric team, who are already among the best in the world in terms of specialization from futher trainings overseas, to become more detailed to requirements in emergency situations especially in off site locations. All its staff got certified to provide infant and pediatric critical and emergency care measures, as formulated by the U.S. regulations.
The hospital has also restructured its services to offer pediatric emergency services 24 hours and has a dedicated Pediatric Emergency Medical Team on hand to handle off site and home emergencies.
The new team is ready to offer care to infants and children involved in accidents or those in a critical condition 24 hours a day. The team consists of doctors specializing in pediatric emergency medicine, specialist pediatricians and medical staff, all with specific training in the field according to the Pediatric Emergency Medicine curriculum framework. This framework has been specially designed with infant and pediatric critical care in mind.The trained staff are qualified and able to assess a patient's condition and begin providing treatment while still at the site of the accident using specialized life-saving equipment.
The patient can then be transferred to the Newborn and Pediatric Surgery Center in cases where an operation is required.
These young patients can either recover in the Neonatal Intensive Care Unit (NICU) or Pediatric Intensive Care Unit (PICU).
All members of the team have been trained to deal with prematurely born infants in critical condition, as well as those who are experiencing health complications that place them at high risk after childbirth and therefore require urgent care and attention.
Samitivej Children's Hospital is one of the private hospitals under the Bangkok Dusit Medical Services (BDMS) network that has received accreditation from the Commission on Accreditation of Medical Transport Systems (CAMTS), which is the internationally recognized standard for the safety of ground and air transportation of critically endangered patients.
The hospital has received this esteemed recognition from both the Commission on Accreditation of Medical Transport Systems (CAMTS) from the U.S. and the Commission on Accreditation of Medical Transport Systems Europe (CAMTS EU).
Furthermore, Samitivej Children's Hospital is one of emergency care command centers working with their 13-hospital network of emergency care, consisting of ambulances, motolances, air ambulances and a Sky ICU helicopter, which are all staffed by an expert doctor and nursing team with high levels of training in the air-based transport of critical patients.
The Pediatric departments at the hospital is among the best in the world, with specialists covering every area of specialization and disorder and the department is also equipped with the latest diagnostic and healthcare equipment specially for pedi atric care. The hospital is among one of the only
Thailand Hospitals to offer such medical and healthcare services
and facilities for pediatrics care.
For further enquiries , kindly contact the hospital directly or use the live chat facility on Thailand Medical News.