India Medical News: Modi Chairs Sudden High-level COVID-19 Meeting To Prepare For Coming Catastrophic Surges Based On Confidential Intel!
India Medical News

:
India's Prime Minister Narendra Modi on Friday (10th September 2021) chaired a high-level meeting on the COVID situation, preparations and vaccination status as the government noted high caseloads in states like Kerala and Maharashtra. A government spokesman on conditions of anonymity said that the meeting was called for urgently as there has been 'domestic and international intel reports ' that the coming weeks and months would see the COVID-19 crisis escalate exponentially around the world due to emerging variants that are expected to become dominant rapidly.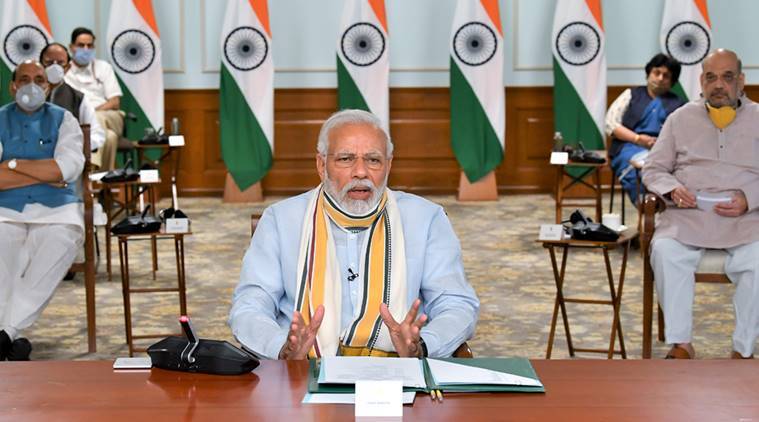 Surprisingly Prime Minister Modi stressed on the need for constant genome sequencing to monitor emergence of mutants and also their spread and also to ensure increased oxygen availability, according to the issued Prime Minister's Office (PMO) statement.
Modi also reviewed the status of augmentation of bed capacity for pediatric care and of facilities supported under 'COVID Emergency Response Package II', and it was noted that states have been advised to redesign and orient primary care and block level health infrastructure in these areas to manage the situation in rural areas, the statement said.
All states in India are being asked to maintain a buffer stock for drugs used in management of COVID-19, mucormycosis, MIS-C at the district level, it added.
Furthermore an export ban on all such COVID-19 drugs or any medications used in the management of COVID-19 will be implemented in coming days to ensure that India has sufficient domestic stockpiles.
Government agencies will also be monitoring any entities involved with price gouging and existing strict consumer laws will be enforced to the fullest to prevent such exploitations.
Numerous
India Medical News
sites are also reporting a growing shortage of certain basic drugs used in COVID-19 treatments including dexamethasone, antibiotics and also antifungal drugs like amphotericin B, posaconazole, and isavuconazole that are used to treat mucormycosis.
The government also said this time that any entities caught promoting supplements, herbal remedies including Ayush therapeutics, repurposed drugs to treat COVID-19 that have not been approved by the Central Drugs Standard Control Organization (CDSCO), will be dealt with severely by the law. It should be noted that certification of food supplements and products approved by the FSSAI does not mean that they have been approved by the CDSCO.
The statement from the India's Prime Minister's Office (PMO) also said, 'It was discussed that across the world, there are countries where the number of active COVID cases continues to remain high. In India too, the figures from states like Maharashtra and Kerala indicate that there can be no room for complacency."
Although the weekly positivity was at less than three per cent for the 10th consecutive week, it is expected that caseloads will start to rise again in coming weeks, the statement added.
Modi underscored the need to rapidly augment the entire ecosystem to ensure increased oxygen availability, including oxygen concentrators, cylinders an d PSA plants.
It was said that during the meeting that the Indian government working on a project to install 961 liquid medical oxygen storage tanks and 1,450 medical gas pipeline systems with an aim to support at least one such unit per district.
Prime Minister Modi also reviewed the status of PSA oxygen plants coming up across the country and said that around one lakh oxygen concentrators and three lakh oxygen cylinders have been distributed to states
It was strangely emphasized during the meeting that need for oxygen will be much more this time round than compared to past surges. (Thailand Medical News suspects that perhaps the 'intel' is proposing that some of the prospective variants that are expected to become more dominant during these coming surges could possess the ability to replicate faster, cause higher viral loads and perhaps also affect the lungs more aggressively due to increased virulence. Thailand Medical News also suspects that these emerging variants expected to play a key role in the coming surges to highly-mutated sub-variants of either the Delta variants itself if not that of the Mu variant (B.1.621).
The Indian government also wants the ambulance network to be augmented to ensure at least one ambulance per block.
Modi also reviewed the status of PSA oxygen plants coming up across the country and told that around one lakh oxygen concentrators and three lakh oxygen cylinders have been distributed to states.
Modi was also briefed about the concentration of cases in a few geographies, districts with high test positivity as well as the week on week test positivity rate in the country.
With regards to the issue of COVID-19 vaccines, the PMO statement noted that around 58 per cent of India's adult population has received the first dose and nearly 18 per cent both doses. Modi was also updated about the vaccine pipeline and increased supply of vaccines.
Modi also stressed constantly during the meeting about the need for constant genome sequencing to monitor emergence of mutants.
While Modi was informed that INSACOG (SARS-CoV-2 Genomic Consortium) now consists of 28 labs distributed across the country, he said more such labs were urgently needed across the country.
The INSACOG network is also linked with a hospital network for clinical correlation. Sewage sampling is also being done for genomic surveillance and states have been requested to share SARS-CoV-2 positive samples with INSACOG regularly.
Prime Minister Modi also highlighted during the meeting, the critical need to ensure adequate testing across the country and was told about the support being given to 433 districts to establish RT-PCR lab facility in public health facilities.
It was reported that the principal secretary to the prime minister, cabinet secretary, principal scientific advisor, health secretary, member (health) Messrs NITI Aayog and other important officials were present in the meeting.
The sudden meeting also came a day after Union Health Secretary Rajesh Bhushan said India is still going through the second wave of COVID-19 and it is not over yet.
He had said 35 districts are still reporting a weekly COVID positivity rate of over 10 per cent while it is between five and 10 per cent in 30 districts.
He too was quoted as saying that certain "intel reports' anticipates that the coming surges in a few weeks to a month or two are expected to be far worse than those in the past.
For more on the latest
India Medical News
, keep on logging to Thailand Medical News.