Medical Devices ASEAN 2019 (10th to 12th JULY, IMPACT Exhibition Centre).
The Medical Devices Asean 2019 exhibition returns for the second year, this time with even more exhibitors, conference programmes and newer and exciting medical device innovations being showcased.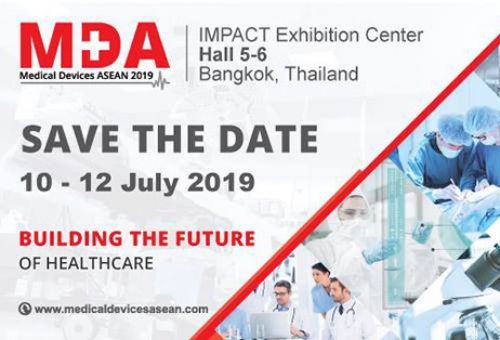 The event is a must for all medical and healthcare professionals and also for distributors , retailers and also manufacturers of medical equiptment and devices and also for individuals involved in medical startups.
Being the gateway into ASEAN's thriving healthcare industry, MDA 2019 offers an all-encompassing trade platform for medical device showcase and network, providing unrivalled business opportunities in the growing marketplace of Thailand and the ASEAN region.
The first edition of Medical Devices Asean 2018 (MDA 2018),was a huge success with over 130 brand and companies from more than 12 countries participating in the event and had more than 4,000 local and international visitors from over 32 countries who visited the event. Many participants at the event were extremely happy with the response that was generated in terms of product inquiries and orders and deals.
This year, IMPACT Management Services , the brainchild of the whole concept of this Medical Devices Fair and organizers, expect to even break new targets. The fair not only helps Asean Countries showcase their innovations and quality of their products to the world but also enhances Thailand role as Hub for the Medical and Business Industry in the region.
There are also lots of conferences and business matching fringe events taking place at the event.
The second edition of MDA will be held on 10-12
th
July 2019, at Halls 5-6, Impact Exhibition Centre, Bangkok, Thailand.
For more information on the exhibition, please visit
www.medicaldevicesasean.com