Fake News Or Truth? Recent Article In Website Of Association of American Physicians And Surgeons Is Concerning. Fact Checkers Needed.
A recent article published on the website of the In Association of American Physicians and Surgeons website is extremely concerning and there is an urgent need for qualified medical fact checkers to verify as to whether what is written is fake or true.
https://aapsonline.org/covid-19-what-about-the-delta-variant/
Should the details written be fake, the website should be taken down immediately and relevant criminal actions be commenced against the domain and website owners but should the details be true and factual, further action is needed urgently and the mainstream media need to be responsible and report this new development to the public and masses.
According to the article, individuals that received the COVID-19 vaccines but still got infected with the Delta variant, was six times more likely to die than unvaccinated people!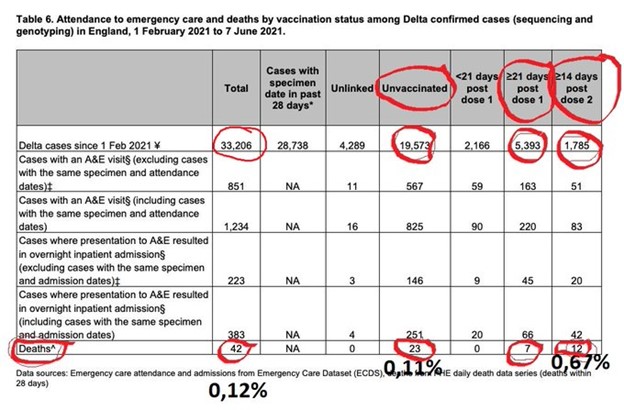 The article said that these were based figures from Public Health England.
The article further said that vaccinated people probably have antibodies that work against variants, but are they seeing antibody-dependent enhancement of disease, as occurred in animal vaccinated against SARS-CoV-1 a decade ago.
https://pubmed.ncbi.nlm.nih.gov/22536382/
The author of the article, a doctor herself further provided a bar graph that shows the number of deaths in red and cases in black, by vaccination status.
Here, the death rate is 8.5 times higher in those with two doses of vaccine than in those who have received none.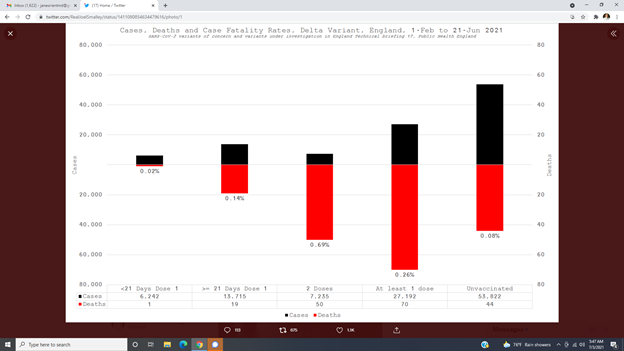 We urgently need qualified fact checkers to check if the data was really provided by the Public Health England and if the statements are valid as if it is, this is extremely concerning considering that the Delta variant is fast spreading across the world and is becoming the dominant variant in many countries.
Thailand Medical
News will provide more details as we get responses and feedback from the scientific community and fact checkers.
Update
: Figures from Public Health England were verified as true official data British Government (refer to page 15.) Document:
https://assets.publishing.service.gov.uk/government/uploads/system/uploads/attachment_data/file/993879/Variants_of_Concern_VOC_Technical_Briefing_15.pdf
(Thank You Reader Arnold From Sweden)
Please help share this article to as many as possible.