New COVID-19 Surge Has Started In UK Driven By BA.4, BA.4,.6, BF.7 And New BA.5 Subvariants. 114,914 Symptomatic Infections In the Last 24 Hours!
UK COVID-19 News
: While the British health and government authorities are downplaying the extent of the health crisis in the United Kingdom and even concealing critical date pertaining to infection rates, death rates and excess death rates, the Zoe app monitoring platform has shown that there were 114,914 new symptomatic infections in the last 24 hours.!
https://health-study.joinzoe.com/data#interactive-map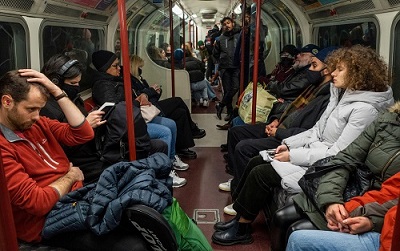 Typical Scenes Of Many Brits Refusing To Wear Masks In Public Transport
The actual figures of new infections could actually be much higher and also there is no longer any point mentioning about the accessing proper healthcare services at the moment for any locals as the NHS system has already been overwhelmed for months now and many are simply turning to illegal online sites to get medical information and even drugs.
Even in locations like Ireland where the NIH is under pressure, there has been reports of 3,200 deaths in the last 10 weeks, which is 16% more than the five-year average, according to NI Statistics and Research Agency (Nisra) data, representing about 300 excess deaths and a trend that will get worse during the coming winter.
https://www.bbc.com/news/uk-northern-ireland-62824337
At present in the United Kingdom, for those that are with severe COVID19 symptoms and are not able to get access to a hospital bed, the only recourse is to wait to die at their beds at home!
Even mainstream British media and
UK COVID-19 News
outlets
have stopped coverages about people with COVID-19 or other medical emergencies unable to get access to medical services or hospitals beds.
It is believed that the new SARS-CoV-2 variants ie BA.4, BA.4.6, BF.7 and certain new BA.5 subvariants are behind the surge.
https://cov-spectrum.org/explore/United%20Kingdom/AllSamples/Past6M
It is not even the start of fall yet and the BA.2.75.2 variant has not even started its spread in the United Kingdom and yet symptomatic cases and even hospitalized cases are rising.
The burden of Long COVID is increasing in the United Kingdom and is not only adding further stress to the public healthcare infrastructure but is also affecting the country economically.
The coming weeks and months will be fun as a variety of new variants will keep on causing continual surges and also re-infections, depleting the immune systems of many and the new roll out of the new boosters will also be interesting to watch as more new variants are likely to emerge due to that as well.
Meanwhile the British health authorities have totally done away with any preventive measures and also totally relaxed border controls, paving the way for new SARS-CoV-2 variants and also other newer or mutated pathogens from other countries to enter the United Kingdom.
For the latest
UK COVID-19 News
, keep on logging to Thai land
Medical News
.