Individuals Are Still Humping Each Other Irresponsibly Despite Warnings! Monkeypox Emerging As A Gay STI Disease With Almost 4,700 Infected Globally
Editorial
: Now before anyone lectures me about being politically incorrect or trying to stigmatize the gay community, let me first stop you and tell you that I am gay too and just like the heterosexual community where you have different sub-groups of personalities with different behavioral patterns, in the gay community we do have gays who are monogamous, gays who are only interested in relationships and are well aware of taking care of their body health and then we also have the irresponsible promiscuous gays who need to cruise often and indulge in irresponsible unprotected communal sex often in groups!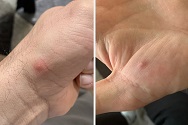 Yes,
monkeypox
can affect everyone and in the African continent where it has been endemic for decades, it has been indiscriminately affecting males, females and kids irrespective of their sexual orientation.
The monkeypox virus is typically spread by physical contact or via contamination of the virus on materials such as towels, bedsheets, clothes or on surfaces.
Yes, preliminary data shows that the virus can be spread via airborne transmissions too but only if the infected person is shedding any body fluids via aerosols ie coughing, sneezing etc.
However, the current surge in previously non-endemic countries has been found to have started off in the gay community initially in certain international pride events held in UK and Spain and where those initially infected were found to have contracted the disease during unprotected exploits of communal sex in gay saunas, gay dungeons and gay sex parties.
As of the last one hour, the total number of monkeypox cases worldwide has now reached 4687 confirmed cases worldwide in countries out of the African continent.
The United Kingdom leads with 1031 cases. (As of the 23
rd
of June there were 910 confirmed cases but as of the last one hour, another 121 cases were detected and the data was released to us despite the labs and UKHSA only reporting data on Tuesdays and Fridays.)
https://www.gov.uk/government/publications/monkeypox-outbreak-epidemiological-overview/monkeypox-outbreak-epidemiological-overview-24-june-2022
In the United Kingdom alone, it has been confirmed that 96% of all infected were gay men who contracted the disease via physical sexual contacts! The remaining were either not willing to divulge their sexual orientation or how they could have contracted the disease.
https://apnews.com/article/health-government-and-politics-5aa18fb05bba63a4b3bff9585287505c
In some cases, among that four percent, the probability of contracting the disease via contamination of materials and surfaces was considered and being evaluated.
To date, there is little of no evidence that any of the reported cases were linked to airborne transmissions.
One case that was publicly publicized in UK was a gay university student who claims he contracted the disease from his poodle!
C urrently, Spain comes second with 1002 cases, Germany 681 cases, Portugal 348 cases, France 330 cases, Canada 235 cases, Netherlands 215 cases, USA 201 cases, Italy 128 cases, Belgium 78 cases.
Again, in majority of all these cases, an overwhelming number of all those infected were found to be gay men who contracted the disease via physical sexual contacts.
https://reliefweb.int/report/world/who-director-generals-opening-remarks-international-health-regulations-2005-emergency-committee-regarding-multi-country-monkeypox-outbreak-23-june-2022
In Asia, one cases has already been detected in Singapore, and Taiwan became the 49
th
country outside the African continent to have detected a monkey pox case when a male student in his 20s returned from Germany after his studies there.
https://www.jpost.com/breaking-news/article-710323
In it believed that the number of gay men in Singapore who might be carrying the monkeypox virus could be higher as many were believed to have travelled to Europe to attend the gay pride events there including the after event sex parties.
All the evidence is pointing to the fact that although monkeypox is not a typical sexually transmitted disease, in the current surge, it cannot be denied that the disease is being presented as a STI or sexually transmitted infection among the gay community.
What is even more scary is that despite all the media coverage about the monkeypox outbreak among the gay community since early May 2022, many of the latest infections were found to have been as a result of sexual exploits in the last 10 days or less, implying that many among the gay community are still not taking the disease outbreak seriously and are still indulging in unprotected communal or group sex!
There are stupid groups calling for the WHO to declare the current monkeypox a global pandemic! This can have severe repercussions of individuals movements and also the possibility of restrictions in many areas along with economic consequences.
If one was to do comparisons, the number of infections with drug resistant STIs like syphilis, gonorrhea and chlamydia are ever growing on a daily basis with astonishing figures…same goes for HPV infections….should we also be declaring those as global pandemics?
The current Monkeypox surge can be easily curtailed with more education strategies targeting the gay community, getting authorities to temporarily shut down gay saunas, gay dungeons, sex cruising joints and the also stopping the hosting of gay sex parties via legal mandates. Also, perhaps it would be also advisable to make monkeypox and smallpox vaccines mandatory for all gays and bisexuals or those in other high-risk groups.
It should also be noted that the current monkeypox strains are a mutated version of the strains from Africa and seem to be not severe nor deadly.
https://www.thailandmedical.news/news/monkeypox-currently-circulating-around-is-unlike-former-strains-and-contains-new-mutations-despite-some-garbage-western-experts-claiming-that-they-are
There are certain groups despite claiming to be non-profit having an ulterior agenda and are basically pro-COVID vaxxers that might be discreetly funded by the big pharma.
Ones such group that has no given authority to make any country or global health decision is the so called World Health Network that has been founded by a Jew from the NECSI that has no medical training but has been trying to appear as some kind of medical authority since the debut of the COVID-19 disease with the endcoronavirus org platform with a following of lockdown zealots. If one was to analyze all their so-called stupid guidance and strategies since the start of the COVID-19 pandemic, it becomes very clear that they are but a bunch of morons who have no clue about viruses or diseases and simply make recommendations as they go along! Just because they hold certain educational degrees and qualifications and come from certain institutions does not make them any experts of the COVID-19 disease nor about monkeypox nor about any health issues!
Their latest stance as been about emphasizing that the SARS-CoV-2 is airborne and also that monkeypox is also airborne.
In fact many who were smart already knew that SARS-CoV-2 was airborne and spread through aerosols since the start of the pandemic and despite groups only recently discovering about this, the fact remains that even N95 mask or room air filtrations systems are not going to be able to eradicate the virus and disease unless we are each in a sterile bubble of our own. Contamination and exposure is so high in both cases ie a person wearing the best N95 mask will still have virus particles on his clothes or parts of his body etc!
The World Health Network has emerged as clowns after issuing media press releases saying that they are declaring the monkeypox as an emergency pandemic and worst, we had lots of stupid media that actually covered their story without questioning as to who the hell are these morons!
https://www.ndtv.com/world-news/world-health-network-declares-monkeypox-a-public-health-emergency-report-3092954
https://www.indiatvnews.com/health/monkeypox-declared-a-pandemic-by-whn-ways-to-prevent-yourself-from-viral-infection-2022-06-23-786887
https://www.livemint.com/news/world/world-health-network-declares-monkeypox-a-pandemic-11655951549860.html
https://www.drugtopics.com/view/world-health-network-declares-monkeypox-outbreak-a-pandemic
We suggest people avoiding garbage sites like these that disseminate misleading information.
People need to understand that the only solutions to diseases like COVID-19 and even monkeypox are not lockdowns, travel restrictions, masking or even vaccines but rather real effective non-toxic antivirals. These exists but the big pharma and those controlling the COVId-19 narratives do not want people to use cheap, non-patented herbal and phytochemical based solutions.
There are many who are stupidly feel offended when media reports are showing that the current monkeypox surge is really presenting itself as a STI among the gay community. Some prefer that we do not use the word gay when talking about monkeypox when hypocritically they want gender identity taught to kids under 6 who are still innocent have no interest in such things. The fact remains, statistical data is showing that the current monkeypox surge is presenting itself as a STI that is spreading in the gay community through communal sex…period! It has not been spreading via air borne transmissions unless some Jew charlatan or some Chinese twitter doctor are having their opened mouths in close proximity while some infected gays are indulging in some communal masturbation events!
For the latest
Monkeypox News
, keep on logging to Thailand
Medical News
.