Breaking News! Blood Glucose Levels Could Influence Susceptibility To COVID-19 Disease
COVID-19 Research
: A new study paper by Dr Adam M. Brufsky from the University Of Pittsburg School Of Medicine that has been published in the Journal of Medical Virology proposes that blood glucose can indirectly influence the level of severity in a patient infected with the SARS-CoV-2 coronavirus that causes the deadly COVID-19 disease.
https://doi.org/10.1002/jmv.25887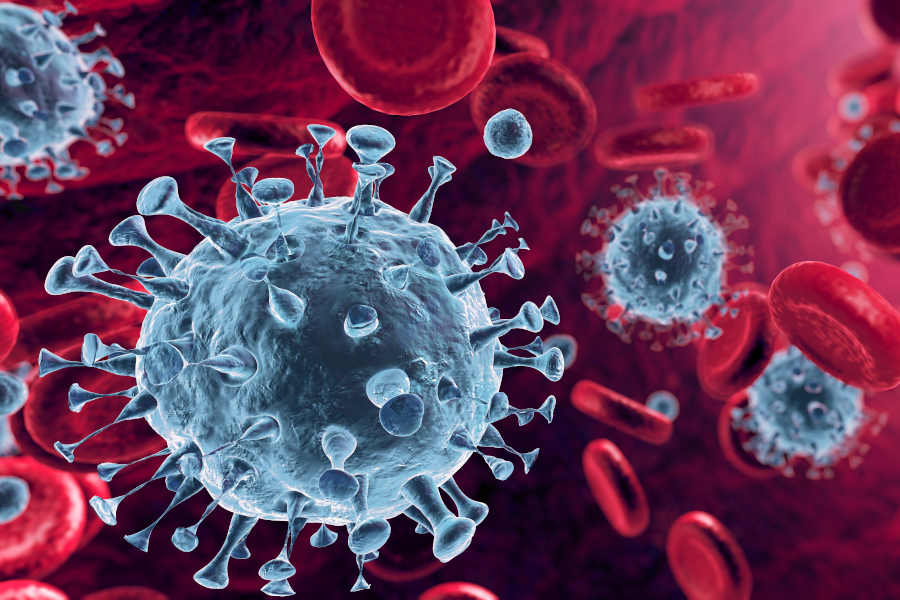 Now medical experts also agree that watching ones blood sugar also determines how well one can get over a COVID-19 infection.
Glucose and other sugars are not only something that sweetens our food. It is also something that is an essential part of the proteins that make up our bodies. Some of these proteins are the very compounds that the virus needs to bind to to enter the human host cells and also some of these proteins are needed by the SARS-CoV-2 coronavirus for a variety of functions.
The control of blood glucose by diet and exercise, as well as better control of blood sugar in diabetics, especially when ill with COVID-19, may possibly help control the severity of the disease and even its spread.
The SARS-Cov-2 coronavirus that causes the deadly COVID-19 disease infects cells by attaching to the surface through a receptor called the angiotensin converting enzyme 2, or ACE2. Both the ACE2 and the virus need sugar molecules bound to their protein for this to work properly.
One possible theory is that the COVID-19 infection and its severity is influenced by the concentration virus and the concentration of sugar-coated ACE2 receptors in the lung tissues. The degree and control of the lungs' immune response may also depend on how much sugar is attached to virus's spike protein approximately eight to 10 days after symptoms start, which may vary depending on your age and sex
Studies have already shown that patients with diabetes are more vulnerable to the COVID-19 disease.
https://jamanetwork.com/journals/jama/fullarticle/2761044
We desperately need your kind help! Please help support our site and our initiatives to propel and aid research by making a donation to help sustain the site. We are also trying to raise funds to help poor undocumented refugees who have no access to public healthcare during the COVID-19 crisis. Donations are accepted via paypal:
https://www.thailandmedical.news/p/sponsorship
Many doctors also observed that a lot of their patients in the hospital as a result of COVID-19 not only had diabetes and pre-diabetes but others had high blood sugar, without being aware of it.
Also there is a recent report from Wuhan, China, that finds that it is true there as well.
https://www.medrxiv.org/content/10.1101/2020.03.31.20048579v1
It was also observed in past studies that individuals who contracted the SARS virus (which i s a close cousin of the new SARS-CoV-2 coronavirus) seem to get high blood sugar temporarily when they get infected as well.
https://link.springer.com/article/10.1007/s00592-009-0109-4
This observation correlates to the fact that there are a lot of ACE2 receptors on the so-called islet cells of the pancreas. These are the cells that make insulin which is critical for controlling blood sugar. If the virus infects these cells, then they stop making insulin and one can get temporary diabetes with COVID-19.
Furthermore high blood sugar increase the presence of ACE-2 receptors and also coat them, hence more sugars attached to them. This makes it easier for the virus to infect cells. When there is more insulin, or through diet or exercise, there is less sugar, so there are fewer ACE2 receptors and less sugar on each one and this may reduce the amount of virus getting into the cell.
https://www.mdpi.com/1422-0067/18/3/563
This could suggests that a high blood sugar test called hemoglobin A1c—which can be used even in those without diabetes or pre-diabetes could be used as a marker for patients at risk for COVID-19 disease.
Interestingly, 3.8% of the U.S. population has a high A1c.
https://care.diabetesjournals.org/content/32/5/828
Also certain drugs and supplements like hydroxychloroquine, metformin and also alpha lipoic acid may help by blocking processes in the cell that add sugars to proteins. This the opposite of what high blood sugar seems to do. This would theoretically impede the virus from interacting with its receptor and modulate the inflammatory response to the virus.
However as an antiviral itself, hydroxychloroquine seems to lack any efficacy against the SARS-CoV02 coronavirus.
Currently lot of new drugs and theories are emerging about COVID-19 and the science is advancing rapidly. It is important to have theories explaining what healthcare professionals are seeing clinically and scientifically to see if they fit and then test them. If not, try a variation. It is the thinking and the testing that will allow us to beat COVID-19.
We at
Thailand Medical News
strongly feel that it is not one drug that will be able to treat or cure the COVID-19 disease but rather a combination of a few.
Furthermore we feel that medical experts and also researchers should not treat the disease as one but rather as different diseases, each unique to every mutated strain of the virus as its emerging that they are lots of mutated genes and despite tiny mutations to their codons or structures, each behaves very differently and has its own unique characteristics and properties.
Even more interesting is that there are now cases being reported of individuals possessing two or more strains of the same SARS-CoV-2 coronavirus in them.
For the latest on
COVID-19
research
, keep logging to
Thailand Medical News
We desperately need your kind help! Please help support our site and our initiatives to propel and aid research by making a donation to help sustain the site. We are also trying to raise funds to help poor undocumented refugees who have no access to public healthcare during the COVID-19 crisis. Donations are accepted via paypal:
https://www.thailandmedical.news/p/sponsorship