China's Coronavirus Death Toll 1666, Infected 69,061 Critical 11,053, Coronavirus Is Indeed A Global Threat As Warned By WHO's Chief As it is AIRBORNE!
China's health authorities this morning (Sunday,16
th
February) announced that there were 139 new deaths due to the
coronavirus
in Hubei within the last 24 hours bringing the total death toll to 1,666. The number of individuals confirmed infected with the
coronavirus
is 69,061 while there are more than 11,053 patients in severe critical condition. (note that all these figures are as claimed by Chinese health authorities, none have been verified or audited by any international observers.)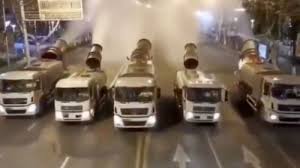 China has been using more than a few thousand trucks with
mist canons to disinfect the air in major cities the last 7 days.
The new S
ARS-CoV2
coronavirus
(previously known as 2019-nCoV) that causes the
Covid-19
disease is indeed a global threat as warned by World Health Organization's Director General Dr. Tedros Adhanom Ghebreyesus.
However, it seems that certain governments worldwide and also reputed media from the US, UK and China are all seemingly been ordered by we are not sure who, to downplay the seriousness of the
coronavirus
threat perhaps so as to not create panic and paranoia and also perhaps to not disrupt the world economy.
The WHO director general himself has announced in public on 11
th
of February in Geneva during a press briefing that the
coronavirus
is indeed worst than Ebola and is
AIRBORNE
!. Please refer to this article:
https://www.thailandmedical.news/news/breaking-news-world-health-organization%E2%80%99s-chief-says-coronavirus-is-airborne-but-many-concealing-this-including-media-from-us,-china-and-europe
However all media that attended the briefing did not cover on the part that the
coronavirus
is
airborne
as mentioned by Dr Tedros, They had been instructed by certain 'higher figures' not from the WHO, to not cover on anything to do with the seriousness of the
coronavirus
.
The whole saga seems very confusing. We are not sure how long the video of the WHO briefing would be online in the article that we have mentioned above but we recommend that all see it fast and share it before it is taken down.
We just ask all concerned that openness and information shared with the public could help all fight the
coronavirus
together but do not keep people in the dark or use excuses like fake news and misinformation to conceal the real truth.
Thailand Medical News
wil l be publishing more reports and new studies that are emerging about the
coronavirus
the next few days that we have managed to procur from reliable sources.We also ask people to refrain from posting unscientific or non-evidence news or information about the coronavirus online.
For latest updates about the
coronavirus
or the
Thailand Coronavirus
scenario,check out :
https://www.thailandmedical.news/articles/coronavirus