South Korea Coronavirus Crisis: Hospitals Overflowing, More Cases Emerging In Other Areas. Death Toll Now 7, Infected 763, Critical 11, Suspected Cases 57,420
South Korea coronavirus
crisis is fast resembling China in the initial stages of the outbreak in Wuhan. Crowds of people are seeking medical treatment in overflowing hospitals while being unaware in that just as in China, hospitals can be centres of high transmission rates of the
coronavirus
.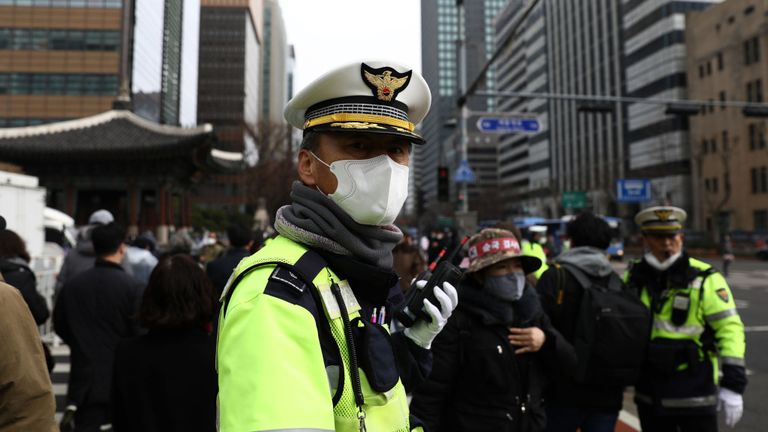 Meanwhile, KCDC reported the seventh death from the
coronavirus
, a 62-year-old man from a hospital in Cheongdo, a municipal district that saw surges in confirmed cases along with the nearby city of Daegu in recent weeks.
South Korea
said that there was 161 new cases of the
coronavirus
confirmed via testing in the last few hours, bringing the total number of infected patients in the country to 763. Health authorities said on Monday (24
th
February), a day after the government raised its infectious disease alert to red, its highest level, that thousands of suspected cases are being tested all over the country.
115 patients from the new cases were linked to a church in the south-eastern city of Daegu after a 61-year-old woman known as "Patient 31" who attended services there tested positive, according to the Centres for Disease Control and Prevention (KCDC). She has been described as a super spreader that has been responsible for spreading the
coronavirus
to hundreds of individuals.
All churches have been ordered to suspend services while almost the whole country is now in lockdown with all stores, malls, factories, companies, schools ordered closed. Movements of citizens have also been restricted with the army controlling all cities and provinces in
South Korea
.
Meanwhile it is emerging that more than the initially calculated amount of 57,420 suspected cases could be affected as many mass infections sites such as factories, universities, churches, hospitals, malls and army bases have now been identified as locations where many initial cases actually emerged.
In one naval bases in Jeju island, already more soldiers have been confirmed to have been infected while one of Samsung's largest factory in Gumi was also identified as a source of infection with the factory ordered closed at the moment. Cases have also been reported in Seoul, in shopping malls.
South Korea
health officials are already running low of testing kits and also medical supplies despite only being in the initial stages of the epidemic.
For more on the
South Korean coronavirus
crisis, keep checking at :
https://www.thailandmedical.news/articles/coronavirus