Attention deficit hyperactivity disorder (ADHD) is a psychological disorder commonly observed in children, and often in adolescents and adults.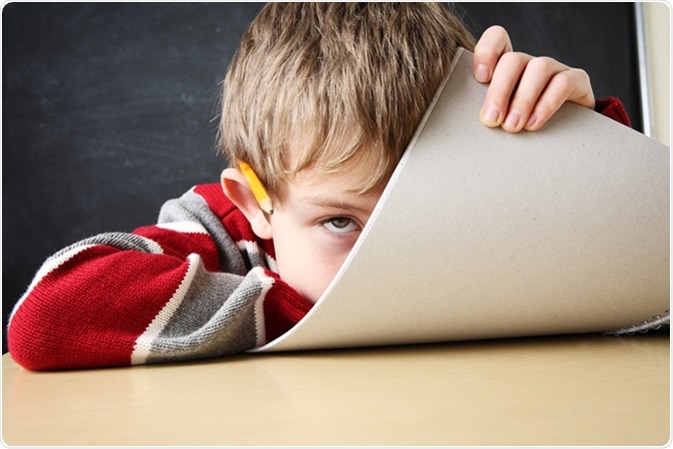 Image Credit: Suzanne Tucker / Shutterstock
The neural network of the brain of an ADHD patient functions in a different manner. The frontal brain portion is found to be significantly underdeveloped in several cases of ADHD. Imbalances in the levels of neurotransmitters have also reported. The condition is characterized by difficulty in holding attention, constant movement, and a lack of rational behavior.
Significant amounts of research have been done to understand the patterns and prognosis of ADHD, and its impact on development. Neural responses to reward, its genotypic association, and behavioral aspects of ADHD patients across age groups have been explored across multiple studies. Large epidemiological studies are also being conducted for diversified community sampling of subjects.
Impact on Learning
Depending on the subtype of ADHD they are suffering from, children with ADHD lack in one or more of the following:
Concentration
Communication/Interaction
Memory
Oftentimes, the symptoms of ADHD are not easily noticeable in a child, and they do not come to forefront until the child starts facing difficulties coping with increasing learning pressures as their education progresses.
Inattentiveness is a classic symptom of ADHD. Children with ADHD face problems in carrying out tasks which demand concentration.. Because of this, they often keep look for excuses to avoid studying.
Due to their hyperactive mannerisms and impulsive nature, children with ADHD have a hard time dealing with people. They get irritated often and can exhibit defiant and violent, risk-seeking behaviors. They are often isolated because of difficulties in gelling with others. A positive diagnosis of ADHD predisposes the patient to other behavioral or conduct-related disorders such as oppositional defiant disorder (ODD), conduct disorder (CD), autism, or Tourette's syndrome.
ADHD is associated with deficits in reasoning and comprehension. Children with ADHD may experience difficulty in writing, reading, organizing their possessions, verbally explaining their emotions, and in logical analysis. Due to intermittent inattention, cognitive impairment is also commonly observed in these children.
Overlapping Disorders
Researchers studied psycho-educational parameters of 119 individuals of 8 to 16 years of age in a study. The results showed that the learning disorder was more common in the children with ADHD (7 out of 10 cases). While these children had overall poor reading, writing, linguistic, and numerological skills, the writing disability was more profound than the others (at least 6 out of 10 cases).
They noted some of the attention issues in children who had only learning disability but no ADHD. Similarly, they also observed an extent of learning problems in the children with ADHD but no diagnosis of learning disability per se. The response mechanisms and common behavioral traits were often overlapping, which led the investigators to conclude that the attention- and learning-related problems were interrelated, and they often tend to coexist because of the similar brain circuits being affected in these disorders.
Scope of Intervention
Cognitive behavioral therapy , individual counselling sessions, hypnotherapy, counselling of parents and teachers, and in severe cases medications are commonly employed therapeutic approaches to manage the ADHD patients.
Scientists evaluated the learning skills, well-being, and self-care habits of a set of college students with ADHD in a study. The investigational group received weekly telephonic counselling sessions as intervention, which was compared against a control group that did not receive such intervention. The scores on Learning and Study Strategies Inventory (LASSI) Scale and College Well-Being Scale were significantly better in students who received counselling intervention.
As a teacher or a parent, being mindful of the fact that a child with ADHD may face challenges in regard to their learning and education., They need care and compassion instead of anger and punishment. This can help a great deal in terms of improving the learning behavior of ADHD patients.