Chronic anovulation is a condition in which ovarian release of eggs does not occur due to failure of regular ovarian cycles. Various factors have been associated with this condition.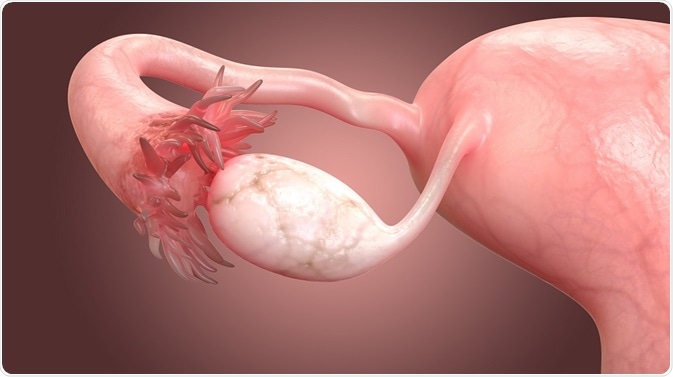 Credit: Magic mine/ Shutterstock.com
Age
Anovulation may occur in up to 15% of women in their reproductive years. During adolescence, transient cystic changes are quite commonly seen during adolescence, and may be mistaken for polycystic ovarian syndrome (PCOS), which is a leading cause of anovulation (over 73%) in young women.
PCOS-like changes are also seen in the perimenopausal age group as a result of progressive dysregulation of the hypothalamopituitary signaling system. Other causes of anovulation include hyperprolactinemia (13.3%) and idiopathic chronic anovulation (7.5%), with the rest being accounted for by hypo- or hyperthyroidism and adrenal disorders.
Obesity
Obesity is a strongly linked factor in polycystic ovarian syndrome. It is seen in 50-80% of women with PCOS depending on the geographic location. It is doubtful whether it is the total body mass, the body mass index, or the fat distribution that is important in the etiology of PCOS in obese women, because studies using MRI and CT scans showed that visceral fat was poorly linked with waist-hip ratios in women.
Scanty or infrequent periods and androgen excess in adolescence was also correlated with a higher risk of PCOS development in the early twenties. Conversely, obesity seems to be linked to higher free androgen concentrations with long ovarian cycles as a result of low sex hormone binding globulin (SHBG) production in the liver. Weight loss is also linked to improvement of hyperinsulinemic defects and of ovulation.
Ethnic factors
PCOS develops different clinical features in various ethnic populations, ranging from hypertension and coronary disease in African-origin communities, and metabolic syndrome-type defects, with diabetes, obesity and hyperinsulinemia in Hispanic women. This may become more pronounced with increasing age.
Endocrine changes
Many chemicals in today's environment are capable of inducing hormonal dysfunction. A prominent example is bisphenol A (BPA) which is commonly used in the manufacture of a wide range of plastics. It has an estrogen-like effect on the body, and is found to be higher than normal in women with anovulation. Other similar chemicals are associated with anovulation as well as an increased risk of disrupted puberty, and obesity.
Even in the absence of obesity, women with PCOS have higher levels of BPA. This area requires more study, as to the ways in which these molecules interact with the pathways in which steroids such as estrogen and androgens are produced in the body.
About 4 in every 10 women with PCOS develop difficulties in glucose control in their thirties onward, and this is also linked to high cholesterol levels. This may be due to the interaction of genetic variations, environmental influences and hormones, with the body weight. In addition, the risk of cardiovascular disease is higher in PCOS women, who have evidence of left ventricular hypertrophy, endothelial dysfunction and loss of arterial wall compliance.
The association between cardiovascular events and PCOS is unclear because such events tend to increase in frequency in this group only up to a specific age, beyond which women without a history of PCOS may have a higher risk of cardiovascular disease.
Malignancy and anovulation
Women with PCOS are known to be at high risk for cancer of the womb because of the many risk factors they possess, including obesity, diabetes, hypertension, and especially chronic anovulation with increased endometrial exposure to estrogen without the opposing action of progesterone. Non-obese women with PCOS have a lesser risk than found in PCOS with obesity. The link with ovarian cancer was found in one study but not in another.
Mental and social profile
Women with PCOS are more likely to suffer from depression and negative mood disorders, as well as with bipolar disorder. Mood disorders are more frequent in women with weight and fertility issues as well as features of androgen excess such as hair growth over the face, which reduces the relevance of this finding.
Similarly, bipolar disorder may be linked to PCOS per se or as an effect of the treatments for the condition, such as sodium valproate which is known to increase androgen production in the theca cells, and which is associated with a higher risk for PCOS when used as an anti-epileptic.
Heritability of PCOS
Children of women with PCOS have a higher risk of developing the condition themselves, but the exact risk is not predictable at present by any screening test.
In short, the clinical features of PCOS vary with several factors such as body mass index, endocrine disruptors, race, certain drug treatments, and family history. It has importance not only with respect to fertility issues but long-term cardiovascular and bone health, and uterine cancer.