Acesulfame-K (Ace-K) is a calorie-free sweetener that is 200 times sweeter than sugar. It is used in various food products available in the market. Ace-K is one of the five artificial sweeteners approved by the US Food and Drug Administration (FDA).
A variety of drinks and foods consist of Ace-K, which includes table-top sweeteners, dairy products, chewing gum, jam, frozen desserts, baked goods, and cola and fizzy drinks. It is mainly used in baked items as it retains its sweetness even at very high temperatures. Ace-K cannot be stored in the human body or broken down during digestion; after consumption, it is rapidly absorbed and excreted by the body without any change.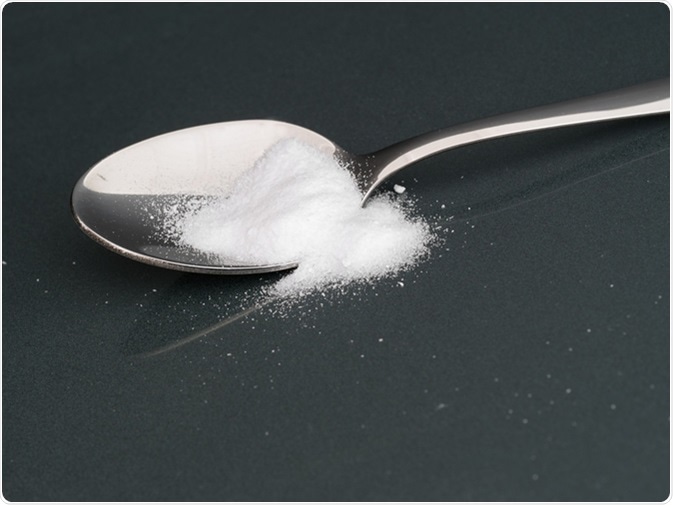 Acesulfame-K (Ace-K) Image Credit: Sarah2 / Shutterstock
Research on Safety of Ace-K
Ace-K was first discovered in 1967 by Hoechst AG, Germany. Thereafter, nearly hundred studies have been conducted to evaluate Ace-K safety. Every time, they revealed that this sugar-free sweetener is considered to be safe and suitable for ingestion. In 1983, it was approved for using this sweetener in food and beverages and it is used in nearly 100 countries all over the world.
The FDA had evaluated a number of studies before providing approval for this sweetener. In 1998, FDA approved the use of Ace-K in soft drinks (non-alcoholic drinks). In December 2003, FDA granted permission for its general usage in foods and drinks.
The Joint Expert Committee on Food Additives (JECFA), which is the scientific advisory body to the WHO and the FAO, has concluded Ace-K to be safe and declared it to have an acceptable daily intake (ADI) of 15 mg/kg of body weight.
In Europe, the Scientific Committee of Food (SCF) conducted a broad study on Ace-K during 1985. Experts from the European Union participated in this evaluation and accepted the use of this sweetener in beverages and foods. Since 1983, Europe has been using this sweetener as a sugar substitute.
In 2000, the US Center for Science in the Public Interest (CSPI) raised the concern of cancer risk due to the consumption of Ace-K, but the claims were disregarded by FDA and the European Food Safety Authority (EFSA). SCF, the predecessor of EFSA, re-examined studies on Ace-K and their cancer risks. Finally, it concluded that there are no possible signs of carcinogenicity resulting from Ace-K consumption.
Studies have been conducted to determine the relationship between Ace-K and diabetes and dental cavities. It has been concluded that Ace-K does not influence the levels of insulin secretion and blood glucose under normal food intake. Also, it is not digested by microorganisms, such as Streptococcus mutans, causing dental caries and thereby does not form caries.
In 2017, research on artificial sweeteners produced results that were inconsistent, with both favorable and unfavorable outcomes. Although Ace-K is a common sweetener approved by the FDA, knowledge of its toxicity is still not adequate. Ace-K is known to have an effect on the gut microbiome. Gut microbiome plays a significant role in controlling body weight and regulation of glucose level in the blood.
Experiments conducted on rats that were fed with Ace-K for 4 weeks revealed that Ace-K disturbs the gut microbiome (change in gut bacterial composition and population and their metabolism) which in turn led to weight gain in the body in male rats but not in female.
Another study found that, like all sulfonamides, Ace-K also inhibits bacterial activity. A study based on a 4-day record carried out in the US found that there is a significant diversity in the gut bacterial population among those who consume and do not consume artificial sweeteners. However, the way in which gut microbiome is perturbed is largely not known.
Research on Effect of Ace-K on Pregnancy or Lactation
In 2011, research was performed to investigate any effect on offspring due to constant exposure of their mothers to Ace-K during pregnancy or the lactation period. Ace-K was able to pass through the placenta and was also found in mother's milk. This did not cause any serious impact in the offspring or the mothers; therefore, the intake of Ace-K is deemed safe for pregnant or lactating women.
Research on Effects of Long-Term Ace-K Intake
In 2013, investigation was carried out for determining the effects on the nervous system during long-term Ace-K consumption. For this, C57BL/6J (WT) mice were treated with Ace-K for 40 weeks. The Ace-K-fed mice showed reduced memory functions, while the motor function and anxiety levels were not altered. Therefore, the study suggests that chronic intake of Ace-K may influence cognitive functions through modifications in neurometabolic functions. Up until now, only a few detailed studies of the long-term use of Ace-K are available and further research on it should be performed to better understand the effects of chronic consumption of this artificial sweetener on humans. However, it is safer to use Ace-K as per the FDA's ADI level to avoid risk of unsuspected health problems.