Health Authorities In Congo Says That 9 Individuals Have Died From Monkeypox This Year While Nigeria Reports Its First Monkeypox Death For 2022
More great news emerging as the first few
Monkeypox
deaths for 2022 are already emerging in the African continent and hopefully the trend will appear also in the United Kingdom and elsewhere in Europe and globally.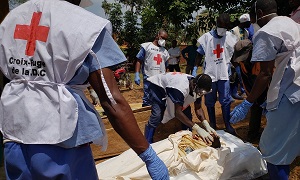 Health authorities in Congo reported to media that nine individuals have died of monkeypox in Congo in 2022 while Nigeria two days ago has recorded its first death from the monkeypox disease this year
At present outside of the African continent, another 29 countries have also identified cases of monkeypox with the United Kingdom leading the race with a total of 180 confirmed monkeypox cases and hundreds more under investigation.
Chief of the Sankuru health division in Congo, Dr Aime Alongo on Monday told media that 465 cases of the disease have been confirmed in the nation, making it one of the worst-hit in West and Central Africa, where the disease is endemic.
The huge number of cases in Congo is due to the habit of locals consuming dead monkeys and rodents!
Dr Alongo said, "The locals typically enter the forest, pick up the corpses of monkeys, bats and rodents which are the reservoirs of monkeypox and take them home for consumption, sometimes cooked, sometimes raw!"
Health officials in Congo have been urging those with monkeypox symptoms to visit a health center to isolate themselves.
Worryingly, the number of cases seems to also be increasing in the last two weeks in Congo.
Meanwhile, Nigeria recorded its first death from monkeypox this year in a patient with underlying medical conditions, the Nigerian diseases control agency said late Sunday.
Also, the Nigerian Centre for Disease Control and Prevention announced that in 2022 it has confirmed 21 out of 66 suspected cases of the disease, which is usually endemic in Nigeria and other parts of West and Central Africa.
The Nigeria CDC said, "The death was reported in a 40-year-old patient who had underlying co-morbidity and was on immunosuppressive medications."
The disease control agency also noted that Nigeria has not had an outbreak of monkeypox since September 2017 but it continues to report sporadic cases. At least 247 have been confirmed in 22 of its 36 states since then with 3.6% fatality rate.
A fast spreading spike in monkeypox cases reported all over Europe and the U.S. has generated concerns among those countries, many of whom have not recorded a single case of the disease in years. Over 613 cases of the disease have been reported in more than 29 countries not usually known to have outbreaks and thousands more are currently being investigated.
It was noted that Monkeypox has not previously triggered widespread outbreaks beyond Africa, where it is endemic.
One of the first few cases in the U.K. was recorded in a man days after his arrival from Nigeria on May 4. Nigeria has recorded six confirmed cases of the disease after the British citizen left the country. It was said all six had physical contact with the white British gay male.
Head of Nigeria's Center for Disease Control, Dr Ifedayo Adetifa told media that the British citizen contracted the disea se in Nigeria and the country remains prepared to respond to an outbreak of monkeypox.
He said, "The biggest challenge that you have with a disease such as monkeypox is that it is uncommon and the perceived risk by the population about how dangerous this condition is has been very low … that is why ... we have conducted awareness training and advocacy training to increase the level of awareness of health care workers."
British healthcare experts say that the new monkeypox strain most probably evolved in a gay immunocompromised individual who had both HIV and SARS-CoV-2, leading to the huge number of mutations found on the new strain.
https://www.thailandmedical.news/news/latest-monkeypox-cases-increasing-fasts-in-the-last-24-hours-uk-alone-now-has-180-confirmed-cases-new-data-shows-monkeypox-mutating-rapidly
It was further assumed that the gay white British traveler might have had sex with that immunocompromised individual in Nigeria and then upon returning to UK, had sex with other local gays there as well, spreading the virus, These other individuals might have further spread the disease to other foreign and local gay visitors attending group sex events and visiting gay saunas where group sex is typically practiced by these reckless individuals.
Currently most of the new cases in the last few days shows that airborne transmissions seem to be causing the latest load of new cases as most of them did not indulge in physical contact or sex.
Unlike previous monkeypox infections, many infected with the new monkeypox strain in recent weeks are not only witnessing the typical pustules on various parts of their bodies, but are also seeing skin lesions that do not seem to resolve even with treatment with antivirals, antibiotics or steroids.
It will be fun to watch once new SARS-CoV-2 variant surges start again in the United Kingdom along with an aggressive monkeypox spread and also other new virus strains. It should be also noted that most locals in UK have very bad hygiene practices and many do not even wash properly before and after sex etc!
For the latest
Monkeypox news
, keep on logging to Thailand Medical News.