Latest! Monkeypox Cases Increasing Fasts In The Last 24 Hours. UK Alone Now Has 180 Confirmed Cases! New Data Shows Monkeypox Mutating Rapidly!
Monkeypox News
: In the last 24 hours, the number of confirmed monkeypox cases outside of the African continent has jumped to 613 cases covering 28 countries.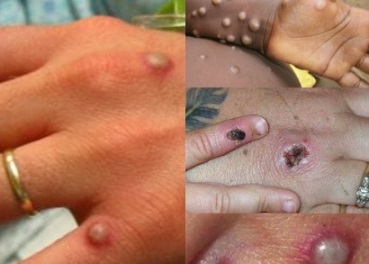 The United Kingdom is turning out to be the hotspot for
monkeypox infections
with confirmed cases now rising to 180 and more than 784 individuals suspected of contracting the disease now under investigations with some placed in quarantine.
The UK Health Security Agency (UKHSA) said the latest cases, as of 29 May, bring the total number in England to 173. Four cases have been detected in Scotland, two in Northern Ireland and one in Wales, taking the UK total to 180.
Local physicians are worried that the disease could be spreading silently in the community as
monkeypox
is also airborne and has a long incubation period coupled with the fact that the new mutated strains are displaying some atypical characteristics.
The updated case total comes after the UKHSA, along with authorities in Scotland, Northern Ireland and Wales, issued joint guidance to stem the spread of the disease.
The UKHSA is urging those with the virus to avoid close contact with others until their lesions have healed and any scabs have dried. They have also been told to avoid contact with pets for three weeks. Anyone who has had contact with someone infected could be told to self-isolate for 21 days after a risk assessment.
Latest updated guidance on Monday said that individuals who suspect they have the virus or have been diagnosed with it, and need to travel to get healthcare, should cover any lesions, wear a face mask and avoid public transport. They should also not have sex as soon as they notice the first symptoms, and use a condom for eight weeks after infection.
It has been found that not only are those that are symptomatic displaying the typical pustule manifestations on various parts of the body including the genital areas, but many are also displaying skin lesions that do not seem to resolve even with usage of corticosteroids or antimicrobial agents.
To date, most of the cases have been young and middle-aged males with a sizeable number being gays or bisexuals.
Spain now has 120 cases while Portugal has 96 confirmed cases, Germany 31 cases, United States 14 cases. It is suspected that there could also be a huge number of undetected cases in Belgium, Romania, Poland, Brazil and also Australia.
New Strain Of Monkeypox That Is Mutating Rapidly
Despite fake news and misinformation by the WHO and also news agencies like Reuters,
https://www.reuters.com/business/healthcare-pharmaceuticals/who-says-no-evidence-monkeypox-virus-has-mutated-2022-05-23/
the monkeypox strain that is circulating around is indeed a new strains different from the two known existing clades.
t-they-are">https://www.thailandmedical.news/news/monkeypox-currently-circulating-around-is-unlike-former-strains-and-contains-new-mutations-despite-some-garbage-western-experts-claiming-that-they-are
In fact, according to the latest updates from genomic sequencings done and uploaded on Nextstrain, the monkeypox sequences associated with the recent outbreak differs by about 40 mutations from the monkeypox viruses sequenced 4 years ago!
https://nextstrain.org/monkeypox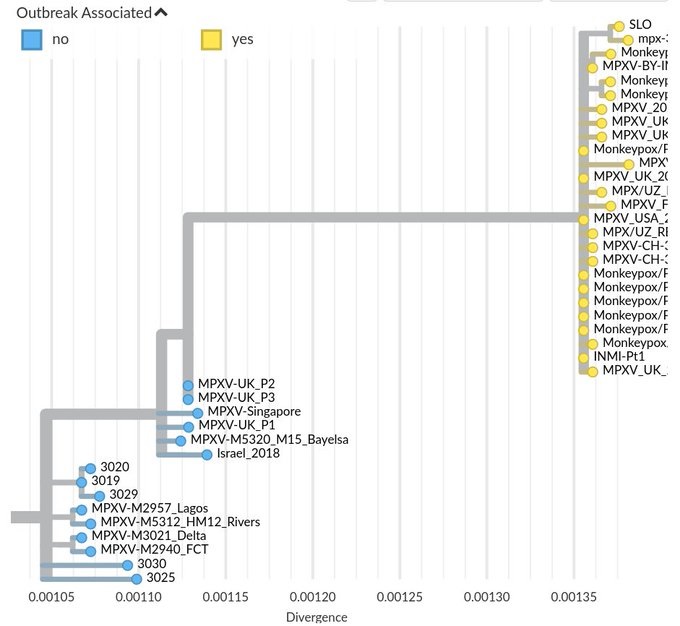 Typically, poxviruses have low evolutionary rates of around one mutation per genome per year.
Researchers have found that Since 2017, the lineage leading to the recent samples has a peculiar mutation pattern where almost all mutations are G->A or C->T.
https://virological.org/t/discussion-of-on-going-mpxv-genome-sequencing/802
The researchers have mapped the fraction of all mutations that are either G->A or C->T and the fraction of them that occur in the specific context (G followed by A for G->A, T preceding C for C->T mutations) onto a tree.
https://nextstrain.org/monkeypox?c=GA_CT_fraction
https://nextstrain.org/monkeypox?c=dinuc_context_fraction
This change in mutation pattern likely marks the jump from the original host to humans or an intermediate host where a host enzyme (maybe APOBEC3) might mutate the genome. The rate of change increased 10 to 20-fold and is now around one change per month!
https://nextstrain.org/groups/neherlab/monkeypox?c=dinuc_context_fraction&l=clock®ression=hide
This alarmingly indicates that the new monkeypox strain that is currently circulating is also mutating at a rapid rate and is a cause for major concern!
When asked on Monday whether the recent outbreak could escalate into a pandemic, the WHO's technical lead for monkeypox, Dr Rosamund Lewis, said: "The answer is we don't know, but we don't think so."
Dr Lewis added, "Monkeypox is a DNA virus, meaning it contains DNA in its genetic material. Health experts don't yet know a lot more about its genetic makeup, but current data suggests that it doesn't transmit or mutate as easily as other viruses like SARS-CoV-2 which is a RNA virus."
We at Thailand Medical News are concerned that not only could the monkeypox outbreak escalate into another global health crisis but also the possibility of emergence of other more virulent and lethal Orthopoxviruses, Varicelloviruses and Orthonairoviruses in various geolocations as the SARS-CoV-2 virus has changed the immune landscape of billions of people worldwide and this could lead to various active and dormant viruses mutating and evolving.
For the latest
Monkeypox News
, keep on logging to Thailand Medical News.