BREAKING! Randomized Clinical Trial Findings Confirms That Early Treatment With Fluvoxamine Reduces Risk Of COVID-19 Severity And Mortality
COVID-19 Drugs
: Results from the TOGETHER multi-institutional, multi-country randomized platform clinical trials of various repurposed drugs to treat COVID-19 has shown that treatment with fluvoxamine (100mg twice daily for 10 days) among high-risk outpatients with early diagnosed COVID-19, reduced the need for extended emergency room observation or hospitalization.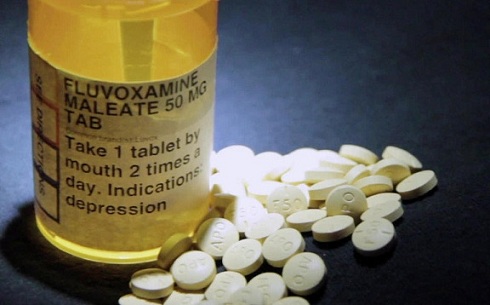 The institutions and countries involved in this randomized clinical trial platform includes: Cardiologia Assistencial e de Pesquisa-Brazil, Pontifícia Universidade Católica de Minas Gerais-Brazil, McMaster University-Canada, Cytel Inc-Canada, Montes Claros State University-Brazil, Governador Valadares Public Health Authority-Brazil, Ouro Preto Federal University-Brazil, Federal University of Minas Gerais, Belo Horizonte-Brazil, Certara Inc.-Princeton-USA, Monash University-Australia, Washington University School of Medicine-USA
The randomized clinical trial findings were published on a preprint server and are currently being peer reviewed.
https://www.medrxiv.org/content/10.1101/2021.08.19.21262323v2
Thailand Medical News had already covered about the potential prospects of the usage of fluvoxamine to treat COVID-19 in an earlier article.
https://www.thailandmedical.news/news/breaking-fluvoxamine-an-inexpensive-anti-depressant-emerging-as-a-leading-drug-candidate-to-be-repurposed-to-treat-covid-19
Fluvoxamine is emerging as a drug of choice to prevent COVID-19 disease severity and also mortality used and should be approved in a matter of weeks as a COVID-19 drug by the Canadian and also Brazilian health authorities.
In this recent placebo-controlled, randomized, adaptive, platform trial conducted among symptomatic Brazilian adults confirmed positive for SARS-CoV-2, the clinical trial included eligible patients with a known risk factor for progression to severe disease.
The patients were randomly assigned to either
fluvoxamine
(100 mg twice daily for 10 days) or placebo. The primary endpoint was a composite outcome of emergency room observation for >6 hours or hospitalization from COVID-19 up to 28 days post randomization using intention to treat. Modified intention to treat (mITT) explored patients receiving at least 24 hours of treatment before a primary outcome event. Secondary outcomes included viral clearance at day 7, time to hospitalization, mortality, and adverse drug reactions.
The study team used a Bayesian analytic framework to determine effects along with probability of success of intervention compared to placebo. The trial is registered at
clinicaltrials.gov
(
NCT04 727424
) and is still ongoing.
The clinical researchers screened 9020 potential participants for this trial. The trial was initiated on June 2, 2020, with the current protocol reporting randomization from January 15, 2021 to August 6th 2021, when the trial arms were stopped for superiority.
A total of 3238 patients were allocated to fluvoxamine (n=739), placebo (n=733) and other treatments (n=1766).
The clinical trial findings showed the effectiveness of fluvoxamine vs. a concurrent placebo control. The average age of participants was 50 years (range 18-102 years); 57% were female. The proportion of patients observed in an emergency room for >6 hours or admitted to hospital due to COVID-19 was lower for the fluvoxamine group compared to placebo (77/739 vs 108/733; Relative Risk [RR]: 0.71; 95% Bayesian Credible Interval [95% BCI]: 0.54 - 0.93), with a probability of superiority of 99.4% surpassing the prespecified superiority threshold of 97.6% (risk difference 4.3%). Of the composite primary outcome events, 88% were hospitalizations.
Findings were similar for the mITT analysis (RR0.68, 95% BCI : 0.50- 0.91). We found no significant relative effects between the fluvoxamine and placebo groups on viral clearance at day 7 (Odds ratio [OR]: 0.75; 95% Confidence Intervals [95% CI]: 0.53 - 1.07), mortality (OR: 0.70; 95% CI: 0.36 - 1.30), time to death (Hazard ratio [HR]: 0.79; 95% CI: 0.58 - 1.08), days hospitalized (Mean Difference (MD) 1.22 days; 95% CI: 0.98 - 1.53), number of days ventilated (MD 1.10; 95% CI: 0.70 - 1.73) or other secondary outcomes. Data capturing all 28 days of follow-up will be reported after August 26th, 2021.
The clinical findings confirmed that treatment with fluvoxamine (100 mg twice daily for 10 days) among high-risk outpatients with early diagnosed COVID-19, reduced the need for extended emergency room observation or hospitalization.
The WHO and U.S. CDC has also been informed about the trial findings and are in the process of assessing the possibility of approving the drug for standard treatment protocols for COVID-19.
Thailand Medical News would further like to add that unlike Ivermectin which does not seem to exhibit efficacy against the new variants including the Delta variant plus there has already been reports of drug resistance against Ivermectin reported among COVID-19 patients both Brazil and India, various other observational trials involving fluvoxamine shows no such incidences with the other emerging variants and has demonstrated to be effective against the Delta variant in terms of preventing disease severity and mortality.
For more about
Fluvoxamine and COVID-19
, keep on logging to Thailand Medical News.