BREAKING NEWS! : Coronavirus Infected Patient In France Dies, Marking First Fatality In Europe, More Cases On Cruise Ship Totaling 286 Now
French Health Minister Agnes Buzynhas announced this afternoon (Saturday 15
th
February) that one of the 11 patients that was detected with the
coronavirus
in France has died.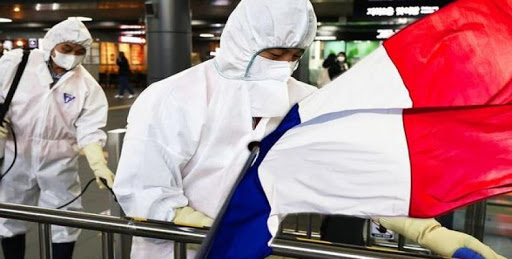 The patient was described as an elderly Chinese tourist and marks Europe's first fatality.
Meanwhile cases of
coronavirus
infections continue to rise among passengers onboard the quarantined cruise ship that is docked at Yokohama. 67 new cases were detected today bringing the toll to 286 with many more reportedly sick onboard but yet to have been tested or are awaiting test results.
The situation is looking extremely grim with the US government now planning to evacuate all its citizens from the ship and bring them back home to the US.
The Japanese government has meanwhile donated 2,000 Apple Iphones to passengers on board the ship so that every cabin has one that can used to communicate with health officials onshore about their conditions and medical needs.Each phone comes with an installed local internet service access and an app that allows passengers to communicate their symptoms, medications needed etc to help manage the
coronavirus
outbreak onboard the ship.
Eqypt has also reported its first case on a patient infected with the
coronavirus
marking the first case on the African continent.
Malaysia reported two new cases of
coronavirus
infections today , bring the total in the country to 21.
There are currently 690 cases confirmed cases of
coronavirus
infections outside of China spanning 28 countries.
There are about 11,860 suspected cases of
coronavirus
infections outside of China spanning 112 countries pending testing or awaiting test results.
Many epidemiologists are saying that so far all the
coronavirus
cases materializing out of China are just the 'tip of the iceberg' as massive amounts are expected to turn up by the first week of March considering travel patterns and past travel figures.
For latest updates about the
coronavirus
or the
Thailand Coronavirus
scenario,check out :
https://www.thailandmedical.news/articles/coronavirus