The Ministry of Public Health (MOPH) is encouraging the general public to live a healthier lifestyle by choosing foods and drinks certified as healthy alternative foods.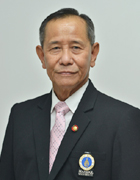 Khun Seree Tuchinda,M.D.
Seree Tuchinda, chief adviser to the public health minister, revealed the MOPH is campaigning for better food safety following a survey which has found many eating behaviors of the people could possibly lead to non-chronic diseases such as diabetes, hypertension, Ischemic heart diseases, strokes and chronic kidney diseases, all of which have accounted for 75% of all fatalities of the Thai population.
In effort to promote the healthier eating, the MOPH has adjusted nutritional labels on food packages for easier understanding, and has introduced a healthy alternative food symbol shown on packages of foods which have been tested by the Institute of Nutrition to have an adequate level of sweetness, oiliness, and saltiness.
A total of 821 food items have already been given the healthy alternative food symbol to be put on their packages, including meals, drinks, seasonings, instant foods, dairy products, snacks, and ice-cream. Food manufacturers have been suggested to improve their recipes to keep sugar, fat, and salt at appropriate levels.
The MOPH is also promoting the selection of healthy foods as New Year gifts.