Apple is moving towards installing smart technology into clothing as part of a new venture to hit the healthcare industry with its latest filing of a patent with the U.S. Patent and Trademark Office for "Smart Clothing" which would be able to connect with other Apple devices such as the Apple Watch to track health vitals. The patent image filed in 2018 and published early October 2019 shows a ring-shaped band that can be sewn into clothing.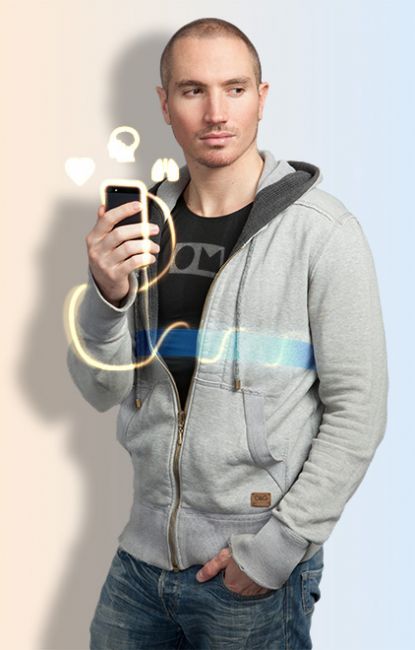 The Health Vital monitoring band is designed to be soft and stretchy and contains sensors that will track and gather the wearer's health using circuitry.Plans for the clothing aim to track heart rate, blood pressure, blood sugar levels, electrocardiograms, blood oxygen levels, and respiration rates.
It is also anticipated that the band will be able to track fitness-based metrics, such as the wearer's daily step count and exercise levels to help encourage healthy living. It will be able to connect wirelessly to the Apple watch and other electrical equipment, and the wearer will be able to execute voice commands through a built-in microphone. Evidence also suggests that the band will be touch-sensitive.
The patent application explains that the band could be launched in a range of clothing, including hats, headbands, pants, undergarments, socks, shorts and belts, to suit myriad users and situations. It added that the new technology will likely be made of a mix of polymer, ceramic, graphite, glass, metal, cotton, and bamboo.
Up to 40 percent of Americans are expected to own a wearable device by 2024, with 13.8% of the US aged 12 to 100 years owning a wrist-worn wearable in 2018. This is Apple's first foray into clothing.
Named product designer Daniel Podhajny previously worked at Nike as the company's 'Knit Exploration Innovator' and was behind the design of the brand's highly successful Flyknit range.
The patent covers worries based on the washing of garments, stating the "fabric-based item may be configured to sustain relatively high temperatures such as those associated with the laundering of clothing."
The patent include details such as "To withstand damage when the fabric-based item is stretched, the fabric may include strengthening strands and conductive strands may be provided with meandering paths and more slack than the strengthening strands."
Since Apple received FDA clearance to detecting atrial fibrillation and provide ECGs in the Apple Watch Series 4, all eyes have looked toward the company's next moves in the healthcare industry.
The company acquired Tueo Health back in late 2018, which is developing a system to help parents monitor asthma symptoms in sleeping children.In April, it filed a separate patent looking at the use of smell sensors in healthcare which would monitor blood sugar levels based on sweat particles in the air.
The company has recently paired up with Evidation Health, too, on a study where preliminary results show that some Apple devices in combination with digital apps may be able to detect some forms of cognitive dysfunction.
Thailand Medical News is &l t;/a>anticipating that Apple would launch a number of healthcare related platforms in late 2020.