COVID-19
: Italian medical researchers from the University Hospital Of Pisa say that COVID-19 infections may also cause subacute thyroiditis in certain patients.
The research and report was published in
The Journal of Clinical Endocrinology and Metabolism.
https://academic.oup.com/jcem/advance-article/doi/10.1210/clinem/dgaa276/5838793
Typically, subacute thyroiditis is an inflammatory thyroid disease characterized by neck pain and is usually preceded by an upper respiratory tract infection. It may be caused by a viral infection or a post-viral inflammatory reaction, and many viruses have been linked to the disease.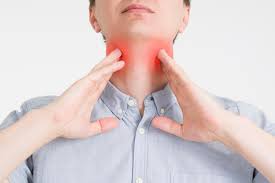 The Covid-19 disease caused by the SARS-CoV-2 coronavirus has emerged as a pandemic with severe respiratory symptoms and may involve other organs.
More than 5.2 million cases of COVID-19 have been confirmed worldwide.
Dr Francesco Latrofa, M.D., of the University Hospital of Pisa in Pisa, Italy told Thailand Medical News, "We reported the first case of subacute thyroiditis after a SARS-CoV-2 infection. Physicians should be alerted about the possibility of this additional clinical manifestation related to COVID-19."
The medical researchers examined an 18-year-old woman who was infected with COVID-19 after being exposed by her father. She completely recovered from COVID-19, testing negative a few days later, but started experiencing some additional symptoms.
The young female patient had neck and thyroid pain, fever and an increased heart rate. She was sent back to the hospital, where she was diagnosed with subacute thyroiditis. She had normal thyroid functioning and imaging just one month earlier.
Dr Latrofa added, "Because of the chronological association, SARS-CoV-2 may be considered accountable for the onset of subacute thyroiditis."
Treatment for subacute thyroiditis usually involves medications to help reduce the pain and control inflammation. In some cases, this is the only treatment required for subacute thyroiditis. Possible medications include:
-Over-the-counter nonsteroidal anti-inflammatory drugs (NSAIDs). Medications like aspirin and ibuprofen work by reducing inflammation. As a result, one will experience less pain. Acetaminophen (Tylenol) is not as effective because it does not reduce the inflammation thyroiditis causes.
-Corticosteroids. Corticosteroids are used when NSAIDs aren't enough to reduce swelling. Prednisone is a common corticosteroid used to treat subacute thyroiditis. Typical doses may are 15 to 30 milligrams per day to start, and then slowly decrease the dosage over two to three weeks.
-Beta-blockers. Some physicians may prescribe beta-blockers if hyperthyroidism is present in the early stages. These medications lower blood pressure and pulse rate to relieve certain symptoms, including anxiety and an irregular heartbeat.
For more on
COVID-19
News, keep logging to Thailand Medical News.
Please Help To Sustain This Website And All Our Initiatives To Propel Research By Donating
.
https://www.thailandmedical.news/p/sponsorship