Despite the ongoing China and US trade war that has sent many stock markets into a tumble, US Biotech stocks are still looking promising as ever and will most probably be the most resilient stocks in times of uncertainty. As usual, we are still staying away from Thai Stocks due to so much ongoing political uncertainties despite the elections and even with whatever government that comes into play, the economic outlook for Thailand is still grim as ever.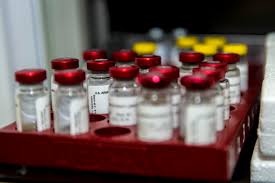 Here are our picks are three US stocks that have will most likely deliver strong returns despite the fact that they are currently trading well below their 2018 highs.
1.Emergent BioSolutions (NYSE:EBS)
Emergent BioSolutions witness its shares plunge recently after it delivered disappointing earnings results. As dissapointing as that move was to shareholders who owned the company before the news hit, the decline might very well be just what those sitting on the benches need in order to consider taking the plunge to invest.
Currently, Emergent BioSolutions is sporting a stock price of around $49 per share. Despite the short-term pain, Emergent is projecting, analysts anticipate the company will earn around $3.33 per share in early 2020. That gives it a price-to-anticipated-forward-earnings ratio of less than 15 -- making it reasonably priced for investors who have the patience to wait out the short-term down.
Of course, any estimates are based on projections of the future, but it looks optimistic considering the combination of existing pharma products, a lucrative government contract to work on terror countermeasures, and a pipeline that ranges from pre-clinical to phase 3 testing, there's a high chance it will shoot up.
Emergent BioSolutions sports a decent balance sheet, with a debt-to-equity ratio below 0.8 and a current ratio above 3. This is enough to reassure investors that even if the recovery takes a bit longer than expected, the company still has the financial strength and stability to see it through.
Sometimes, the market's short-term jitters give investors with a longer-term focus the opportunity to buy a company at a decent price and Emergent Bisolutions is one such stock.
2. Viking Therapeutics (NASDAQ:VKTX)
After reporting encouraging phase 2 drug trails for the drug VK2809 in treating patients with non-alcoholic fatty acid liver disease (NAFLD) and elevated low-density lipoprotein cholesterol (LDL-C),Viking Therapeutics is more than 50% below its highs set last year. Viking is an intriguing biotech stock right now and there are some big drugmakers who might have similar views especially for plans of acquisition.
The real game changer for VK2809 is in treating non-alcoholic steatohepatitis (NASH). The disease has no approved drugs yet, and industry observers project that it will become a huge market soon, as several drugmakers are rushing to develop NASH drugs. Viking already has plans to start a phase 2b clinical study evaluating VK2809 in NASH in the later part of 2019.
Viking Therapeutics is a prime target for acquisition by big biopharmaceutical companies seeking to bolster their NASH pipelines. The company is relatively cheap with a market cap of about $600 million. Its lead candidate is promising and its risk is at least a little lower than some phase 2 NASH drugs might be after its success in NAFLD and LDL-C.
New Gilead Sciences recent ly indicated interests for bolt-on acquisitions, noting that the vast majority of the opportunities in early stage or mid-stage drug developments. Gilead sufferred two late-stage clinical failures for its NASH drug selonsertib, and Viking could help fill in the gaps for them.Thailand Medical News has been monitoring the developments of NASH Drugs and so far it seems that only
Viking Therapeutics is the only company making any headway despite being of a small size compared to the larger pharma giants.
Viking Therapeutics is a risky stock and not a pick for many investors except those willing to take a calculated gamble.
3.Amgen (NASDAQ:AMGN)
At the yearly American Society of Clinical Oncology (ASCO) conference to be held held in early June, Amgen could emerge a "blue-eyed boy "as it presents studies and developments on its BiTE (bispecific T cell engager) drugs, a new class of cancer fighters in which two-sided antibodies bind to a target and a T cell to overcome cancer's natural defenses. Data to be present at ASCO could include data on AMG-420, A BiTE targetting BCMA, a protein expressed in multiple myeloma. Last year, Amgen elicited a complete positive response in five heavily pretreated multiple myeloma patients, giving rise to speculations that it end up being a better alternative to the chimeric antigen receptor T cell gene therapies being developed by other competitors.
Furthermore, Amgen would also benefit from data presented about the first human trials of AMG-212, A BiTE drug targeting an antigen produced in most prostrate tumors. Amgen acquired it in 2012 after initial studies were done by other entities. That data could also enhance Amgen's new half-life extended BiTE molecule, AMG 160, that Amgen has moved into clinical testing.
Amgen will also be share its first-in-human efficacy and safety data for AMG 510, a drug targeting KRAS G12C, a common mutation occurring in 14% of lung adenocarcinomas and about 4% of colon cancers. Previously, RAS mutations like this have been considered undruggable, but Amgen's R&D thinks AMG 510 could revolutionize that.
There's no guarantee data presented at ASCO will send Amgen's shares higher. But with all the Medical News covering the event, there is a good chance it will happen. The company's growth has slowed lately due to expiring patents. If these new data findings convince investors that growth could reaccelerate in the future, then picking up shares now could be a wise decision.
As usual we encourage all investors to do their own due diligence and that Thailand Medical News holds no liability for our suggestions or articles.