COVID-19 Vaccine: Moderna's mRNA 1273 Vaccine Progresses To Phase III After Successful Early Clinical Results
COVID-19 Vaccine
: Moderna has announced that said its COVID-19 vaccine candidate mRNA-1273 will advance to a 30,000-participant Phase III trial later this month, following publication of additional positive Phase I data from a study led by the NIH's National Institute of Allergy and Infectious Diseases (NIAID).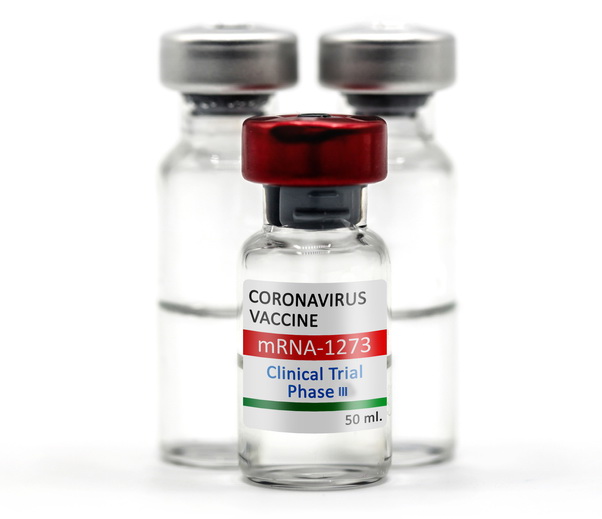 The "COVE" Phase III study (
NCT04470427
) is expected to begin registration at study centers nationwide beginning on July 21 with study initiation set for six days later. The primary endpoint of the randomized, 1:1 placebo-controlled trial will be the prevention of symptomatic COVID-19 disease. Key secondary endpoints include prevention of severe COVID-19 disease as defined by the need for hospitalization, and prevention of infection by SARS-CoV-2, Moderna said.
The biotech company disclosed plans for the Phase III trial on Clinicaltrials.gov the same day that researchers from NIAID, Moderna, and their clinical research partners reported that mRNA-1273 induced rapid and strong immune responses against SARS-CoV-2, in an interim analysis of results from their Phase I study (
NCT04283461
).
The study findings in the
The New England Journal of Medicine (NEJM)
reported, "These safety and immunogenicity findings support advancement of the mRNA-1273 vaccine to later-stage clinical trials."
https://www.nejm.org/doi/full/10.1056/NEJMoa2022483?query=RP
The
study findings
reaffirmed and elaborated upon initial findings from the Phase I, dose-escalation, open-label trial that Moderna announced on May 18 via press release. The findings were based on data through Day 57 from a two-dose vaccination schedule of mRNA-1273 given 28 days apart across three dose levels (25, 100, 250 µg) in 45 healthy adults ages 18–55 years,15 adults in each dose cohort.
https://www.genengnews.com/news/moderna-reports-positive-interim-phase-i-results-for-covid-19-vaccine/
Moderna reported that mRNA-1273 induced binding antibodies to the full-length SARS-CoV-2 Spike protein (S) in all participants after the first vaccination, with detectable antibodies in the blood seen in all participants by Day 15. Dose-dependent increases in binding titers were seen across the three dose levels, and between prime and boost vaccinations within the dose cohorts.
Moderna CEO Stéphane Bancel told Thailand Medical News, "These positive Phase I data are encouraging and represent an important step forward in the clinical development of mRNA-1273, our vaccine candidate against COVID-19, and we thank the NIH for their ongoing collaboration," "We are committed to advancing the clinical development of mRNA-1273 as quickly and safely as possible while investing to scale up manufacturing so that we can help address this global health emergency."
The mRNA-1273 vaccine is one of two v accine candidates outside of China that are racing toward Phase III trials this month after after announcing positive Phase I clinical data.
The other is BNT162b1, the most advanced of four mRNA vaccine constructs of BNT162 by Pfizer and BioNTech. On July 1, the companies said BNT162b1 showed encouraging immunogenicity and a favorable safety profile in preliminary Phase I/II data in a preprint study yet to complete peer review.
https://www.medrxiv.org/content/10.1101/2020.06.30.20142570v1
Dr Geoffrey C. Porges, MBBS, Director of Therapeutics Research and a senior research analyst at SVB Leerink said, "Only time will tell which of these companies, or their rivals developing other vaccine modalities (synthetic viruses, adjuvanted protein subunits), can get their trials recruited quickly and with enough power and flexibility to manage the huge uncertainty about infection exposure risk and clinical progression event rates. We still believe that the 'end of 2020' timeline is unrealistically aggressive for the availability of a general use vaccine, but do expect a vaccine to be approved on an EUA (emergency use authorization) basis by year-end for high risk populations."
Moderna said, it has completed the manufacture of vaccine required to start the Phase III study. The company said it remains on track to be able to deliver approximately 500 million doses per year, and possibly up to one billion doses per year, beginning in 2021 from both its internal U.S. manufacturing site and a strategic collaboration with Lonza of undisclosed value announced in May.
In late June, Moderna and Catalent inked a large-scale, commercial fill-finish manufacturing agreement of Moderna's mRNA-based COVID-19 vaccine candidate (mRNA-1273) at Catalent's biologics facility in Bloomington, IN. And earlier this month, Moderna announced a collaboration with ROVI for large-scale, commercial fill-finish manufacturing of mRNA-1273 intended in principle to supply markets outside of the United States starting in early 2021 at ROVI's facility in Madrid, Spain.
https://investors.modernatx.com/news-releases/news-release-details/moderna-and-rovi-announce-collaboration-ous-fill-finish
The standard 100 µg dose will be given to participants randomized to treatment in the upcoming 30,000-participant Phase III trial, Moderna and its research partners said.
Moderna reported that at the 100 µg dose, the geometric mean titers seen among patients were 2.1-fold higher than those seen in convalescent sera obtained from 38 individuals with confirmed COVID-19 diagnoses. Also at 100 µg, the geometric mean titer levels were 4.1-fold above those seen in reference convalescent sera.
Moderna and its research partners added that a clear dose response was seen in geometric mean titers between the 25 µg and 100 µg dose levels, while the 250 µg dose generated a minimal additional increase.
Moderna said, "We were not able to assess the durability of the immune responses. However, participants will be followed for one year after the second vaccination with scheduled blood collections throughout that period to characterize the humoral and cellular immunologic responses."
The mRNA 1273 vaccine is a novel lipid nanoparticle (LNP)-encapsulated mRNA vaccine encoding for a prefusion stabilized form of the Spike (S) protein.
In the Phase I study, after two vaccinations, mRNA-1273 elicited robust neutralizing antibody titers. At Day 43, neutralizing activity against SARS-CoV-2 was seen in all evaluated participants, according to Moderna and partners.
Neutralizing activity was assessed in two different assays, a live SARS-CoV-2 plaque-reduction neutralization test (PRNT) and a pseudovirus neutralization assay (pseudotyped lentivirus reporter single-round-of-infection neutralization assay, PsVNA). No participants had detectable live SARS-CoV-2 virus neutralization or PsVNA responses before vaccination.
The T-cell responses were also evaluated at the 25 µg and 100 µg dose levels. Following second vaccination, mRNA-1273 elicited Th1-biased CD4 T-cell responses without significant elevation of Th2-biased CD4 T-cell responses.
Moderna and its research partners said mRNA-1273 was generally safe and well-tolerated, with no serious adverse events reported through Day 57. Adverse events (AEs) were generally transient and mild to moderate in severity.
The only notable adverse events seen at the 250 µg dose level, were with three of 14 participants (21%) reporting one or more severe events. Solicited systemic adverse events were more common after the second vaccination and occurred in seven of 13 (54%) participants in the 25 µg group, all 15 participants in the 100 µg group, and all 14 participants in the 250 µg group.
The most commonly reported systemic adverse events following second vaccination at the 100 µg dose were fatigue (80%), chills (80%), headache (60%), and myalgia (53%), all of which were transient and mild or moderate in severity. The most common solicited local adverse event at the 100 µg dose was pain at the injection site (100%), which was also transient and mild or moderate in severity.
The biotech company continues to carry out a Phase II study (
NCT04405076
) of mRNA-1273 designed to assess the safety, reactogenicity, and immunogenicity of two vaccinations of mRNA-1273 given 28 days apart. The placebo-controlled, dose-confirmation study has enrolled a total 600 healthy participants across two cohorts: 300 adults ages 18–55 years, and 300 adults ages 55 years and up. Participants are assigned to placebo, a 50 μg, or a 100 μg dose at both vaccinations, and will be followed through 12 months after the second vaccination.
For more on
COVID-19 Vaccines
progress, development and failures, keep on logging to Thailand Medical News