Treatment for
melasma
has been difficult to achieve due to extended treatment periods and inconsistent results. Italian Researchers from Italian dermatology group Donne Dermatologhe Italia, explored this dermatological pathology and researched using
Kojic Acid
to treat
melasma
.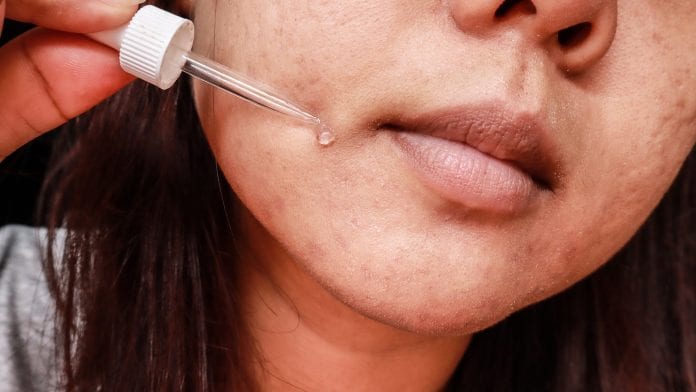 The findings published in
Wiley
, the medical researchers looked deeper
dermatological
pathology, looking specifically at this new treatment for
melasma
.
The authors of the paper, Tiziana Laureti, Enzo Berardesc, Corinna Rigoni, Alessandra Cantù, Norma Cameli, and Aurora Tedeschi wrote how
melasma
treatment is difficult due to extended treatment periods, suboptimal adherence, inconsistent results, and frequent relapses.
However,
Kojic acid
has been shown to be effective in reducing
melasma
severity and is now increasingly used in cosmetic treatments. The purpose of the study was to essentially evaluate the effectiveness of a new cosmetic treatment (
Kojic acid
) for
melasma
at 45 and 90 days.
Melasma
is a common pigmentation disorder that causes brown or grey patches to appear on the skin, primarily on the face. The skin condition may also appear on other areas of the body, especially those exposed to a lot of sunlight.
Melasma
usually becomes more noticeable in the summer and improves during the winter months. It is not an infection; therefore, it is not contagious, and it is not due to an allergy.
The study took place across 20 dermatology clinics/ambulatories. 100 patients with mild‐to‐moderate melasma were evaluated. The primary endpoints were changes in mean modified melasma area and severity index (mMASI) score and patient‐reported satisfaction at 45 and 90 days.
The mean age of patients was 45.19 ± 11.5 years and majority of the patients that were included in the study were female and Caucasian. Regarding the types of
melasma
, the patients presented mixed (65%), epidermal (26%), and dermal (4%) types of the condition.
With the mean disease duration being approximately six to seven years. The researchers found that triggering factors of
melasma
were hormonal contraception, pregnancy, and pharmacological treatment.
Overall, a statistically significant decrease in mean mMASI scores was seen at 45 and 90 days from using the cosmetic treatment. The highest reduction in mMASI scores was observed in patients with dermal
melasm
a. The IGA scores showed a statistically significant improvement in pigmentation at 90 days.
Ultimately the researchers discovered that the novel cosmetic treatment was associated with the improvement of
melasm
a, as assessed by mMASI.
Due to possible severe reactions from non-proper usage of
Kojic acid
,
Thailand Medical
News recommends that the treatment should only be carried out by a licensed dermatologists.
Reference:
Effectiveness of a new cosmetic treatment for melasma
Enzo Berardesca MD ,Corinna Rigoni MD ,Alessandra Cantù MD ,Norma Cameli MD ,Aurora Tedeschi MD ,Tiziana Laureti PhD First published: 20 November 2019 https://doi.org/10.1111/jocd.13203