Thailand Coronavirus Updates: Chinese Woman Caught Spitting All Over In An Attempt To Spread The SARS-Cov-2 Virus
Thailand Coronavirus
Updates : A Chinese female national was arrested for spitting all over deliberately non-stop on public transport in Thailand. It was perceived that she was trying to spread the disease to Thai nationals deliberately.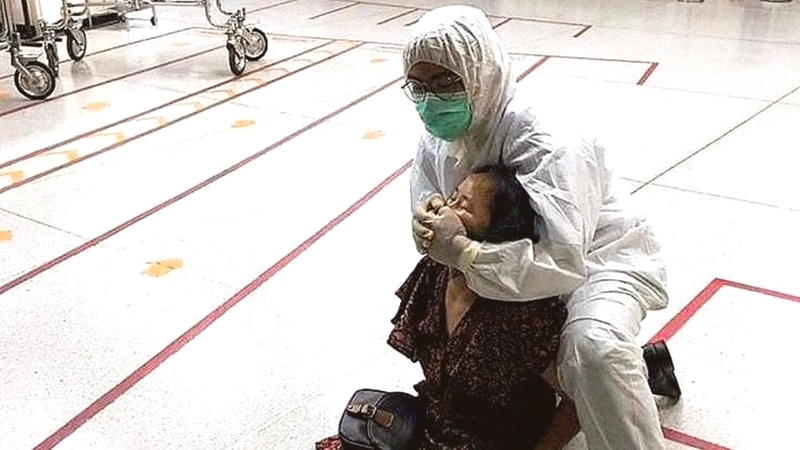 The Chinese woman was arrested on Thursday (March 19) by health and police officials after she was allegedly found spitting repeatedly inside a bus that she took from Bangkok to Saraburi.
She then rode a train to Bangkok and started spitting all over again.
An official picture was posted by the the Department of Disaster Prevention and Mitigation showing officials in protective suit arresting the woman after responding to a complaint on social media that a Chinese woman was spitting in public transportation.
The female Chinese national reportedly wandered in the bus to spit at different spots, causing concern among other passengers amid the Covid-19 outbreak.
As she arrived at the bus terminal, Public Health officials tried to take her to test for Covid-19 but she refused to comply, saying that she would stay for only a few days and walked away.
The female from China was spotted again on a train to Bangkok, and this time the officials decided to arrest her. The woman resisted and tried to spit on the officials. They pushed her to the ground and closed her mouth.
The Chinese woman was quarantined yesterday night and was sent to be tested for Covid-19 to Siriraj Hospital in the morning.
The Thai public was wondering if it was a deliberate attempt by China to its citizens around the world to spread the China virus.
Thai public also wanted answers from the Minister of Tourism who has been very accommodating to the Chinese tourists and never allowed the country to be locked down from foreign arrivals.
In fact the whole current Thai government which has always been extremely accommodating with China shoud give an explanation to the Thai public concerning the safety of Thai citizens from Chinese terrorists like these. They are almost 450,000 Chinese nationals currently in the country if not more.
For more on the
Thailand Coronavirus
Updates, keep logging on to
Thailand Medical
News.