BREAKING! Emerging Data On Monkeypox Causes U.S. CDC To Raise Travel Alert To level Two With Possibility Of Being Raised To Level 3 In Days!
Monkeypox
cases have now risen to 497 cases spanning 28 countries that are not endemic for the virus. Mexico is the latest country to detect a case of monkeypox. The United Kingdom and Spain remains the two hotspot countries with each having 107 confirmed cases so far.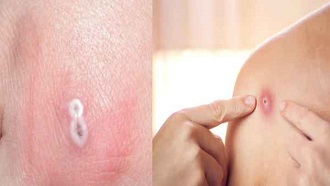 Monkeypox manifestations in white British males.
Countries where
monkeypox
has been detected outside the African continent now include United Kingdom (107), Spain (107), Portugal (74), Canada (63), Germany (23), France (17), Italy (15), Netherlands (32), United States (13), Belgium (7), Czech Republic (6), Switzerland (4), United Arab Emirates (4), Slovenia (2), Australia (2), Sweden (2), Denmark (2), Argentina (2), Israel (3), Finland (1), Austria (1), Ireland (2), Mexico (1), Malta (1), Sudan (1), Iran (1), Ecuador (1) and Bolivia (1).
At the same time, more than 2184 individuals globally are under investigation for possible monkeypox infection.
In the last few hours, the U.S CDC has issued Level Two Travel Alert with regards to travel to countries with high caseloads of monkeypox.
https://wwwnc.cdc.gov/travel/notices/alert/monkeypox
The travel advisory states that:
1)All travelers should AVOID close contact with sick people, including those with skin lesions or genital lesions.
2)All Travelers should AVOID:
-Physical or close contact with sick people, including those with skin lesions or genital lesions.
-Any contact with dead or live wild animals such as small mammals including rodents (rats, squirrels) and non-human primates (monkeys, apes).
-Consumption or preparing meat from wild game (bushmeat) or using products derived from wild animals from Africa (creams, lotions, powders).
-Contact with contaminated materials used by sick people (such as clothing, bedding, or materials used in healthcare settings) or that came into contact with infected animals.
It is expected that in coming days, this travel alert will be raised to Level Three especially with regards to travel to the United Kingdom, Spain, Portugal, Netherlands, Germany and France where it is now believed that caseloads could be much higher than reported and that the virus is spreading rapidly in these countries.
Genomic data has already revealed that these are new strains of monkeypox with mutations found that have never been seen on the two previous clades.
https://www.thailandmedical.news/news/monkeypox-currently-circulating-around-is-unlike-former-strains-and-contains-new-mutations-despite-some-garbage-western-experts-claiming-that-they-are
A past research data that has resurfaced is causing concerns among scientists and researchers at the WHO, US, CDC and ECDC as the study data shows that the monkeypox virus remains viable and infectious in aerosol for up to 90 hours!
&lt ;br />
https://www.ncbi.nlm.nih.gov/pmc/articles/PMC3556235/
The study data showed the susceptibility to aerosolization of the monkeypox virus (MPXV), associated with emerging zoonotic diseases, The monkeypox virus was studied using a 10.7 liter rotating chamber. This chamber was built to fit inside a Class three biological safety cabinet, specifically for studying airborne biosafety level three (BSL3) microorganisms. Airborne viruses were detected by culture and quantitative polymerase chain reaction (qPCR) after up to 90 hours of aging.
MPXV viral concentrations detected dropped by two logs for culture analysis and by one log for qPCR analysis within the first 18 hours of aging; viral concentrations were stable between 18 and 90 hours, suggesting a potential for the MPXV to retain infectivity in aerosols for more than 90 hours.
Furthermore, the incubation period f the virus is rather long spanning anything from 7 to 17 days!
In a 2001 study, Cynomolgus monkeys were exposed by fine-particle aerosol to lethal doses of monkeypox virus, Zaire strain. Death, attributable to fibrinonecrotic bronchopneumonia, occurred 9 to 17 days post-exposure. It was found that the lower airway epithelium served as the principal target for primary infection.
https://www.nature.com/articles/3780373
In a latest case report (May 2022) involving patients infected with the new monkeypox virus strain in the United Kingdom published in the peer reviewed journal: Lancet, the study team reported the following observations:
"Notable disease features included viremia, prolonged monkeypox virus DNA detection in upper respiratory tract swabs, reactive low mood, and one patient had a monkeypox virus PCR-positive deep tissue abscess"
"We reviewed all cases since the inception of the HCID (airborne) network between Aug 15, 2018, and Sept 10, 2021, identifying seven patients. Of the seven patients, four were men and three were women. Three acquired monkeypox in the UK: one patient was a health-care worker who acquired the virus nosocomially, and one patient who acquired the virus abroad transmitted it to an adult and child within their household cluster. Notable disease features included viremia, prolonged monkeypox virus DNA detection in upper respiratory tract swabs, reactive low mood, and one patient had a monkeypox virus PCR-positive deep tissue abscess. Five patients spent more than 3 weeks (range 22–39 days) in isolation due to prolonged PCR positivity. Prolonged upper respiratory tract viral DNA shedding after skin lesion resolution challenged current infection prevention and control guidance. There is an urgent need for prospective studies of antivirals for this disease."
https://www.thelancet.com/journals/laninf/article/PIIS1473-3099(22)00228-6/fulltext
The United Kingdom has classified Monkeypox as a high consequence airborne infectious disease in a recently updated document by the UKHSA, along with MERS, Nipah virus, SARS1 and Pneumonic plague.
https://www.gov.uk/guidance/high-consequence-infectious-diseases-hcid
Also worrying is that among the 497 cases so far, 29 cases involved immunocompromised individuals who were infected with HIV raising the possibility that more mutated versions of the monkeypox virus might emerge.
To make matters more complicated, many cases of asymptomatic and also atypical manifestations are being reported making it more difficult for doctors to diagnose monkeypox infected individuals!
https://twitter.com/sebpoule/status/1529300460322050048?s=20&t=9NsgJHjb2UGuBkM81fwUFw
Many stupid individuals are now believing that the monkeypox is of no threat or that it is a new fabricated health crisis made to pursue further mass vaccination programmes or lockdowns etc. We at Thailand Medical News sees new strains of monkeypox, smallpox and chickenpox as new health threats that possibly arose as a result of the new human host immune landscape triggered by the SARS-CoV-2 infections and reinfections. We expect more such mutated versions of the Orthopoxviruses, Varicelloviruses and Orthonairoviruses to emerge in coming months and cause outbreaks in various geolocations.
For the latest
Monkeypox news
, keep on logging to Thailand Medical News.