BREAKING! Doctors At Eva Peron Hospital In Tucuman Cry Foul Amidst Coverup By Authorities In Argentina Claiming Mysterious Fatal Pneumonia Is Legionella!
Doctors and other healthcare workers at the Eva Peron hospital in Tucuman where the initial outbreak of a mysterious fatal pneumonia-related disease emerged are threatening a walk-out and strike as they believe that the country's politicians are attempting to cover up the seriousness of the outbreak while putting the risk of millions at risk.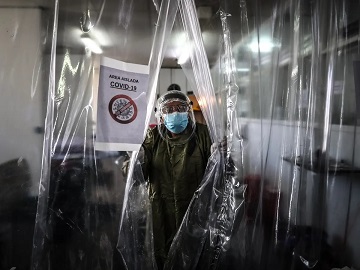 Most of the infected so far have been healthcare workers from the hospital that were believed to have contracted the disease from an immuno-compromised female patient aged 70 who is believed to be patient zero and who had died recently to become the third recorded fatality.
The doctors were upset after government and health officials in Argentina conducted press conferences claiming that the new outbreak was caused by Legionella pneumophila, a bacterium that is the causative agent of Legionnaires' disease, also known as legionellosis without providing proof of any laboratory reports.
https://msptucuman.gov.ar/vizzotti-confirmo-que-el-brote-de-neumonia-en-tucuman-fue-por-legionella/
https://www.eltucumano.com/noticia/actualidad/284759/el-malbran-confirmo-que-bacteria-produjo-el-brote-de-neumonia-y-vizzotti-llega-a-tucuman
The doctors said that test was conducted at the hospital's own laboratory and also at the Tucuman's provincial's health laboratory numerous times involving specimens from all the infected cases and Legionnaires' disease had been ruled out as there was no presence of the bacteria Legionella pneumophila.
Furthermore, the doctors at Eva Peron hospital claimed that the symptoms, disease progression and also other clinical and specimen biochemistry manifestations did not match that of a typical infection by Legionella pneumophila.
To further contradict the claims that the disease is not legionellosis which is usually localized around a particular location as the disease is typically contracted by breathing in water aerosols or droplets containing the bacteria that can be growing in air-conditioning systems, more new cases have been detected that were not related to the hospital.
Brazilian experts who were also brought in Argentina to help in determining the causative agent for the new fatal respiratory disease also dismiss the claims that the Legionella pneumophila bacteria is at play here.
However, they have been warned not to make any more statements to the media and neither are they allowed to disclose any of their findings in the ongoing research and of any research by other WHO designated researchers.
It should be noted that when there were 'reverse zoonotic' outbreaks of new SARS-CoV-2 variants to humans as a result of minks getting the virus from humans initially in farms in Denmark in late 2020, these outbreaks were not only censored from the media and all research data classified, but various international entities including the WHO were preventing the public from knowing what was actually happening. (The Cluster 5 Incidence). The data about the outbreak was only revealed many months later and very quiet ly, even then not all the data have been fully disclosed to the public till now.
https://en.wikipedia.org/wiki/Cluster_5
Argentinian authorities are now even trying to play down on the number getting infected with this new mysterious disease. According to local physicians at Tucuman and also from Eva Peron hospital, as of the last one hour, the number of suspected infections has now grown to 15 (not including those that died) with 8 in ICU requiring ventilators.
Thailand
Medical News
would continue to provide more updates on this outbreak as we have lots of freelance stringers at the scenes now along with lots of physicians and researchers from Tucuman willing to help.
Read Also:
https://www.thailandmedical.news/news/updates-on-new-mysterious-fatal-pneumonia-viral-disease-in-argentina-7-more-hospitalized-and-one-more-died,-total-infected-13-and-total-deaths-3
https://www.thailandmedical.news/news/breaking-new-fatal-respiratory-disease-that-causes-bilateral-pneumonia-detected-in-argentina-amidst-speculations-a-new-recombinant-virus-has-emerged