BREAKING! New Fatal Respiratory Disease That Causes Bilateral Pneumonia Detected In Argentina Amidst Speculations A New Recombinant Virus Has Emerged!
Health authorities in Argentina have announced the discovery of a new fatal respiratory disease that causes bilateral pneumonia in the province of Tucuman. To date, six people have been found to be infected with the new disease since the last 15 days. Two have already died while three are in ICU wards requiring ventilators while the fourth, a healthcare worker with moderate symptoms is currently under home quarantine.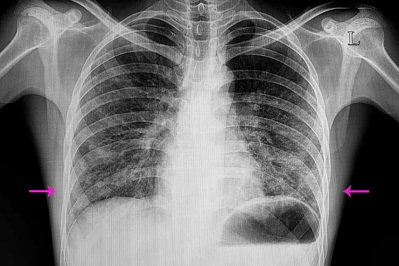 The etiology of the disease has not been detected so far. Test for COVID-19, various other influenza infections, hantavirus, respiratory syncytial virus, parainfluenza viruses, metapneumovirus, rhinovirus, other coronaviruses, adenoviruses, and bocaviruses have been negative and the same for test involving various other bacterial pathogens.
Dr Rogelio Calli from Tucuman Provincial Health Office told Thailand
Medical News
, "Pathogens including both viruses and bacteria are capable of generating the same symptoms as what we are witnessing here ie a flu-like disease with muscle pain, fever, shortness of breath. It is very similar to COVID-19 or hantavirus but individuals affected tend to not only manifest bilateral pneumonia but they also then to deteriorate rapidly. So far test for a variety of viruses and bacteria have been negative and we have yet to identify the causative agent of this new disease."
Dr Luis Medina Ruiz, head of the Tucuman Provincial Health Office told media in the last few hours that as a result of the emergence of more individuals in the hospital where the initial cases were treated also displaying similar symptoms, it was decided to lockdown the Eva Perón hospital.
Of the two who died, the first was a health worker in the hospital while the second who died a few hours ago was identified as a 45-year old male with existing comorbidities.
The WHO has already been informed of the development and teams are being dispatched to help with identifying the causative agent.
Health experts from Brazil who have also been brought in to help are speculating that a new recombinant SARS-CoV-2 variant that cannot be detected by existing test or assays could be at responsible.
While there are still a number of COVID-19 cases in Argentina, the real state of the COVID-19 burden is not known as there has been a total lack of testing.
The province of Tucuman also has a high population of individuals with HIV and there have also been recent outbreaks of various diseases among farm animals, all making it a perfect location for a possible recombinant SARS-CoV-2 to emerge!
Bilateral pneumonia is an acute infection of the lung parenchyma that can be detected by CT or chest X-ray.
Bilateral pneumonia develops when pathogens (whether viruses, bacteria, or other microorganisms) cause inflammation and infection in the lungs which causes the manifestation of pus and fluids in the alveoli that results in respiratory distress and failure.
To date, the symptoms observed in the six individuals in Tucuman were high fever, breathing difficulty, cough with phlegm, body chills, chest pain, diarrhea.
Treatment with existing antibiotics and antivirals are not helping and physicians are at a loss as to how to treat even the symptoms of the disease.
The Tucuman health authorities have asked locals of for the time being to mask, practice hand washing and to avoid crowded places and anyone developing symptoms are being asked to isolate and to inform local health officials immediately.
Thailand
Medical News
will provide more updates on this development in Tucuman-Argentina.
For the latest on disease outbreaks, keep on logging to Thailand
Medical News
.