Taking heart medication during chemotherapy can help minimize heart damage in breast cancer patients.
A common heart medication may help minimize the toxic effects of chemotherapy, based on a clinical trial that tested the use of beta-blockers in breast
cancer patients undergoing chemo
. Results of the study were recently presented at the American College of Cardiology's 67
th
Annual Scientific Session and published in the
Journal of the American College of Cardiology
.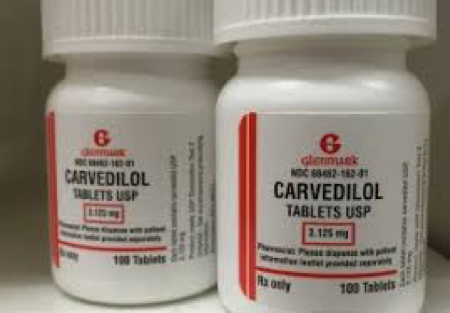 Carvedilol, a beta-blocker.
Known as the CECCY trial (Carvedilol Effect in Preventing Chemotherapy-Induced Cardiotoxicity), this study tested whether a heart medication called carvedilol helps prevent heart damage after chemotherapy. It included 200 Brazilian women undergoing chemotherapy for breast cancer, half of whom took carvedilol during their cancer treatment.
Carvedilol is a beta-blocker used for treating
heart failure
—a condition that occurs when the heart can't pump enough blood to the rest of the body. Heart failure is a known side effect of certain types of chemotherapy and studies suggest that taking beta-blockers may reduce risk for this complication.
After closely tracking participants' health, researchers found that 14.5% of patients taking beta-blockers had minimal heart damage after six months, compared to 13.5% of patients who took a placebo pill with no active ingredients. Minimal heart damage was defined as having less than a 10% drop in left ventricular ejection fraction, which is a measure of how well the heart can pump blood.
Unfortunately, authors note that the study did not have enough participants for this difference to be considered statistically significant. However, they did find that significantly fewer participants taking beta-blockers developed diastolic dysfunction, which occurs when the heart doesn't relax after each beat. Researchers also found that fewer patients taking carvedilol had elevated troponin levels in their blood, suggesting they had less damage to the heart muscle.
The take-home message, according to authors, is that taking beta-blockers during chemotherapy may help protect heart function in breast cancer patients. However, larger studies are needed to better understand the potential benefits.
It's important to note that this study only included patients taking a specific form of chemotherapy called doxorubicin. Doxorubicin is very effective in treating cancer but is also known to cause permanent damage to the heart. As experts explain, this study highlights the importance of balancing the known risks and benefits of cancer treatments. Authors hope beta-blockers could play an important role in minimizing the negative effects of chemo drugs like doxorubicin.
Reference: Journal of the American College of Cardiology.