Why Are Many Infected With Omicron Having Elevated D-Dimer Levels Despite Not Displaying Any Disease Severity? Urgent Research Needed!
Doctors and physicians in the United States and United Kingdom have been reporting of very high D-Dimer levels in blood works of infected Omicron patients irrespective of their initial symptom status or disease severity.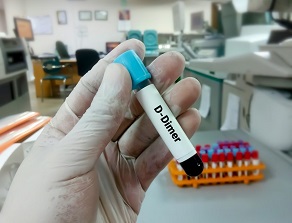 In some cases, the levels of D-Dimer elevations have been so high and never seen before in any known disease conditions!
Many patients who also got their blood works done are also reporting the same occurrences.
Strangely these occurrences were never seen among patients in South Africa.
Typically, if one's results reveal that you have higher-than-normal levels of D-dimer in your blood, it may mean that you have a blood clotting condition. However, a D-dimer test can't determine the type of blood clotting condition you may have or where the blood clot(s) is in your body.
Additionally, D-dimer levels may be elevated in the setting of pregnancy, inflammation, malignancy, trauma, postsurgical treatment, liver disease (decreased clearance), and heart disease. It is also frequently high in hospitalized patients.
There is an urgent need for researchers in the United States and United Kingdom to do a proper study and analysis of these occurrences and have a paper published at least as a preprint to validate this occurrence and for the rest of the global medical community to be aware of these occurrences.
Also, studies might next be needed as to what is causing this high D-Dimer levels specially in Omicron infected individuals and what needs to be done in terms of treatment protocols.
Its is also important to find out if Omicron infected individuals are at risk of blood clots and strokes and whether there has been an increase in excess deaths due to strokes and blood clots during the time since Omicron emerged in the United Kingdom and the United States.
Furthermore, a more detailed genomic analysis is needed on the emerging Omicron sub-lineages that are spreading in the United States and the United Kingdom.
Any researchers needing more details can contact us directly as we have access to some of these emerging raw data and also access to medical institutions and also databases but we do not have the manpower nor the resources.
Thailand Medical News will be providing more updates on the
Omicron-D-Dimer
Elevation issues.
For the latest
Omicron Research
, keep on logging to Thailand Medical News.