COVID-19 News: Australian Bureau of Statistics Finds An Excess Death Rate Of 17 Percent For January 1 to August 31, 2022! Why Are So Many Australians Dying?
COVID-19 News
: The Australian Bureau of Statistics last month released the latest mortality data that alarmingly showed that there had been 128,797 deaths from January 1 to August 31, which was 17 per cent higher than the historical average.
https://www.abs.gov.au/statistics/health/causes-death/provisional-mortality-statistics/latest-release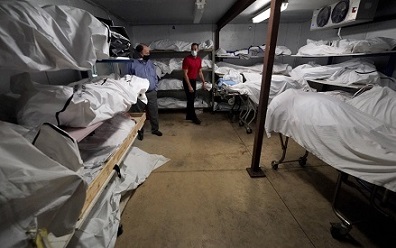 The data reflects an extra 18,671 deaths just for the first eight months of 2022 and of those, only 7727 were attributed to COVID-19 or roughly 41 per cent. The remaining 10,944 were termed as non-COVID excess deaths!
Interestingly, deaths in the month of August were 12.4 per cent above the historical average, down from 16.2 per cent in July.
According to the ABS, of the total deaths in 2022, deaths due to dementia are up 18.9 per cent, diabetes up 20.8 per cent, cancer up 6.1 per cent, and ischaemic heart disease up 3.3 per cent.
All states and territories apart from the Northern Territory had significant excess mortality in 2022.
Importantly, there were excess deaths in almost all age bands, even though the percentage was higher in older groups. Although the numbers of deaths in the 0 to 44 and 45 to 64 age bands was small, the numbers were materially higher than expected, particularly for females.
According to local experts, mortality doesn't normally vary by more than 1 to 2 per cent, so 17 per cent is way higher than normal levels.
Many are asking that the Australian government should be urgently investigating the "incredibly high" 17 per cent excess death rate so far in 2022.
Some local health experts are also speculating that the figures are even deliberately low and that there could be some cover-ups based on the figures that they have been monitoring on a monthly basis from hospitals and mortuaries from every state.
It is not clear what is driving the high increase in excess deaths in Australia but preliminary data from various other countries are also showing a similar trend.
In the case of the Australian data, besides the COVID-19 deaths, many are asking for details about the non-COVID-19 deaths and what are causing their increase.
Many physicians and doctors are also challenging the ABS report and saying that in reality, heart failure and many other cardiovascular issues have been contributing to an increase in deaths in the last two years.
Thailand Medical News has been flaunting the hypothesis for a long time in various
COVID-19 News
coverages that many exposed to the SARS-CoV-2 virus, will only have 5 to 8 years left. However constant re-infections to the virus and also lack of medical attention to address the more than 347 cellular pathways, genes and critical proteases destroyed by the SARS-CoV-2 virus can lead to even more shorter lifespans.
g-nsp2-impairs-human-4ehp-gigyf2-comple">https://www.thailandmedical.news/news/breaking-hypothesis-that-majority-exposed-to-sars-cov-2-will-have-shortened-lifespans-validated-by-study-showing-nsp2-impairs-human-4ehp-gigyf2-comple
https://www.thailandmedical.news/news/most-who-have-been-exposed-to-the-proteins-of-the-sars-cov-2-virus-will-have-shortened-lifespans-stop-using-fluvoxamine-for-ba-2-infections
Many who were initially asymptomatic or mild symptomatically will ultimately due to viral persistence and/or due to the viral proteins and peptides still in their bodies eventually as a result of damage to the various cellular pathways, genes and critical proteases succumb to fatal outcomes like heart failures, strokes, sepsis and various organ failures including kidney and liver failures, etc
It is believed that many governments and health authorities are aware of this but are deliberately either covering up or downplaying the seriousness of the long- term effects of SARS-CoV-2 exposure or Long LOVID.
We at Thailand Medical News strongly believe that with the current constant onslaught with new emerging SARS-CoV-3 variants and sub-lineages along with new recombinant variants that are more immune-evasive and causing breakthrough infections and re-infections, we will see an exponential rise in excess death rates globally in 2023 and the years to follow.
For the latest
COVID-19 News
, keep on logging to Thailand Medical News.
Read Also:
https://www.thailandmedical.news/news/covid-news-new-york-scientists-find-sars-cov-2-viral-presence-in-the-lung-up-to-359-days-after-acute-phase-of-disease-even-in-the-negative-tested
https://www.thailandmedical.news/news/breaking-researchers-present-case-reports-of-long-covid-patients-with-persistence-of-residual-sars-cov-2-antigen-and-rna-in-various-tissues
https://www.thailandmedical.news/news/breaking-long-covid-is-a-misnomer-the-conditions-are-being-caused-by-viral-persistence-and-viral-peptides-similar-to-retrotransposons-and-introns
https://www.thailandmedical.news/news/covid-19-news-charlatans-promoting-immunity-debt-for-rise-in-pediatric-viral-infections!-sars-cov-2-destroying-children-s-robust-innate-system-is-the-