Xylitol is a non-sugar sweetener extracted from the birch tree. It is a five-carbon polyol that has effectively demonstrated itself to be cariogenic, by its action of neutralizing plaque acidity on teeth and repairing tooth enamel. Hence, it is also called the "magic bullet."
The major production of xylitol goes to the pharmaceutical and oral hygiene industries and to confectionary manufacturers. It has 30% less calories compared to table sugar (calorific value of xylitol is 2.4 kcal/g, while that of sugar is 4 kcal/g) and is used in different food products for children like chewing gum, candies, gelatin, and in lozenges, toothpaste, and mouth rinses.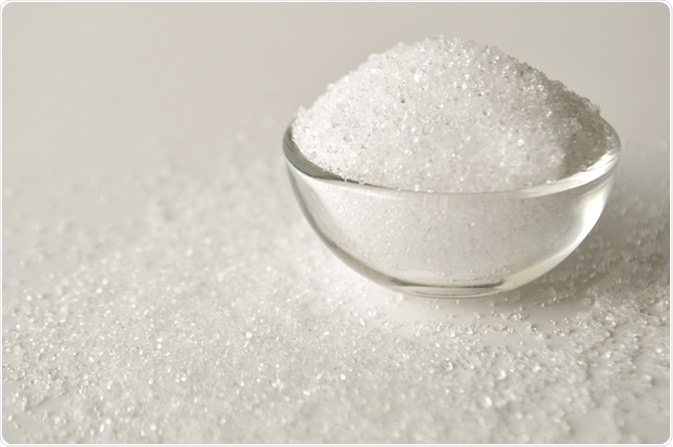 Xylitol sweetener - sugar substitute. Image Credit: Akvals / Shutterstock
Some research and evidence on Xylitol are discussed below.
Effects of Xylitol Chewing Gum
Studies carried out on the cariogenic effects of xylitol chewing gum against no gum at all showed less advancement of tooth decay in children after 24 months of completion of the study.
In 2006, experimental studies were carried out on the dose–response of streptococcus mutans (s. mutans) in unstimulated saliva and plaque to chewing gum that contained xylitol. These studies carried out on samples from various participants showed results that proved a significant reduction of s. mutans in plaque after intake of 6.44 g of xylitol per day for five weeks. An amount of 10.32 g of xylitol per day over a period of six months is also shown to reduce the s. mutans in plaque and unstimulated saliva.
Xylitol in Milk
Xylitol is added to milk as a step toward prevention of caries. In xylitol-added milk, there is no fermentation of bacteria as there is no acid present. Salivary action produces an alkaline environment in the mouth, which in turn increases the pH and results in tooth remineralization, finally leading to prevention of tooth decay.
In July 2005, research was conducted to find children's taste-acceptance of xylitol-added milk. This study was carried out using three different milk types involving two different steps. The study demonstrated that children aged 4–7 years had satisfactorily accepted the taste of milk blended with a sweetener like xylitol. Based on the opinions of the children, a combination of sorbitol and xylitol was preferred instead of milk alone and xylitol with milk was preferred over other sweeteners used with milk.
Impact of Xylitol on Pneumococcus
Xylitol is known to be harmful for many microorganisms, and in 2004, research was organized to determine its effect on pneumococci. Xylitol was shown to decrease the growth of streptococcus pneumoniae (S. pneumoniae) in children by 30–42%. It reduces the adherence level of S. pneumoniae and Haemophilus influenza to epithelial nasopharyngeal cells. Acute otitis media is prevented by almost 42% by treatment with xylitol in syrups, though this is not possible in the presence of fructose. Xylitol affects the surface of feasible pneumococci.
Xylitol and Dental Caries
Clinical trials on xylitol show that it plays a major role in prevention of dental caries in babies and teenaged children and in the fetus through the mother. Use of xylitol chewing gum is directly related to reduction of dental caries. Moreover, xylitol also reduces the s. mutans transmission from mother to infant.
Another research on children has found that xylitol candy, pops, ice, gums, puddings, and cookies help in arresting dental caries. Follow-up studies five years later showed that xylitol gum resulted in reduction of caries by 59% against no gum use.
Trials conducted in Finland, a major producer of xylitol, proved that children of xylitol-treated mothers' had lower levels of s. mutans than those treated with fluoride varnish or chlorhexidine.
Other Impacts of Xylitol
Accumulation of excessive xylitol in the intestine leads to retention of water, which results in diarrhea. Consumption of excessive volumes of xylitol can lead to side effects such as gas and bloating. Xylitol which remains unabsorbed is eliminated after being broken into carbon dioxide. A report published by the European Union's Scientific Committee on Food in 1985 stated that consuming 50 g of xylitol per day can lead to diarrhea. The Committee also affirmed that tabletop sweeteners that contain xylitol must be highlighted with a warning saying: "Too much of consumption may lead to laxative effects."
The impact of xylitol is much less on the blood sugar levels compared with natural sugar, because of the gradual absorption rate of xylitol. This fact was approved in a xylitol review by the European Food Safety Authority (EFSA). This indicates that xylitol could help people with disrupted tolerance of glucose, a leading risk factor for cardiovascular disease and diabetes.
In 1970, the reduction of dental plaque due to xylitol effectiveness was evaluated by conducting a study. Xylitol is accepted and approved as a natural sweetener by the US Food and Drug Administration (FDA) and also by the American Academy of Pediatric Dentistry.