BREAKING! Catastrophic COVID-19 Infections And Hospitalizations In Hong Kong Driven By New BA.2 Subvariant With An Extra I1221T Spike Mutation!
Hong Kong Is currently facing a catastrophic fifth COVID-19 wave with not only exponential daily new infections but also many exhibiting disease severity and causing hospitalizations to overwhelm the public healthcare system.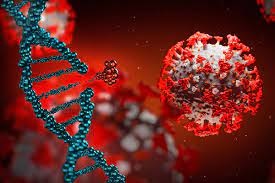 The situation is so bad that mainland China had to sent in teams of doctors and nurses along with hospital beds and medical equipment to help set up makeshift hospitals in carparks and schools in the city.
In the last 24 hours, Hong Kong reported 52,523 new COVID-19 infections and 188 new COVID-19 deaths and as of 2140 hours (Hong Kong), more than another 150 new COVID-19 deaths were reported and more than 39,000 new COVID-19 cases were reported but the numbers will increase as many testing centers have yet to submit their daily reports.
From the genomic sequencings submitted on online sites, it seems that the surges in Hong Kong are being driven by a new subvariant that has emerged from the BA.2 variant bearing the spike mutation I1221T
.
https://cov-spectrum.org/explore/World/AllSamples/Past6M/variants?aaMutations=S%3AI1221T&pangoLineage=BA.2
Almost 87% of all new genomic sequencings in Hong Kong are showing this new
I1221T
spike
mutation.
Researchers are still trying to figure out the role that this new spike mutation might play in transmissibility, immune evasiveness and also in pathogenesis.
An interesting observation however is that many are developing disease severity and need not only hospitalization but also need supplemnental oxygen similar to what we had seen in the early days of the pandemic. Hong Kong in fact is already having a shortage of oxygen supplies and also ventilators and oxygen concentrators.
https://www.scmp.com/news/hong-kong/health-environment/article/3169154/coronavirus-hong-kong-medical-workers-share
Further research is also underway as it is believed that there are also mutations found in the nucleocapsid protein of this new BA.2 subvariant
Already Thailand
Medical News
had warned that the BA.2 is fast evolving and spawning various new sub-variants all over the world but certain arrogant bastard British 'experts' are trying to downplay this along with those controlling the COVID-19 narratives who do not want us reporting on emerging SARS-CoV-2 lineages or variants.
https://www.thailandmedical.news/news/warning-stop-making-premature-statements-that-omicron-ba-2-variant-is-not-a-threat,-ba-2-is-evolving-fast-and-spawning-lots-of-new-virulent-sub-lineag
-ba-2-sub-lineage-with-h78y-mutation-in-orf3a">https://www.thailandmedical.news/news/breaking-omicron-ba-1-and-ba-2-variants-spawning-newer-sub-lineages-denmark-reports-new-ba-2-sub-lineage-with-h78y-mutation-in-orf3a
https://www.thailandmedical.news/news/warning-the-omicron-is-evolving-rapidly-and-big-pharma-is-providing-opportunities-for-it-to-do-so-new-york-study-shows-ba-1-1-and-ba-2-evolved-as-such
We also strongly believe that new concerning BA.2 subvariants and also Delta subvariants have emerged in Vietnam, New Zealand, United Kingdom, Germany and Canada and that at least two new distinct SARS-CoV-2 lineages have emerged in Nigeria and also in Chad in the African continent, but a lot of data is deliberately being concealed.
Please help support this website by making a generous donation not only for the sustainability of the website but also for all our research and community initiatives. We are not funded by any entities and really need help. Your help not only saves lives directly but also indirectly.
https://www.thailandmedical.news/p/sponsorship
Thailand
Medical News
will provide more updates on the new BA.2 subvariant in Hong Kong and also on the rest of the new subvariants and lineages.