BREAKING NEWS! German Scientists Unveil Shocking Discovery Linking SARS-CoV-2 Infections and Autoantibodies Targeting ADAMTS13
Low levels of ADAMTS13 are also associated with an increased risk of arterial thrombosis, including myocardial infarction and cerebrovascular disease.
Medical News
: In a groundbreaking study conducted by researchers from Ruhr-University Bochum, Asklepios Klinikum Hamburg, and the University of Duisburg-Essen in Germany, a remarkable connection between SARS-CoV-2 infections and the production of autoantibodies targeting ADAMTS13 has been unveiled. This discovery sheds new light on the intricate mechanisms behind COVID-19 and its impact on the human body.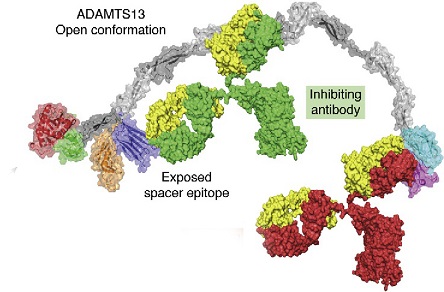 The study, which involved 156 individuals hospitalized for COVID-19 between April and November 2020, revealed that 34.4% of the patients developed ADAMTS13 antibodies. Strikingly, critically ill COVID-19 patients exhibited a higher occurrence of these antibodies (55.9%) compared to non-COVID-19 ICU patients and healthy controls (5.6% and 6.7% respectively). This finding suggests a potential correlation between the presence of ADAMTS13 antibodies and disease severity.
ADAMTS13 (a disintegrin and metalloproteinase with a thrombospondin type 1 motif, member 13) - also known as von Willebrand factor-cleaving protease (VWFCP), is a zinc-containing metalloprotease enzyme that cleaves von Willebrand factor (vWf), a large protein involved in blood clotting. It is secreted into the blood and degrades large vWf multimers, decreasing their activity.
ADAMTS13 is a crucial enzyme involved in regulating blood clot formation. Autoantibodies targeting ADAMTS13 can disrupt its activity, leading to the accumulation of von Willebrand factor (VWF) multimers, a protein involved in blood clotting. The study found that COVID-19 patients with ADAMTS13 antibodies had lower ADAMTS13 activity, higher disease severity, and a trend toward increased mortality.
Moreover, gel analysis of VWF multimers in COVID-19 patients resembled the pattern observed in patients with thrombotic thrombocytopenic purpura (TTP), a rare blood disorder characterized by blood clot formation throughout the body's small blood vessels. This observation suggests a potential link between COVID-19 and the development of immunothrombosis, a phenomenon involving the excessive formation of blood clots due to an immune response.
The discovery of ADAMTS13 antibodies in COVID-19 patients adds to the growing body of evidence suggesting an increased risk of autoreactivity in response to SARS-CoV-2 infection.
Previous studies have reported the emergence of antibodies to phospholipids and interferon, as well as lupus- and rheumatoid arthritis-like antibody patterns in COVID-19 patients. This immune response amplifies the risk of thrombotic microangiopathy, contributing to the formation of blood clots in small blood vessels.
The study findings may also provide reasons as to why many post COVID individuals are at risk of thrombotic issues.
Past
Medical News
reports have already shown that decreased ADAMTS13 were also causing issues in Post COVID individuals.
-antigen-ag-adamts13-ratio-in-most-post-covid-individuals-impairs-exercise-capacity">https://www.thailandmedical.news/news/abnormal-blood-clotting-due-to-elevated-von-willebrand-factor-vwf-antigen-ag-adamts13-ratio-in-most-post-covid-individuals-impairs-exercise-capacity
The implications of this study are far-reaching. Plasma exchange, a therapeutic method that can reduce both VWF and ADAMTS13 antibodies while providing ADAMTS13 itself, emerges as a potential treatment option.
Several case series have already reported favorable effects of plasma exchange in critically ill COVID-19 patients, leading to decreased inflammation and improved clinical outcomes. The findings of this study provide further support for considering plasma exchange as a therapeutic strategy in COVID-19.
In conclusion, the German scientists' research has uncovered a significant breakthrough in our understanding of the interplay between SARS-CoV-2 infections and the production of ADAMTS13 autoantibodies. The presence of these antibodies, along with decreased ADAMTS13 activity, is associated with more severe disease outcomes in COVID-19 patients.
These findings emphasize the importance of including ADAMTS13 antibodies in the diagnostic process. Future studies focusing on the functional aspects of ADAMTS13 antibodies will help deepen our understanding of this complex phenomenon and pave the way for more effective interventions against COVID-19.
The study findings were published in the peer reviewed journal: Scientific Reports (Nature).
https://www.nature.com/articles/s41598-023-37405-5
For the latest
Medical News
, keep on logging to Thailand Medical News.