Aspergillosis is a disease caused by a filamentous fungi, Aspergillus. The mold is present practically everywhere including trees, grain crops, and soil (outdoors); bedding mattresses, cushions, and clothes (indoors). Largely harmless in people with competent immune systems, this mold affects the ones with weak immunological defense.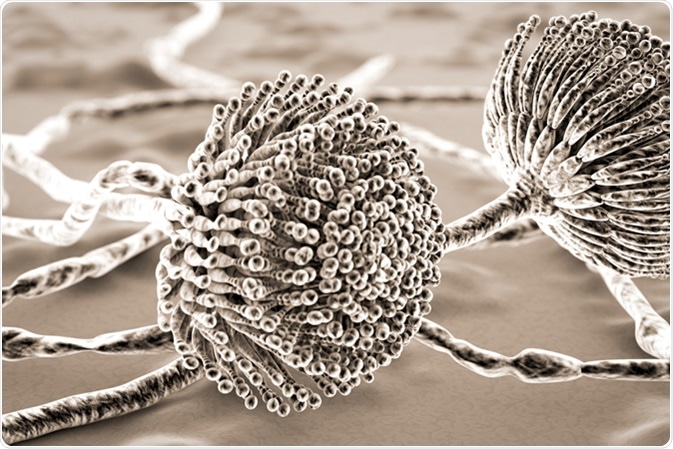 Black mold fungi Aspergillus, which produce aflatoxins and cause pulmonary infection aspergillosis. 3D illustration. Image Credit: Kateryna Kon / Shutterstock
Depending on the type and severity of aspergillosis, patients suffer from a range of symptoms including wheezing, difficulty in breathing, runny nose, hemoptysis (coughing up blood), weight loss etc. Severe bleeding in lungs and systemic infections are also often seen.
Because of the ubiquitous nature of Aspergillus, the exposure becomes unavoidable. Moreover, risk factors such as the presence of comorbid respiratory conditions such as asthma and cystic fibrosis, lung cavities, low lymphocyte count, weakened immune response, and long-term corticosteroid treatments make the individual susceptible to aspergillosis.
Management of the condition
Preventive actions like reducing environmental contact is recommended. Susceptible individuals are advised to avoid being in dusty areas such as construction sites. Doctors also suggest the use of socks, gloves, and mask to decrease direct contact with dust or soil.
Once infection has occurred, an early diagnosis is of paramount importance for timely resolution. Moreover, despite the intricacies because of several common symptoms across different types of aspergillosis, a precise diagnosis is essential for effective treatment. Therapeutic options vary depending on the type of condition.
Aspergilloma with single fungal mass often do not need any treatment if asymptomatic. Regular X-ray scans are done to observe the growth and the spread, if any. In case the patient starts exhibiting the symptoms including blood in sputum, antifungal medications are prescribed. Direct application of membrane fungicidal drugs to the fungal cavity using a tube with the help of local anesthesia is particularly found to be effective in treating this ailment. Triazole antifungals are other alternative medications. In severe cases, surgical removal of fungal balls may also be considered.
Allergic forms of aspergillosis are usually treated with oral triazoles. Allergic bronchopulmonary aspergillosis (ABPA) patients are given corticosteroids (oral or nasal) during the acute episodes. Addition of a triazole drug to the treatment regimen reduces the dose requirement of corticosteroids. Hence, it is helpful in minimizing the side effects caused by steroids such as weight gain, osteoporosis, skin reactions etc.
Aspergillus bronchitis is generally treated with antifungal medications in an effective manner. Triazoles and β(1,3)-d-glucan synthase inhibitors are often administered in the patients with aspergillus sinusitis. However, membrane fungicides remain to be the treatments of choice for aspergillus sinusitis. Surgical intervention is also needed in many cases to locate and eliminate the fungus.
Patients suffering from invasive aspergillosis are treated with antifungal medications such as β(1,3)-d-glucan synthase inhibitors, triazoles, and membrane fungicidal drugs. Membrane fungicidal drugs are efficacious in relatively higher doses, which may also damage the kidney and visceral organs. Novel derivatives of these drugs are often employed to decrease these side effects.
Triazoles are generally considered superior to membrane fungicides for treating invasive aspergillosis. However, some medications used in epilepsy and tuberculosis are known to reduce the concentration of triazoles in the blood. Therefore, titration of the dose may be needed after assessing the concurrent medications of the patient. Oral as well as intravenous conventional triazoles are used effectively for the treatment of invasive aspergillosis, albeit gradual development of resistance and interaction with other drugs are commonly seen. Newer triazole molecules are found to be reasonably beneficial for curing invasive aspergillosis.
As a general rule, immunosuppressive medications are avoided as much as possible in the treatment of invasive aspergillosis. Physicians prescribe one or more medications after careful consideration of the pros and cons of each treatment and possible impact of the treatment on the particular patient. Severe cases may require surgery. The survival rate is reported to be more than 50% in the treated invasive aspergillosis patients, and 0% in the untreated patients.