Breaking News! Coronavirus Can Also Attack The Nervous System, Causing Neurological Conditions And Even Viral Encephalitis
As the new
SARS-Cov-2 coronavirus
is an extremely new virus that is fast spreading globally and wreaking havoc, there have been no prior verified studies on it and the medical community is only just beginning to discover new facets about it day by day. As the
coronavirus
itself is also evolving, some of these information becomes absolute and are superseded by new data that is available. Chinese researchers at ground zero are busy working hard as they have to treat patients and also conduct clinical studies to understand more about this new
coronavirus
.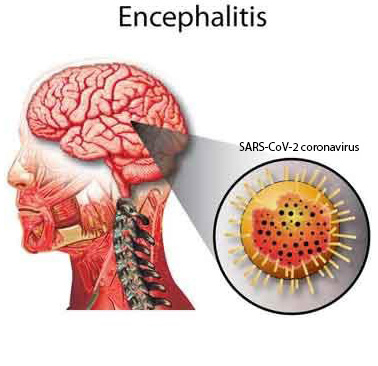 While most of the past studies have focused on how the
coronavirus
attacks the respiratory system due the typical symptoms manifested by most patients, new research and studies are demonstrating a disturbing indication that the new
coronavirus
can also attack the central nervous system in a variety of ways and in some cases cause long term damages or even fatalities due to CNS attacks.
In a non-peer reviewed study published in MedRxiv,
((
https://www.medrxiv.org/content/10.1101/2020.02.22.20026500v1.full.pdf
)but has been confirmed by so many medical doctors working on ground zero in Wuhan, the study shows that the
SARS-CoV-2 coronavirus
can also attack and damage the nervous system.
The paper was published by Dr Hu Bo, director of the Department of Neurology, Union Hospital Affiliated to Huazhong University of Science and Technology, China showed that thirty percent of patients have neurological manifestations out of a sample of 214 newly diagnosed patients. Among them, there were 88 critically ill patients and 126 non-critically ill patients. The average age of the patient samples was 52.7 years,
More than 30% of patients developed neurological symptoms. The results showed that 78 patients had neurological symptoms, accounting for 36.4% of the total sample. Researchers have divided the "nervous system symptoms" into categories including central nervous system related symptoms such as headache, dizziness, disturbance of consciousness, acute cerebrovascular disease including epilepsy, and peripheral nervous system symptoms such as decreased taste, decreased smell, and appetite.
Past studies on the SARS (Severe Acute Respiratory Syndrome) and MERS (Middle East Respiratory Syndrome)
coronaviruses
have also demonstrated that they cause nerve and CNS damage, and neurological impairment.
In most cases, it was found that central nervous system damage was the highest. Researchers have pointed out that new
coronavirus
may invade the central nervous system through blood or retrograde neuronal circuits, causing damage to the central nervous system.
The researchers cautioned that for patients with Covid-19 pneumonia, in addition to respiratory symptoms, doctors should pay close attention to any neurological manifestations.   
Viral Encephalitis

Detected In Ditan Hospital.
Meanwhile over at Ditan Hospital in Beijing, doctors have has clinically confirmed that the
SA RS-CoV-2 coronavirus
is able to cause CNS damage when it documented a case of
Viral Encephalitis
caused by the virus.
On March 4, Beijing Ditan Hospital affiliated to Capital Medical University disclosed that a 56-year-old patient with coronary pneumonia was confirmed by genetic sequencing to have
SARS-CoV-2 coronavirus
in the cerebrospinal fluid. (
https://china.caixin.com/2020-03-04/101523973.html
)
The treatment of this patient was presided over by Dr Liu Jingyuan, director of the ICU of Ditan Hospital.
On January 24th, The patient: Dr Sun Yingchun, a professor at Communication University of China, was diagnosed with Covid-19 pneumonia and admitted. He was the 35th patient diagnosed with new coronary pneumonia in Beijing.   
Dr Liu Jingyuan examination found that the patient had exhibited certain conditions related to CNS damage but could not find anything even with imaging as a CT scan of the patient's head revealed no abnormalities in the skull and normal CSF biochemical tests.
However, diagnostic test on the extracted cerebrospinal fluid of the patient showed the presence of the
SARS-CoV-2 coronavirus
and the patient was diagnosed with
Viral Encephalitis
and treated accordingly.
Dr Liu Jingyuan reminded the medical staff in the front line of anti-epidemic treatment that when patients exhibit conditions related to CNS Damage and neurological complications, it was critical have to cerebrospinal fluid tested for the
coronavirus
through nucleic acids tests and genome sequencing so as to ascertain the presence of
Viral Encephalitis
and have it treated accordingly as this helps reduce mortality rates.   
China has upgraded its national guidelines of treating
coronavirus
to include looking out for CNS damage and other neurological conditions and also
Viral Encephalitis
.  
(We like to inform all readers that Medical Spheres, the owners of
Thailand Medical News
(TMN) is a publisher and owner of more than 38 up and running medical and health websites including some titles that we acquired and that have been established or more than 14 years. We have another 230 more under development stages. Though TMN itself is only a 16 month old site, it shares the expertise of 157 qualified and licensed medical doctors and experts from around the world that sit on our advisory board.
We do not print or support the dissemination of fake news and or misinformation. Though there are many non-peered studies that are being published, readers and so called 'medical experts' elsewhere sitting comfortably in their air-conditioned offices have to realize that many Chinese doctors and researchers on grown zero are trying their best to find out answers about this new coronavirus and is fast spreading globally and in wreaking havoc. Some of this research though are not peer reviewed but are supported by other doctors who have clinically observed the same issues. China has a different system in terms of research and one should not immediately discount all as being fake. In an epidemic situation that is fast growing each day, researchers in China do not have the luxury of getting peer-reviewed studies published in certain commercial medical journals of the West fast. There are substantial amount of published research that have been peer-reviewed in the West that are also basically fake as they have been manipulated by groups with vested interest.
While we accept that they are some dubious non-peer reviewed studies, we normally do our own due diligence with our advisory board prior to running anything in print.
We do not take any allegations of any of our articles being as fake news very lightly and will not hesitate to commit all our resources to bring such miscreants to the full force of justice.
Our article:
https://www.thailandmedical.news/news/breaking-news!-latest-research-published-by-chinese-scientists-say-coronavirus-might-render-certain-male-patients-infertile
was unfairly claimed to be fake news by a so called Italian "science writer" who had a basic major in physics with no training in medicine, biology or other related relevant fields and though he had written in comments in Italian language, our staff picked it up and we have made police reports against him in 7 cities where our offices are located and are also in the midst of doing so in UK and Italy where our lawyers have been instructed to take legal action and also to claim for damages. We are also lodging our protest with the Italian embassy in Thailand and also asking the Thai owners of another international publication that he writes for to not use the services of such irresponsible journalist. Our lawyers in New York are also suing a freelance facebook checker based in the US that was in cahoots with the Italian 'journalist' (an individual who could not make it as a journalist and also with no medical training.)
We do not accept retractions, corrections or apologies. We will proceeding to publicly expose details of this writer online next week at a press conference as it was found that he was writing lots of other medical based articles in Italy while claiming to be a 'science writer' but does not have any medical or biology training and has been misleading the Italian public especially during the coronavirus epidemic that Italy is facing