COVID-19 Drug Research: Caution Advised On French Study On Roche's Arthritis Drug Tocilizumab Claiming To Treat COVID-18 Cytokine Storms
COVID-19 Drug Research
: The media was abuzz recently with news about the results of a clinical trial by the Paris university hospital trust (AP-HP) with regards to the arthritis drug Tocilizumab that is controlled by Pharma giant Roche, claiming that it showed early promise in preventing extreme inflammation in gravely ill COVID-19. However links to the published study were not accessible.
https://www.aphp.fr/contenu/le-tocilizumab-ameliore-significativement-le-pronostic-des-patients-avec-pneumonie-covid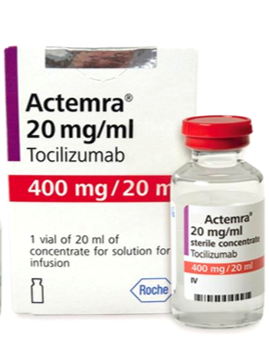 According to PR releases by the researchers, the treatment, which suppresses the body's natural immune response, was found to reduce "significantly" the number of deaths or life support interventions compared with a control group of patients.
The clinical study involved 129 people hospitalized with moderate or severe viral pneumonia, which occurs in 5-10 percent of COVID-19 patients.
Fifty percent of the patients received two injections of Tocilizumab as well as standard treatment with antibiotics, while the control group received only standard treatment.
The results as claimed showed clear "clinical benefit" of Tocilizumab treatment. AP-HP said it had decided to publicise the study before publishing official results "for public health reasons".
However many medical experts are warning about the credibility of any study results from French clinical or research studies after the chloroquine fiasco involving a French doctor who is also advisor to the French government, who conducted studies in a unprofessional manner on chloroquine and even manipulated the results. Since the global medical community are warning about the standards and credibility of research studies and clinical trials in France.
https://edition.cnn.com/2020/04/08/health/drug-hydroxychloroquine-french-study/index.html
One medical expert in the US who wished to remain anonymous commented, "French studies and clinical studies findings should be carefully scrutinized. They do not have much credibility ever since the chloroquine scam."
Urgent Plea for help. We need help to financially sustain our website and also our other research and international community projects. Please support us by making a donation via paypal. Thank You.
https://www.thailandmedical.news/p/sponsorship
It must also be noted that Tocilizumab, sold under the brand names Actemra and RoAcemtra, which is commonly used to treat rheumatoid arthritis is controlled by pharma giant Roche.
Tocilizumab is a lab-synthesized antibody that inhibits against a specific protein receptor involved in the body's natural immune response.
Researchers lobbied by the p harma giant believe the drug might be able to stave off a state of heightened immune response known as cytokine storms where the body's reaction to a foreign body such as a disease or chemical creates acute inflammation.
It has been observed that cytokine storms can be deadly and occur in severely ill COVID-19 patients.
However Roche's Tocilizumab currently costs around 950 euros (US$1030) per injection. A person might need two to three injections. The fact it can has to be injected guarantees additional income to hospitals and doctors promoting the drug.
It must be noted that many big pharma corporations have huge financial resources to manipulate studies, engage in PR lobbying and even buy media to further their profit –focused visions.
In reality, there are also many other cheaper drugs that could be repurposed to serve as anti-inflammatory agents to prevent these cytokine storms in COVID-19 patients, some of which whose patents have expired and also the generic versions are extremely cheap but unfortunately no one is funding the research on these more suitable drug candidates for COVID-19.
To date there are no approved drugs as yet to treat COVID-19. From Abbie's Kaletra, Toyoma Chemicals's Avigan to Gilead's Remidesivir, Sanofi's Plaquenil (Chloroquine), all have yet to be proven to be effective for treating COVID-19, with some already having studies showing that it is ineffective or even fatal in certain cases.
The most promising candidate drug candidates are however the combo Ivermectin and Colchicine and also Traditional Chinese Medicine (TCM)Herbs.
https://www.thailandmedical.news/news/covid-19-drugs-study-shows-that-critical-covid-19-patients-with-lung-injury-requiring-ventilation-benefitted-from-ivermectin
https://www.thailandmedical.news/news/covid-19-pneumonia-drugs-colchicine-being-studied-to-prevent-cytokine-storms-in-patients
https://www.thailandmedical.news/news/must-read-china-s-secret-to-controlling-the-covid-19-outbreak-is-traditional-chinese-medicine-concoctions-used-alone-or-in-conjunction-with-antiviral-
For the latest on
COVID-19 Drug Research
, keep logging on to
Thailand Medical News
.
Urgent Plea for help. We need help to financially sustain our website and also our other research and international community projects. Please support us by making a donation via paypal. Thank You
.
https://www.thailandmedical.news/p/sponsorship