Smoking remains the biggest risk to developing lung cancer, and is responsible for more than 85% of cases. Without smoking, it is believed that lung cancer would be a rare disease. However, there are many other risk factors associated with increased lung cancer incidence.
Age
Lung cancer is more common in older people. Lung cancer is rare in those under 40, and about 80% of lung cancers are found in people over the age of 60.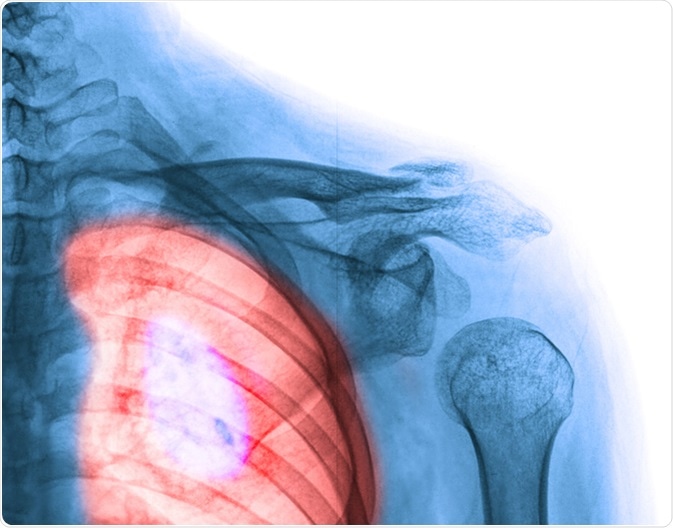 Lung cancer. Image Credit: Wonderisland / Shutterstock
Gender
There is evidence that women are more susceptible to the carcinogenic effects of tobacco smoke, but women's lung cancer survival rates are better than men's, when compared stage by stage. There is evidence that estrogen may play a role in lung cancer development, and molecular differences have been found when comparing the tumours of men and women.
Ethnicity and Race
Geographically there is a lot of variation in lung cancer risk, both globally and within nations. A particular high-risk population is currently Chinese men, due to the large population in China and the increased trend of cigarette smoking. Lung cancer burden between developed and developing countries was nearly equal in 2002, and this concentration of lung cancer burden is thought to increase further in developing countries in the future.
Genetics
Although the main causes of lung cancer stems from environmental factors, the evidence for genetic susceptibility to lung cancer is compelling as genome-wide association studies have shown several regions associated with cancer risk and accumulation of familial cases have been observed in clinical studies. However, knowledge in this area is still lacking because environmental factors often cover or confuse results in familial lung cancer studies. Studies have shown that the risk of lung cancer is increased by approximately 50% in those with a family history of lung cancer in first-degree relatives, when compared with those without a family history. Hereditary predisposition is attributed to 10-15% of cancer cases, not limited to lung cancer.
Chromosomal abnormalities have also been identified in lung cancer. These include:
Allelic loss
Isochromosomes
Unbalanced translocation
Loss of heterozygosity
Extensive aneusomy.
Diet
Smokers have been advised not to take beta-carotene supplements as studies have shown an increased risk of lung cancer associated with this dietary supplement. Alcohol consumption has also been linked to increased lung cancer risk.
Lifestyle
Smoking
There are over 60 different toxic substances in tobacco smoke, and can lead to lung cancer developing. This risk increases with the duration and amount of smoking, but duration has the biggest effect on lung cancer risk. Starting smoking at a younger age increases risk of lung cancer. Using other types of tobacco including cigars, pipe tobacco, snuff or chewing tobacco also poses increased risks of developing lung cancer, mouth cancer and oesophageal cancer.
Cannabis also contains substances that can cause cancer. Smokers will often mix cannabis with tobacco and inhale for longer and deeper than when smoking regular cigarettes.
Environmental tobacco smoke (ETS)
ETS, otherwise known as passive smoking or second-hand smoking, where smoke is inhaled from someone else's cigarette, pipe, or cigar, can increase the risk of developing lung cancer even though you are not smoking yourself. People exposed to ETS who have never smoked before are believed to have a lung cancer risk 31% higher than those who have never smoked and were not exposed to ETS.
There are several statistics that show the benefits of quitting smoking in regards to lung cancer. 15.9% of men who have smoked all their lives die from lung cancer by age 75 versus 9.9% of men who stop smoking by age 60. This reduces to 6% if a person quits by age 50, 3% by age 40 and 1.7% by age 30. With women, 9.5% of women who have smoked all their lives die from lung cancer by age 75, versus 5.3% of women who stop by age 60 and 2.2% by age 50.
Environmental Factors
Radon
Radon is a naturally occurring radioactive gas that is found in rocks and dirt and can be present in buildings. It doesn't present any visible traces, nor can it be tasted or smelled. Homes can be tested for the presence of radon and measures undertaken to reduce the amount of radon present in homes.
Diesel fumes
Long term exposure to high levels of diesel fumes may increase the risk of developing lung cancer by 50%.
Occupational Exposure
There are a number of materials people will regularly come into contact with through their work that may increase lung cancer risk. These materials include:
Arsenic (naturally occurring element sometimes found in drinking water, i.e from private wells)
Asbestos in all forms (naturally occurring fibrous minerals found in building materials, friction products such as car clutches and brakes, as well as some fabrics)
Beryllium and its compounds
Cadmium and its compounds
Coal and coke fumes
Silica
Nickel.