What is Glyphosate?
As the most widely used herbicide in the world, glyphosate is typically utilized for its ability to control the growth of weeds within the agricultural industry and that of vegetation for non-agricultural purposes, as well as being a crop desiccant to aid in harvesting processes. When applied to weeds and other unwanted plant populations, this organophosphorus compound binds to and blocks the enzymatic activity of enolpyruvylshikimate-3-phosphate synthase (EPSPS) to inhibit various biological processes that allow the plant to continue to grow(1). For example, glyphosate immobilizes elements such as calcium, iron, magnesium and nickel, which are some of the most important micronutrients present within the soil that support plant growth(3).
Although previous regulatory assessments on glyphosate found that this herbicide exhibits a low toxicity in humans, a recent study published by the International Agency for Research on Cancer (IARC) found that glyphosate and its formulated products are potentially carcinogenic to human beings(2). Since this announcement, there has been a great deal of scientific debate surrounding the potential carcinogenicity of glyphosate.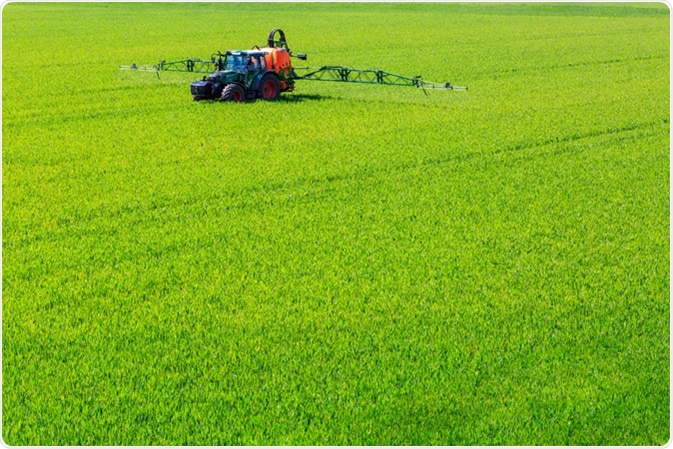 Toxicity to Humans
The relationship between the use of herbicides and their ability to cause harm to human health is one of the most widely studied areas in toxicology. To determine the toxicity of glyphosate to humans, numerous laboratory research studies have been performed to understand how glyphosate functions following human absorption through inhalation, ingestion or dermal contact pathways.
Additionally, various experiments that involved administering high doses of glyphosate to rats and mice have also provided additional insight into this herbicide's potential mechanism(s) of toxicity following absorption. To summarize, these studies show that glyphosate exposure can result in developmental delays, kidney damage, hepatomegaly, hepatitis and gastric disease(3).
A plethora of other scientific studies has been performed to investigate the toxicity of this herbicide, which indicate that glyphosate is associated with various additional health conditions, including hypertension, diabetes, obesity, senile dementia, inflammatory disease, thyroid and liver cancers3.
The Main Debate: Is Glyphosate Carcinogenic to Humans?
While these potential adverse effects of glyphosate are accepted within the scientific community, the carcinogenicity of this herbicide remains a matter of open debate. Since 1985 when the United States Environmental Protection Agency (EPA) classified glyphosate as a Category C substance and potential human carcinogen, researchers, particularly those within the agricultural industries, became increasingly interested in confirming this finding(3). From 1985 to 2015, glyphosate was not regarded as a potential carcinogen, following both animal and epidemiological data that found cancer to be a rare occurrence following exposure to this herbicide. However, in 2015, IARC reignited the debate by classifying glyphosate as a probable human carcinogen. This decision follows the collection of data that strongly confirmed both carcinogenic and genotoxic effects in tested animals.
Despite the fact that the scientific community is still unable to come to a final conclusion regarding the carcinogenicity of glyphosate to humans following consumption, a 2017 study confirmed that prolonged consumption of foods tainted with glyphosate, even at minimal doses, can cause significant damage to the human liver and ultimately lead to conditions like non-alcoholic steatosis and necrosis of the liver(4).
The Real Danger of Glyphosate in Food
Since more than 250 million pounds of glyphosate is sprayed on American crops each year, including wheat, barley, oats and beans, it is no surprise that "alarming levels" of this potentially harmful herbicide were found in a number of different popular food items, many of which specifically target child consumption(5).
Unfortunately, a majority of these foods were oat-based products that, if not for the presence of unwanted herbicides, are a healthy source of fiber and various nutrients for both children and adults.
In a study conducted by the Environmental Working Group (EWG), researchers tested 45 products that contained conventionally grown oats, as well as 16 food products that were made with organically grown oats. Out of the total number of samples tested, 43 conventional products and 5 organic products were found to contain traces of glyphosate, within which 31 of the 45 conventional products contained traces of glyphosate that exceeded the EWG's benchmark of 160 parts per billion (ppb). Note that EWG's health benchmark for glyphosate in food is 230 times lower than the EPA's estimated highest dietary exposure levels for children and adults(5).
This information alone makes it evident why there is an urgent need for federal agencies to control and impose restrictions on the use of toxic substances in agriculture, especially those which can freely enter food supplies. Currently, the United States Department of Agriculture (USDA) states that the methods that are used to evaluate the presence of glyphosate in foods on a daily basis are "very expensive" and "time-consuming," an attitude which ultimately led to the agency's failure to discover the aforementioned food contamination(6).
Regardless of the calculated risk of this herbicide, there is no doubt that it does not belong in food products. As a result, various organizations are urging the EPA and other federal regulations in the United States to restrict the pre-harvest applications of glyphosate in an effort to limit, or completely eliminate, the presence of this clearly dangerous pesticide in food products.