Systemic infection caused by a common fungal species, Aspergillus, is termed as aspergillosis. Aspergillus is an omnipresent mold, found quite abundantly in the environment, especially during the winter.
By and large, Aspergillus strains are harmless, but a few of them are the causative agents of aspergillosis.
This systemic infection is particularly prevalent in people with a weakened immune response or other underlying respiratory conditions.
While healthy individuals are rarely at risk despite daily exposure to
Aspergillus from their surroundings, individuals who have a low white blood cell count, lung cavities, asthma, cystic fibrosis, or those who are on prolonged corticosteroid treatment are at higher risk for this infection.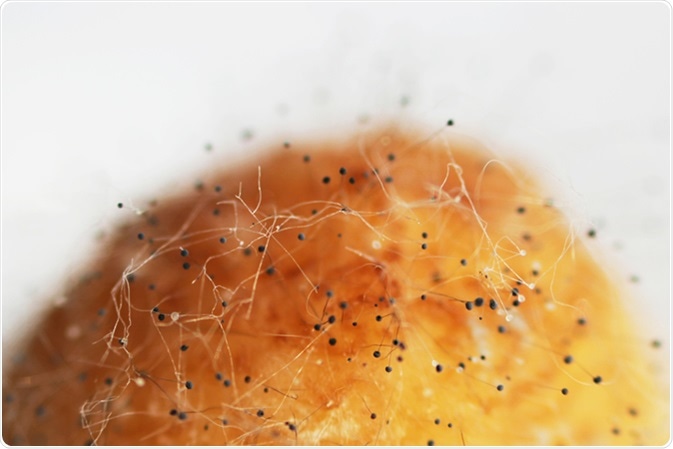 Aspergillosis Aspergillus flavus on a rotten banana on a white background. Image Credit: wolfness72 / Shutterstock
Signs and Symptoms
The symptoms vary depending on the type of aspergillosis:
Allergic bronchopulmonary aspergillosis (ABPA) is a condition that is often seen in asthma and cystic fibrosis patients.
Approximately 2-3% of adult asthmatic patients suffer from ABPA at least once in their lives. Cystic fibrosis patients usually suffer from ABPA when they arrive at puberty.
Due to symptoms such as coughing, wheezing, and periods of sporadic sickness which overlap with asthma symptoms, it often becomes tricky to diagnose ABPA precisely.
Hemoptysis (coughing up blood) and sometimes brown-colored mucus in the sputum suggest the possibility of ABPA.
Doctors diagnose the condition after a thorough physical examination, X-rays, as well as blood tests. If left untreated for a long period, ABPA is capable of causing irreversible damage to the lungs (such as bronchiectasis or fibrosis).
In patients with alveolar cavities due to damage caused by conditions such as sarcoidosis or tuberculosis, the development of an aspergilloma is quite common following an infection by Aspergillus spores.
Cavities provide required space for the mold spores to germinate and incubate inside the cavities. They then propagate widely to form "fungal balls".
The mature fungal colonies inside the lungs secrete various allergic and toxic substrates, and cause symptoms such as fever and respiratory distress.
As the formation of these fungal balls takes some time, many patients with an aspergilloma remain asymptomatic at first. In the later stages, symptoms such as weight loss, chronic cough, tiredness, and a constant feeling of sickness start to appear. The diagnosis is made using lung scans and blood tests.
People with a history of bronchiectasis (a condition characterized by dilated airways) and those with cystic fibrosis are especially susceptible to aspergillus bronchitis.
Recurrent chest infections and production of very thick sputum are typical signs of aspergillus bronchitis. These patients also suffer from frequent bacterial infections.
The detection of sputum-growing Aspergillus strains using sensitive tests is vital in diagnosing this type of aspergillosis.
Infection and colonization by Aspergillus spores in the paranasal sinuses results in the condition termed as aspergillus sinusitis.
The presence of nasal polyps and a constant nasal discharge for several days point towards the possibility of this condition. This may often be accompanied by other bacterial infections in the sinus region.
Invasive aspergillosis is considered the most serious type of Aspergillus infection. It typically occurs in people with compromised immunity.
Breathlessness, wheezing, chest pain, and cough are common symptoms.
Other symptoms include fever with chills, headaches and visual symptoms, bleeding from the nose, and asymmetric facial edema.
These symptoms do not respond to standard treatments for patients with this condition. Bronchoscopy, X-ray and other scanning techniques are employed to confirm the diagnosis of this disease.
An early diagnosis may turn out to be life-saving in this otherwise-fatal condition.