Hypospadias is the inborn genital disease in male urethra commonly occurring in one among 300 live births. It is characterized as an obstruction in the normal development of penile in which an aberrant opening in urethra occurs anywhere along the penis, scrotum, or perineum.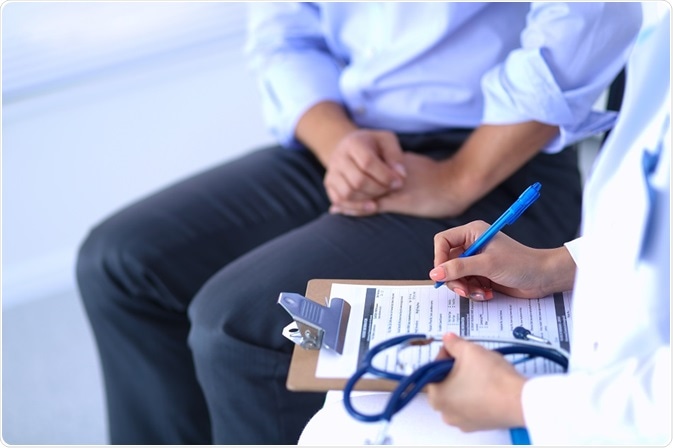 Credit: sheff/ Shutterstock.com
Depending on the position of the opening, hypospadias are classified as glanular, coronal, distal penile, scrotal, and perineal. Among them distal hypospadias is the most common. The only treatment for congenital hypospadias is surgery and even multiple surgeries in severe cases.
The severe hypospadias results in the risk of lifelong troubles with micturition, sexual function, and psychological problems. Hence, hypospadias is a significant health concern. A considerable amount of research on hypospadias is done with the help of animal models such as rats and mice.
Etiological Research
There are many etiological factors causing hypospadias which remain unclear but the most believed causes are genetic and environmental agents. The associated factors causing hypospadias are defects in biosynthesis of testosterone, mutations in 5 alpha-reductase type 2 and androgen receptor, in vitro fertilization, and environmental factors that affects the male sex hormones. The frequency of hypospadias is advancing predominantly in the US and in Europe.
One of the main reasons for hypospadias in humans is exposure to chemicals disrupting endocrine function. Experiments on the rat or mouse model exhibited that increased exposures to anti-androgen or estrogenic complexes lead to hypospadias related to humans. Rats during pregnancy and lactation was exposed to a mixture of anti-androgenic chemicals such as flutamide, vinclozolin, and procymidone, and the malformations in the external genetalia is assessed resulting in increased frequencies of hypospadias.
Research on consumption of organic food by women during pregnancy has resulted in the prevalence of hypospadias through hormonal or placental disturbances with lower level incidence. Another research on placental lesions exhibited the association between hypospadias and the pregnancy complications mediated by placenta (PMPC).
Another study investigated the relation between hypospadias and transforming growth factor beta (TGF-β) receptor type 1and 2 genes. The case-control study was carried out among the patients with hypospadias as case group and circumcised children as controls. The research reported that TGF-β receptor 2 is highly related with the risk of hypospadias than TGF-β receptor 1.
A similar study was done on epidermal growth factor (EGF) and its receptor to determine whether changes in EGF may play a chief role in wound healing and hypospadias. The result of the study showed that EGF is low in the skin near hypospadias region when compared with phallic skin, signifying that the insufficient EGF expression may be associated with the etiology of hypospadias and to complications after the surgical treatment.
Research on Treatment and Postoperative Complications
The surgical procedures to treat patients with variation in development of external genital organs, specifically severe hypospadias, are combined with postoperative complications such as stenosis and fistulae. Research on developing many novel techniques has been carried out continuously to reduce or prevent these complications.
Vascularized Flap of Preputial Skin
Various procedures have been used to treat mid-penile hypospadias, but the failure rates are higher with major complications. In order to lessen the complications, an innovative technique using a vascularized flap of the inner and outer homologous skin has been proposed by researchers. In this technique, a thin urethral plate strip that enables glanular closure is created, and the foreskin is split at midplane to maintain additional preputial skin with dartos tissue for covering penile skin. Later the glans is sutured by using a stitch-by-stitch method resulting in short- and long-term excellent outcomes.
Collagen Tubes
Another technique involves the engineering of collagen tubes with tissue. These tubes are utilized as urethral grafts in animal models and sutured after the subtotal urethral excision. This replacement can potentially overcome the postsurgical complications. Therefore, the novel collagen tubes are an alternative to the prevailing surgery for severe hypospadias.
Lingual Mucosal Graft Urethroplasty
Once hypospadias reparative treatment fails, the patient can be treated by one stage urethroplasty with lingual mucosal graft (LMG). The treatment is commonly a challenging and defying procedure for futile hypospadias surgery.
Tubularized incised plate (TIP) technique with LMG is an appropriate procedure for patients resulting in no scar on penial skin scar or on urethral plate, particularly with pleasing success rate. Hence, according to researchers, the one stage LMG urethroplasty is an efficient method for treating the patients who do not have sufficient skin after the unsuccessful hypospadias repairs.
Urethral Mobilization
Another research on hypospadias treatment introduced a procedure named urethral mobilization as an alternative to repair distal hypospadias. It facilitates to create a cosmetically and functionally normal penis with negligible complications. This technique is also a prime technique in managing glanular, coronal, and subcoronal penile hypospadias. The outcome of the treatment provides results better than the other well-known procedures.