Hydrocele occurs when there is a collection of fluid inside the scrotum. This causes one of the testicles to look larger than the other. Hydroceles are often found in newborn baby boys, especially those who are born prematurely.
This may be due to failure of the processus vaginalis to fully close (i.e. communicating hydrocele) or by the body's inability to absorb the excess fluid before birth (i.e. simple hydrocele).
In adults, especially males after the fourth decade of life, the causes may be due to scrotal injury or inflammation.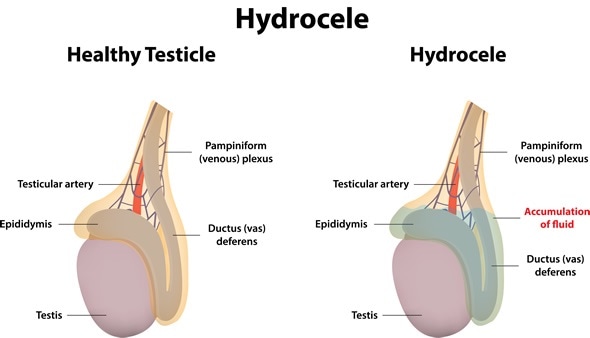 Pathophysiology
Many cases of hydrocele worldwide are due to a parasitic infection with Wuchereria bancrofti, which is endemic in the tropical and subtropical regions of the Americas, the Pacific, Middle East and Africa. This puts up to one fifth of the world's population at risk.
The infection is acquired in childhood but its complications, such as elephantiasis and hydrocele, occur later in life. The filarial infestations classically cause a decrease in the absorption of lymphatic fluid, which results in hydrocele.
In countries outside of the tropics, such as those in Europe and the United States, there is a predominance of iatrogenic factors causing hydrocele.
Patients who have small hernias or an incompletely closed processus vaginalis are particularly at risk following transplant or laparoscopic surgeries.
To minimize the chance of developing this, surgeons carefully aspirate fluid at the end of such procedures.
Symptoms, Diagnosis and Treatment
A man experiencing hydrocele may feel like there is a small balloon filled with fluid inside his scrotum. It is smooth, painless and may vary in size. Very large hydroceles may present with some discomfort during sexual activity, sitting or walking due to their size.
While hydroceles do not affect fertility and are not dangerous themselves, they may be associated with an underlying pathological condition.
Some conditions that can result in serious complications include tumors and inguinal hernias.
Tumors may lead to a reduction in sperm function or production, while protruding bowel segments in a hernia can become trapped and lead to life-threatening circumstances.
A physical examination is the first step in the diagnosis, where tenderness is checked for in the enlarged scrotum.
A light is then used to shine through the scrotum, where a clear fluid will be seen surrounding the testicle with hydrocele. In order to ascertain the cause of the hydrocele, urine and blood tests may be conducted to determine if there is an underlying infection.
Eliminating other causes of the scrotal swelling, such as tumors and hernias, may be done with the help of ultrasound.
Hydroceles in adult males often resolve on their own within six months. Hence, apart from treating any other underlying condition, simply leaving hydroceles alone if they cause no symptoms is suggested.
Hydroceles that cause disfigurement or discomfort may be treated with an incision through the scrotum or lower abdomen in order to drain the fluid. If there is an existing connection to the abdominal cavity then this is also sealed off. Recurrence of hydroceles after surgery is uncommon.