Women who are pregnant are more likely to be affected by certain dental conditions such as gingivitis. Gingivitis is a condition that involves inflammation of the gums, and when it occurs in pregnancy, it is referred to as pregnancy gingivitis.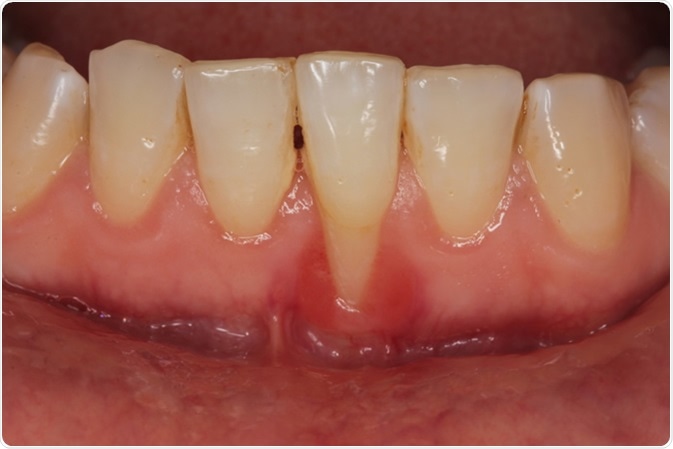 Gingival recession due to dental calculus. Image Credit: dr.kenan / Shutterstock
Signs and Complications of Pregnancy Gingivitis
The signs of gingivitis, such as red, swollen and sensitive gums that may bleed when the teeth are brushed, may present any time in pregnancy, typically between the second to the eighth month.
In severe cases, gingivitis may progress to a condition known as periodontitis. Periodontitis involves infection and inflammation of the connective tissues around the teeth, including the bones and other tissues that help to hold the teeth in place. Without adequate treatment, they can become so weak that the teeth may become wobbly or fall out.
Pregnancy Hormonal Changes and Dental Health
The hormonal changes that occur during pregnancy, particularly the surge in progesterone, are associated with an increased risk of dental conditions such as gingivitis and periodontitis.
Progesterone can encourage the growth of bacteria in plaque around the teeth and gums, which can increase the sensitivity of the gums and lead to inflammation and infection. It is primarily for this reason that approximately 4 in 10 of all pregnant women will develop gingivitis at some point throughout their pregnancy.
Risks to the Baby and Mother
Research has established a link between pregnant women with gum disease and an increased risk of premature birth, low birth weight, and preeclampsia. One study found that pregnant women with periodontitis, which is the more severe form of gingivitis, were up to seven times more likely to have a baby born with low birth weight, or prematurely, which means before gestational week 37.
This is a concern because babies born with a low birth weight or prematurely are more likely to suffer from other complications or have learning difficulties as children.
Pregnancy gingivitis can also be worrying for the expectant mother herself. Gingivitis can progress to periodontitis, which involves inflammation of the connective tissues around the teeth. In severe cases, this may cause serious and permanent damage to the teeth, such as teeth falling out.
Recommendations for Pregnant Women
It is important for pregnant women to pay attention to their dental health and take measures to prevent the development of oral conditions such as gingivitis.
They should be advised to brush their teeth at least twice a day. A small-headed soft toothbrush is best. The toothbrush should be regularly replaced, at least every three months. It is also recommended to floss daily, as this helps to reach the plaque between the grooves between the teeth that is not usually removed by brushing alone.
An antimicrobial mouthwash may also be helpful to help slow the growth of bacteria in plaque that is causing the infection. However, mouthwashes that contain alcohol should be avoided.
Some dietary changes can also help to reduce the risk of dental complications such as gingivitis during pregnancy. For example, sugary drinks and food are best avoided, as well as foods that have a high acid content. Instead, healthy snacks of fruit and vegetables are recommended throughout the day.
Additionally, regularly dental check-ups can be beneficial. For women who are at risk of gingivitis, a professional dental cleaning may be beneficial.
All pregnant women should inform their dentists that they are pregnant when they have an appointment, because there are some treatments that may not be suitable for them during the pregnancy. For example, preventative dental work can often be delayed until after the birth. Emergency procedures for acute conditions may still be carried out, however. Likewise, dental X-rays are best done after the birth of the baby to reduce exposure to the fetus.
References