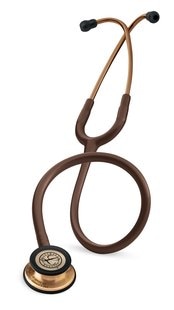 The 3M Littmann Classic III Stethoscope updates the proven Classic design that's known and trusted by millions of medical professionals. The Classic III stethoscope offers high acoustic sensitivity for excellent performance when doing general physical assessment.
Its next-generation tubing provides longer life due to improved resistance to skin oils and alcohol, and is less likely to pick up stains. The two-sided chestpiece features tunable diaphragms on both the large and small sides for greater versatility: the Classic III stethoscope can be used with both adult and paediatric patients.
Our new design is easier to clean and maintain.
Next-generation tubing provides longer life due to improved resistance to skin oils and alcohol; less likely to pick up stains.
Single-piece tunable diaphragm is easy to apply and easier to clean because its surface is smooth without crevices.
Two-sided chestpiece allows option to cover the small-side open bell with second tunable diaphragm.
Small side (when open bell is covered) is useful for paediatric, small, or thin patients; around bandages; and for carotid assessment.
Easier to keep clean: Small-side bell does not collect dirt and debris when covered by second diaphragm.
The next-generation tubing does not contain phthalate plasticisers.
Stainless steel chestpiece is precision-machined into an aesthetically pleasing, less angular shape. The stem features open side indicator.
Snap-tight eartips have a soft, smooth surface providing a comfortable acoustic seal and comfortable fit
Headset tension is easily adjusted for individual fit and comfort by simply squeezing or pulling apart the eartubes.
Five-year warranty
For more detail: http://solutions.3m.com/wps/portal/3M/en_EU/3M-Littmann-EMEA/stethoscope/stethoscope-catalog/catalog/~/3M-Littmann-Classic-III-Stethoscope-Copper-Finish-Chestpiece-Chocolate-Tube-27-inch-5809?N=5932256+3293391562+3294857473&rt=d