Vaccine News: Those With Cosmetic Facial Fillers Will Experience Swellings and Inflammation After A Dose Of Moderna's COVID-19 Vaccine
Vaccine News
: Individuals who have cosmetic facial fillers be it in their lips, nose, eye contours or elsewhere in their face will likely develop swellings and inflammation on those areas after having a dose of the Moderna's vaccine.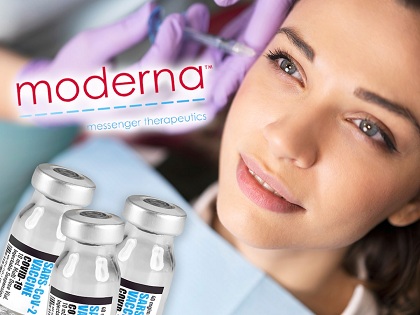 This was observed during initial clinical trials and also in certain individuals as the vaccines rolled out
Also the U.S.FDA advisory committee themselves have now warned that individuals with cosmetic facial fillers could experience swelling and inflammation after receiving the Moderna vaccine.
Leading dermatologists say, "Your immune system which causes inflammation is revved up when you get a vaccine, that's how it's supposed to work. So it makes sense that you would see an immune response in certain areas where they see some substance that is not a naturally occurring substance in your body".
The side effects are easily treated with antihistamines and steroids.
The side effects should not stop individuals from getting the vaccine as its more important to protect oneself from COVID-19 that is more deadly.
Californian based local board certified dermatologist Dr Shirley Chi explains, "In these cases the patients all had swelling and inflammation in the area that was given the filler... A couple of the patients had cheek filler six months prior to their vaccine and one patient had lip filler done two days after the vaccine. All were treated with steroids and anti-histamines and all of their reactions resolved".
The U.S.FDA advisory committee reviewing the new Moderna vaccine has noted a specific side effect involving several trial participants who have cosmetic facial fillers.
https://www.fda.gov/media/144434/download
Around the world, millions of individuals have physician administered cosmetic facial fillers to smooth out fine lines, wrinkles and to enhance cheeks and lips.
Dr Chi says the reaction to the vaccine is immunological.
Moderna's COVID-19 vaccine received approval from the U.S. FDA on Friday, offering an alternative to one from Pfizer and BioNTech.
Early results of large, still unfinished studies show both vaccines appear safe and strongly protective although Moderna's is easier to handle since it doesn't need to be stored at ultra-frozen temperatures.
Tabloids and newspapers around the world especially in UK and United States were abuzz with gossips speculating which celebrities would experience the worse side effects from the Moderna's vaccine considering the amount of fillers they use to prep up their looks.
In countries like South Korea and also Thailand, it is expected that many will also face the same issues as the usage of cosmetic facial filler is high in these countries not only among celebrities but also among many office workers and also those in the sex trade.
For the latest on
COVID-19 Vaccines
, keep on logging to Thailand Medical News.