The vulva is the external genitalia in the female reproductive system.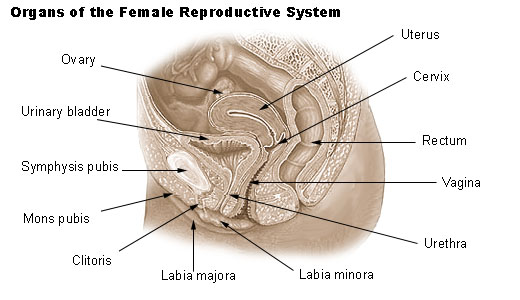 Broadly the anatomical structures of vulva include:
The lips of the vulvar opening – Labia major and labia minora
The swelling at the upper part of the vulvar opening or the mons pubis
The seat for nerve endings and sexual stimulation in females or the clitoris
The sac like areas called the bulb of the vestibule and the vestibule of the vagina
The greater and lesser vestibular glands, Bartholin gland
And the vaginal orifice
The urethral opening
Anatomical features of the vulva
Vestibular area - This lies between the hymen and Hart's line. There are linings with non-keratinized squamous epithelium. Within the vestibule are major vestibular (Bartholin's) glands, the minor vestibular glands, the periurethral (Skene's) glands, and the urethra.
Labia majora - These begin from the walls of the vulva. They are composed of folds of adipose (fatty) and fibrous tissue. These join at the front of the vulva to form the mons pubis. Behind the vulva they terminate 3-4 cm in front of the anus where they are united by the posterior commissure or fourchette. The cleft between the ''labia majora'' is called the pudendal cleft, or ''cleft of Venus'', and it contains and protects the other, more delicate structures of the vulva. These are lined by skin on the outside and basal layer of cells (stratum malpighii), a thin granular layer on the insides.