There are several different types of dental braces that may be recommended to improve alignment of teeth including traditional metal braces, ceramic braces, lingual braces and invisalign. Each type is associated with a unique set of advantages and disadvantages that must be taken into consideration to decide the best treatment option for individual patients.
Traditional Metal Braces
Traditional braces involve brackets and wires, usually made out of metal, which are attached to the teeth and allow their positioning to be altered as required.
Heat-activated archwires are a relatively new additional to traditional braces. These utilise body heat in the mouth to allow the teeth to move them more quickly and with less discomfort than was previously possible.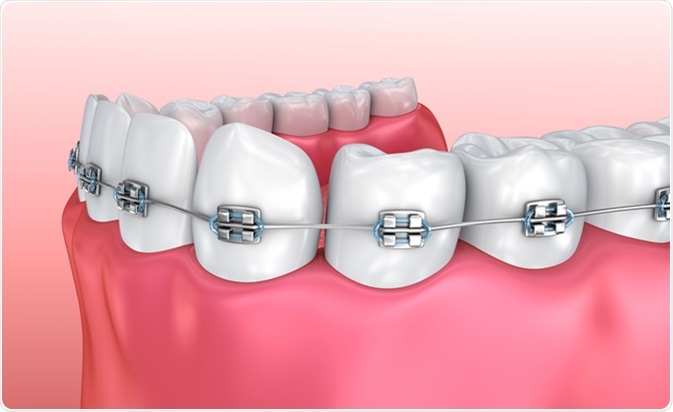 Teeth with braces isolated on white. Medically accurate 3D illustration. Image Credit: Alex Mit / Shutterstock
This type of braces is typically the least expensive option while being very effective, and is one of the most common types of braces in use today. However, they are the most noticeable type and some people may feel self-conscious about their appearance. It is possible to improve their appearance somewhat by using different colored bands over the braces to make them look more attractive, although they are still obvious.
Ceramic Braces
Ceramic braces are very similar to the traditional metal braces in size and shape, but they are constructed of a ceramic material that blends into the natural color of the teeth so that the braces are less noticeable.
This type is just as effective as traditional braces at achieving the movement of teeth into desired positions, but are much less noticeable due to their color, which makes them a more favorable alternative for some individuals. However, they are typically more expensive than traditional braces and may become stained if they are not properly cared for.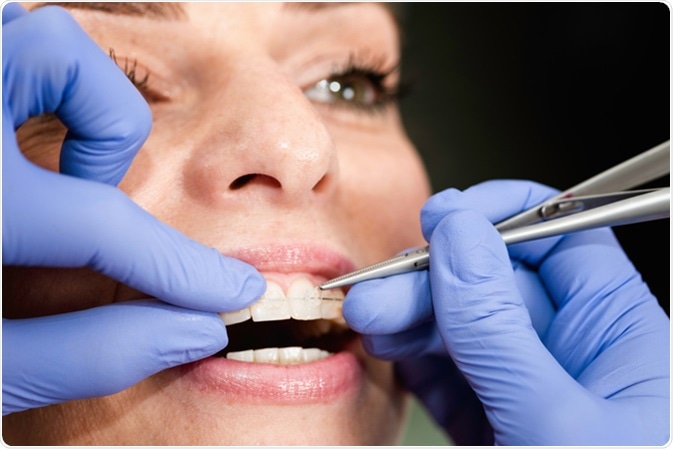 Orthodontist fixing invisible ceramic braces. Image Credit: Microgen / Shutterstock
Lingual Braces
Lingual braces similar to traditional braces in that they are made out of metal, but they are attached to the inside of the teeth so that they cannot be easily seen from the outside.
This type has the obvious advantage of not being visible to other people because they are hidden behind the teeth. However, they are less effective than traditional braces and often take longer to achieve desired tooth alignment. they may also be uncomfortable for the patient as they come into direct contact with the tongue. Finally, they tend to be more difficult to clean.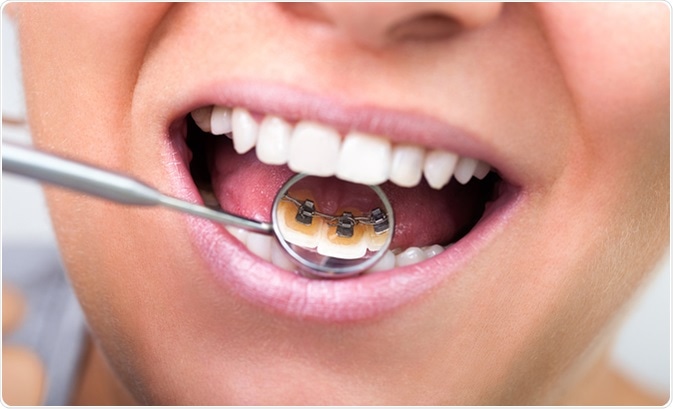 Lingual braces on dental mirror. Image Credit: Lucky Business / Shutterstock
Invisalign
Invisalign is the most distinct type of braces because they do not involve brackets and wires but instead utilize a series of custom-made clear plastic aligners that are worn over the teeth. These aligners are easy to remove and replace with the next one in the series every two weeks throughout the treatment period. Most individuals require between 18 and 30 different aligners to achieve the desired result.
This type of braces is preferable for many patients because they are almost invisible and allow greater freedom to eat and drink anything. However, they are considerably more expensive and can only be used to correct minor to moderate dental problems in teenagers and adults.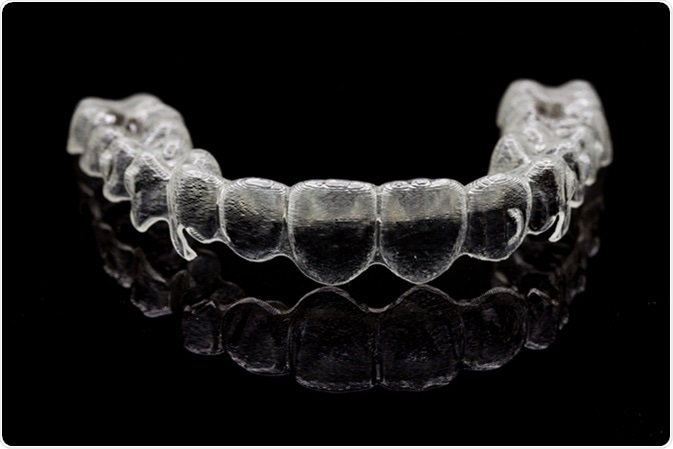 Invisalign braces or retainer isolated on black background. Image Credit: 1989studio / Shutterstock
Self-Ligating braces
Self-ligating braces are very similar in appearance to traditional metal braces, but utilize clips rather than elastic bands to hold the wire of the brace in place. As a result, there is less friction on the braces and it is usually easier for the individual to keep the braces and teeth clean.
This type of braces has similar efficacy to traditional metal braces and may increase control over the appliance, leading to more precise tooth alignment. However, they are often more expensive and are still visible from the outside.
References