Studies have shown that women are 2 to 3 times more susceptible to multiple sclerosis (MS) than men, though this does not necessarily mean that women experience more severe signs and symptoms. Women with MS, however, face several gender-specific complications as they have to deal with the effects of MS on hormones, menstruation, pregnancy, childbirth, and menopause.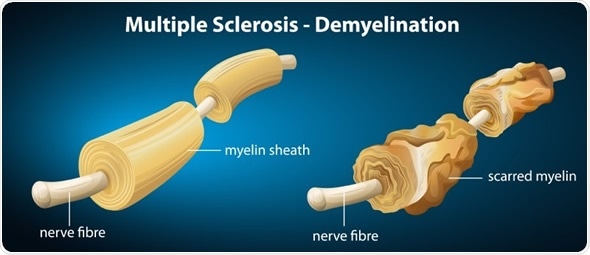 Illustration showing the multiple sclerosis - Image Copyright: BlueRingMedia / Shutterstock
MS and hormones
MS is diagnosed mostly in pre-menopausal women, a fact that forces many researchers to wonder if hormones play a direct or indirect role in MS development. Female hormones such as estrogen and progesterone not only affect the reproductive system, but they also play a role in the nervous and immune systems.
Although it has not yet been proved, some scientists believe hormones influence MS development. More studies on the endocrine systems of MS patients are needed to determine for sure.
MS and menstruation
MS symptoms experienced by women often become worse during the menstrual period. A study of 149 women with MS showed that 70% of the women experienced worsening of symptoms 7 days before and 3 days into their period. Symptoms reported included:
Imbalance
Weakness
Depression
Fatigue
Worsening of MS symptoms can also be due to the increase in body temperature before and during a menstrual period.
Some women with MS find it very difficult to manage their periods due to limited mobility or tremors, both of which affect their ability to use feminine hygiene products. Reducing the impact of a period or stopping it completely is one management option. Using contraceptive pills or intrauterine devices are common methods for minimizing or stopping periods.
MS drugs and the menstrual cycle
Drugs such as Mitoxantrone, natalizumab, and antidepressants are commonly used to treat symptoms of MS; however, these products are known to cause irregularities in the menstrual cycle. Beta interferon treatment, for example, can cause vaginal bleeding between cycles.
Contraception and MS

The right kind of contraception needs to be chosen after considering all factors such as medications, possibility of infections, and coordination and dexterity. Speaking with a qualified physician can help guide the MS patient in choosing the best method.MS has no effect on fertility, and hence birth control measures should continue to be taken in sexually active women with MS.
These two important facts regarding contraception in MS patients should be known and discussed with a doctor:
Oral contraception, an option often chosen by MS women with limited mobility, may increase the risk of blood clots.
Some MS medications, such as Tegretol (carbamazepine) and Modafinil®, can reduce the effectiveness of contraceptive pills.
An MS specialist needs to be up-to-date about other medications an MS patient requires so that they can study the potential interactions of these medications and adjust them accordingly.
MS and Pregnancy
Studies have demonstrated that women with MS do not have an increased risk of pregnancy, labor, delivery, and/or fetal complications compared to women without MS.
Research shows that MS symptoms decrease during pregnancy but increase following delivery. This may be due to the natural increase in both circulating proteins and natural immunosuppressants during pregnancy.
In vitro fertilization (IVF) induces hormonal changes that are shown to increase relapse rates for about three months after the treatment. Also, drugs such as disease-modifying therapies (DMTs), fingolimod, and natalizumab (Tysabri), which are used to treat aggressive forms of MS, need to be discontinued two to three months before conception.
MS is not inherited directly and studies show that only 2 in 100 children, or about 2%, born to a parent with MS present a risk of developing MS themselves.
Breastfeeding and MS
Breastfeeding is safe in women with MS. In fact, breastfeeding for a minimum of two months after childbirth has been shown to reduce relapses, and breastfeeding for about four months after childbirth is said to reduce the baby's risk of developing MS by 50%.
MS and Menopause
Menopause has not been shown to have any effect on the relapse rate or disease progression of MS in women; however, it can worsen certain symptoms such as bladder problems and fatigue. Hormone replacement therapy (HRT) has been found to improve symptoms of MS, although HRT cannot be recommended for women with cancers, thrombosis, liver, heart, or kidney disease.
Osteoporosis and MS
A healthy diet and regular weight-bearing exercise can help prevent osteoporosis in women, but physical exercise can be overly exhausting for some MS patients. Many women with MS experience a reduction in mobility, and this lack of mobility can increase the chances of osteoporosis. In addition to not being active, the use of steroids during MS treatment can increase osteoporosis risk in women.
References