Meningitis is an inflammatory condition affecting spinal cord and brain membranes. Despite advances in technology and treatments, mortality rates for meningitis remain high, with up to 30% of adult patients dying because of the disease.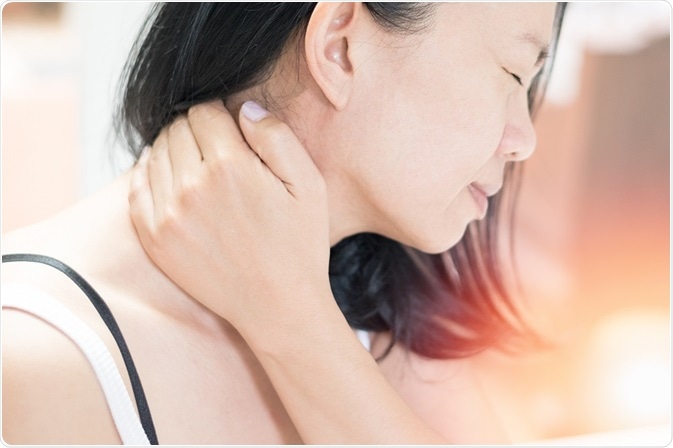 Credit: BlurryMe/Shutterstock.com
The diagnosis of meningitis is often delayed due to the lack of specific clinical features and the failure to do a timely lumbar puncture. While conventional cerebrospinal fluid (CSF) tests often fail to differentiate bacterial from viral meningitis, newer tests are being developed which may add clarity to the diagnostic picture. These include multiplex PCR and proteomics-genomics analysis.
With broad-spectrum antibiotics, the mortality rate has not shown a significant decline over the last three decades, and adjunctive therapies have therefore become the focus of attention in improving the prognosis in adults with meningitis.
However, better ways to combat this disease, such as modulating the immune response of the host or developing ways to prevent brain damage may be the options of choice. The development of vaccines that protect against a wide range of agents causing meningitis may finally turn out to be the only practical approach to reduce the prevalence of meningitis is adults.
Clinical features
In adults, a quick and complete evaluation of clinical features is the best way to quantify the risk of meningitis initially. One study suggested that the presence of the three bedside signs, all of which indicate that the meninges are inflamed:
Kernig's sign - pain at the hip when the leg is bent and then at the knee when extended
Brudzinski's sign - when the neck is flexed, the patient flexes the hip and knee because of pain
Nuchal rigidity - a feeling of board-like rigidity when attempting to flex the chin towards the chest
The only problem with these symptoms is that they are not always present, reducing their reliability as a diagnostic indicator. Most patients presented with symptoms such as headache in 85% of cases, fever, nausea, vomiting and photophobia in over half, and stiffness of the neck in about 45% of the cases.
Certain combinations of these symptoms can be seen in over 80% of the patients. However, clinical correlation was poor in sensitivity, with 57 symptomatic patients with the condition as opposed to 100 patients with these symptoms but without meningitis.
Risk factors
Delay in imaging the central nervous system with consequent delay in initiating antibiotic treatment with respect to the time of the first symptoms, and even more, with regard to the onset of a period of disturbed consciousness, is a prime factor associated with higher mortality. Other risk factors include female gender, older age group, a lower score on the Glasgow coma scale (GCS), and the occurrence of seizures.
Older patients make up a small percentage of the total, but have a disproportionate rate of other illnesses, laboratory and neurologic abnormalities, worrisome neuroimaging markers and poor outcomes.
They are often more obviously ill at the time of first contact with a medical professional, and although the symptoms are misleadingly milder, the neurologic signs are more apparent, and include convulsions, GCS score below 15, abnormalities in mentation such as disorientation or lethargy, focal deficits of one or more nerves, and aphasia.
In younger patients, CSF glucose falling below <45mg/dL, abnormalities in the neurologic examination, and the presence of fever indicate an unfavorable outcome more often. Bacterial meningitis is more likely to be fatal in older patients.
Diagnosing of adult meningitis
Following a thorough historical and clinical evaluation, laboratory samples should be taken for CSF studies for Gram staining and bacterial culture, for assessing the white cell count, and quantitating CSF protein and glucose levels. This is also followed where indicated by tests for specific non-bacterial pathogens such as viral, fungal or mycobacterial agents.
Newer tests, such as CSF lactate and serum procalcitonin, have been shown to have a high sensitivity and specificity, and may help in early differentiation of urgent cases of treatable bacterial meningitis from non-treatable causes. PCR is another underutilized technique for diagnosing viral meningitis, however it may still turn up negative in more than 50% cases of aseptic meningitis.
In more than 65% of the cases, the etiology remains unknown, with bacterial meningitis being confirmed in only about 7% of the cases. This, along with West Nile virus meningitis, is more likely in the elderly, with bacterial causes accounting for about 30% as compared to 5% in younger patients. Viral and cryptococcal meningitis occurs more often in younger patients.
Managing adult meningitis
The older age group is more likely to require an urgent treatment. However, West Nile virus happens to be the cause of mortality due to untreatable meningitis in both younger and older patients.
Among bacterial pathogens, Streptococcus pneumonia remains the major causative agent, and Group B streptococcus is found only in older patients.In idiopathic meningitis cases, mortality is observed in over 36% of the older and 3% of the younger patients.
Standardized guidelines have been published by the British Infection Society to guide the management of adults with suspected acute bacterial meningitis as well as containment measures such as vaccination and prophylactic antibiotics to prevent secondary spread. Many developed countries, however, vaccinate against Hemophilus influenza Type B and meningococcus Serogroup C, and thus other agents may become more important in the days to come.
According to these guidelines, immediate treatment for acute bacterial meningitis in younger patients is with pre-administration of a soluble beta-lactam antibiotic, but evidence is divided as to whether this should be applied for elderly patients as well.
This is followed by rapid admission to hospital and microbiologic evaluation, with appropriate broad-spectrum antibiotics such as a third-generation cephalosporin if meningococcal meningitis is not suspected. Other antibiotics may be required if resistance occurs or if the patient shows hypersensitivity to beta-lactam antibiotics.
Adjunctive treatments for meningitis
Adjunctive treatment is still controversial, but includes the possible use of corticosteroids because of their benefits in children with meningitis, as well as osmotic agents to reduce intracranial pressure if there are signs of intracranial hypertension.
Fluids should be given as appropriate. Fluid restriction does not reduce intracranial pressure, but may affect cerebral perfusion as well as predispose the patient to sepsis, thus worsening the outcome. Intensive medical care is required for most patients with acute bacterial meningitis due to the high complication rate.