What is Multiple Sclerosis (MS)?
Multiple sclerosis (MS) is a heterogeneous, immune-mediated disorder in which the body attacks its own myelin sheath that protects the nerve fibers of the central nervous system (CNS).
With the body's immune system identifying myelin as a foreign body, the sheath is slowly destroyed, exposing the nerve fibers to lesions. This damage alters the messages within the CNS causing neurological symptoms of varying degrees of severity.
Some of the common symptoms of MS are fatigue, pain, numbness or tingling sensations, weakness, vertigo, difficulty walking, and vision and bladder problems. Pain is a symptom present in almost 75% of patients. Less common symptoms are difficulty swallowing, seizures, and speech and breathing difficulties.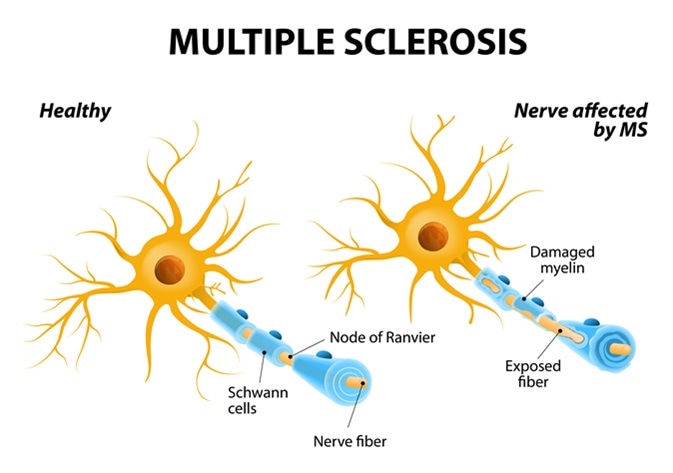 Multiple sclerosis or MS. autoimmune disease. the nerves of the brain and spinal cord are damaged by one's own immune system. resulting in loss of muscle control, vision and balance. Image Credit: Designua / Shutterstock
Pathophysiology of MS

Studies have shown that patients with MS who are seropositive to anti-MOG as well as anti-MBP experienced more frequent relapses. Thus, serum anti-myelin antibodies can be used as a marker for predicting MS.A magnetic resonance imaging (MRI) scan reveals white matter plaque that is characteristic of MS. Plaques can occur anywhere in the body. However, they are mainly seen in the brain stem, cerebellum, spinal cord, and optic nerves. MS plaques can be further confirmed by the presence of abundant amounts of anti-myelin degradation products such as activation markers, anti-myelin oligodendrocyte glycoprotein (MOG), anti-myelin basic protein (MBP), and proteolipid protein.
Association of anti-myelin antibodies and MS
Although some studies associated the presence of anti-MOG and anti-MBP to be predictors of clinically definite MS (CDMS), there are studies that have contradicted this association. A study by Kuhle et al. measured the serum anti-MOG and serum anti-MBP levels in approximately 462 patients.
The antibodies were measured by the Western Blot method, an analytical technique using gel electrophoresis to separate and identify proteins, and the results were assessed using the McDonald criteria. The end points of the study was the comparison of results with the time and rate of progression to CDMS or diagnosis of MS. The study found no association between the presence of these anti-myelin antibodies and MS in the entire cohort or in any subgroup.
Tewarie P et al. also studied the anti-myelin antibody reactivity in cerebrospinal fluid (CSF) and in the serum using myelin flow cytometry and MRI imaging between MS patients and control. Again, in this study, there was no significant difference noted between the myelin values of the CSF and serum in the test group and control group.
Summary
There are many factors responsible for the conflicting results obtained with respect to the association of anti-myelin antibodies and MS. Some of them are different laboratory measurement methods, study design, study population, and incomplete data about the behavior of immunoglobulin (Ig) G and IgM anti-myelin antibodies.
Irrespective of the varied data obtained, researchers believe that anti-myelin antibodies could still have predictive clinical value. Standardization of assay methods and carrying out larger prospective studies that include genetically diverse population may be an answer to thoroughly analyze the relation of anti-myelin antibodies in MS and other demyelinating diseases.