US Medical News: America Registers 22,268 New COVID-19 Infections And 1031 Deaths In Last 24 Hours. Total Deaths From COVID-19 In USA Now Stands At 110, 179
US Medical News
: There were a total of 22,268 New Covid-19 infections in the United States over the last 24 hours (4
th
June) and a total of 1031 deaths reported.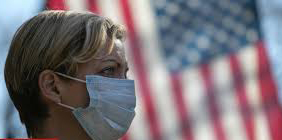 To date a total of 1,924,189 individuals have been infected with the SARS-CoV-2 coronavirus in the United States of which a total of 712,252 are supposedly to have 'recovered' according to US health authorities.
A total of 110,179 Americans have died from the disease so far though many are saying that this figure is not accurate as many states are deliberately under reporting figures plus there has been an increase in deaths over the past few months from causes like strokes, heart failures and kidney failures and even respiratory issues but authorities do not want to test them for COVID-19 in order to keep figures down. There have been many deaths in nursing homes and also aged facilities and again many of these who died were never tested for COVID-19.
According to the US CDC, a total of 19, 568, 069 tests for COVID-19 were done (they did not mention how many people were tested as some individuals could have been tested twice or three times.) Note that America's population is currently at 330, 864,992.
There are also 18,924 patients in critical conditions at various hospitals across the country due to COVID-19.
It is projected that by August 2020 at least another 40,000 Americans would die from the disease in the most optimistic projection but come fall and winter, America will witness the worse impact from the COVID-19 due to the combination of the influenza season and the spike in COVID-19 cases.
Despite all the speculations and fake news, an effective vaccine will not be ready even by the end of the next winter season and its best that Americans start bracing for the worse that is yet to come.
To date the COVID-19 pandemic has been badly managed in the United States and it is best that Americans start working on their own to better protect themselves from the disease and also to plan contingencies as to how to treat themselves when the next wave actually arrives and their own healthcare industry is totally incompetent to handle the crisis along with the fact that these health professionals are being dictated by non-medical personnel to use unproven and lethal drugs such as chloroquine, hydroxychloroquine or drugs that have yet to have been tested for safety issues and have no real efficacy against the SARS-CoV-2 coronavirus such as remdesivir.
For more
US Medical News
, keep on logging to Thailand Medical News.