Publish Date: Jul 09th, 2018
ISBN: 13-9780826137777
Page Count: 550
Publisher: Springer

---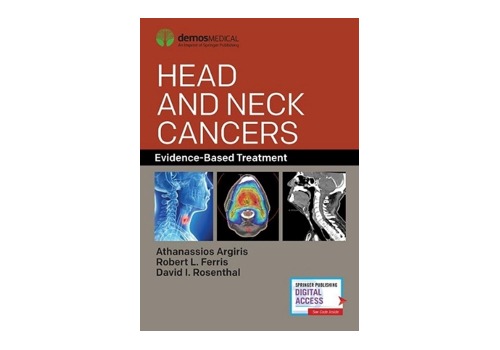 Head and Neck Cancers: Evidence-Based Treatment
presents a practical, state-of-the-art resource for any clinical oncologist treating or managing patients with head and neck cancers, including oropharyngeal cancer, cancer of the oral cavity, laryngeal cancer, nasopharyngeal cancer, hypopharyngeal cancer, cancer of the sinuses and the skull base, salivary gland cancer, and neck lymphadenopathy.
Section 1 of the book covers the most pertinent details on the epidemiology, biology, diagnosis and staging of the disease including topics such as the genomic landscape of squamous cell carcinoma of the head and neck and novel imaging modalities. Section 2 discusses the evidence-based treatment modalities for conventional and novel chemotherapy regimens, the evidence behind emerging radiation therapy techniques and the minimally invasive surgical advances changing the landscape of care. The chapters in Section 3 are dedicated to site-specific management, including management guidelines, tables with FDA-approved therapies and relevant ongoing clinical trials as well as instructive clinical cases with important discussion on outcomes and follow up care. Finally, Section 4 focuses on recurrent and metastatic disease and Section 5 provides the essentials on supportive care, including managing the elderly, managing patients suffering from dysphagia and oral complications, and must-know details of quality of life assessment and patient-reported outcomes.
Emphasizing the practice-changing techniques and the latest evidence-based treatment advances including targeted therapies, immunotherapy, transoral robotic surgery, and radiation therapy precision, this comprehensive yet accessible textbook is indispensable for any clinical oncologist of each discipline wanting a balanced and evidence-based reference on managing patients with head and neck malignancies.
Key Features:
-Includes didactic clinical cases for each type of head and neck cancer
-Numerous tables highlight FDA approved therapies and ongoing clinical trials
-Provides evidence-based recommendations for treating head and neck cancers at each stage of the disease with conventional and novel treatment strategies
-Covers strategies for managing acute and late complications to treatment
-Includes access to the fully-searchable downloadable e-book